iPhone Game Review: Warpack: Grunts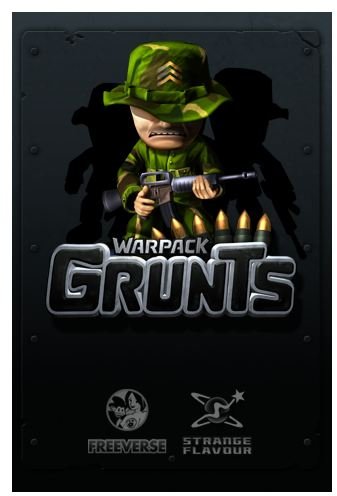 Warpack: Grunts - Storyline (3 out of 5)
In a nutshell, here's what the game story is all about. An evil dude named General Issimo has a grand plan of conquering the world. Your task is obviously to stop this evil dude and save the world in the end. At your command is a special force of military guys who were trained to shot enemies, destroy things, fire bazookas, drive tanks and even pilot helicopters. And yes, you guessed it right, they are called – the Grunts.
Warpack: Grunts – Features (3 out of 5)
The game is packed with 40 different levels and 4 levels of difficulty – easy, normal, and hard and an ultra hard level aptly called, Nnnnnnnargh! . Each of the 40 different levels has missions that you need to fulfill. Be prepared to face various enemies who will fire at you until the last member of your squadron dies. So, it is for your own good that you eliminate them first.
The game is also loaded with cool weapons that you can use to destroy your enemies. There are a rifles, hand grenades, sniper rifle, bazookas and even binoculars that you can use to scan the area and find out if there are enemies waiting to ambush you somewhere in the battlefield.
Along the way, as you try to finish the levels, you'll encounter some items and power-ups such as the must-have medical kit, reinforcement sign posts and more.
After you've accomplished a mission, the game either ends it automatically or you need to look for the extraction point. You'll know this point once you see red smokes. Passing through those smokes would signal a helicopter to pick your squadron up.
Warpack: Grunts – Control, Sound, and Graphics (4 out of 5)
The game fully exploited both the iPhone's touch screen and accelerometer features. To move your squadron you simply tap on a specific and they will automatically move there. Double tapping on enemies will make your squadron fire at them. You can change your weapons once you see an icon in the lower left part of your iPhone screen. Additionally, you can change your iPhone's current view from the standard to the widescreen view by tilting your iPhone sideways.
Warpack: Grunts excel in both sound and graphics. The in-game sound and sound effects are well done and contribute to the level of excitement while playing the game.
The same thing is true for the game's graphics. The lush green environment of the swamps are so well rendered and even gives an interactive effect by moving branches of trees. The overall game environment is richly rendered in 2D-graphics that will remind you of the game environment of the popular Metal Slug game.
Overall, Warpack:Grunts is a solid game in terms of control, sound and graphics..
Our Verdict (4 out of 5)
If you're a fan of adventure shooting games like Metal Slug, then you will certainly enjoy Warpack:Grunts. It's the top-down equivalent of that classic game. Actually, if Warpack: Grunts was made as a side-scrolling game, if could give Metal Slug a good challenge.
Warpack: Grunts is a solid game for a mere $.99. There's really no reason why you should not install and play it on your iPhone.
Image credit:
Screenshot of Warpack:Grunts by Freeverse.