How to Buy Games, Addons, and More From the Wii Shop Channel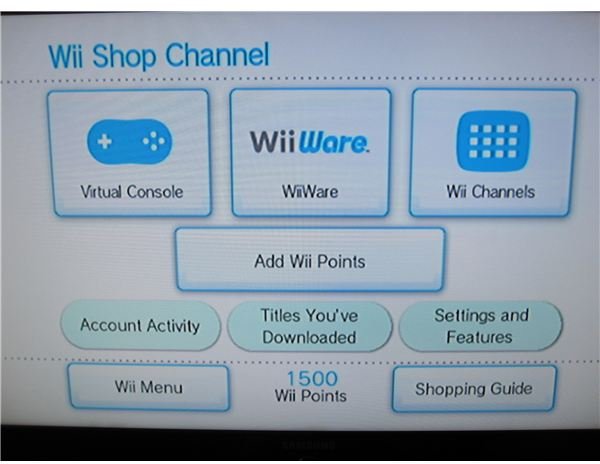 The Nintendo Wii, like all of today's modern consoles, has its own online marketplace where gamers can purchase game addons, classic games from bygone days, and new, original masterpieces from many of today's top game designers. This online store is known as the Wii Shop Channel, and any Nintendo Wii that's been connected to the Internet can access it.
When it comes to actually purchasing things on the Wii, though, the process can seem a little lengthy and convoluted for those who are unfamiliar with it. From purchasing Wii Points to redeeming them and downloading the game of your choice, there are quite a few hurdles to jump before you'll be playing that new (or old) game you're after.
Our guide will walk you through the entire process, so sit back and let us lead you to the Wii Shop Channel promised land.
Enter the Wii Shop Channel
The Wii Shop Channel should appear on the main screen of your Nintendo Wii, unless you've moved it. You'll simply need to select it with the Wii Remote, then press "Start" on the following screen to get in.
It may take a few seconds to load as your Wii connects to the Internet, but once it does, you'll find yourself at the "Recommended Titles" screen.
Press the "Start Shopping" button to continue.
Add Wii Points to Your Account
If this is your first time buying from the Wii Shop Channel, you'll need to first add some Wii Points to your account. Wii Points are a penny apiece, so you can add 2000 for $20, for example.
To buy some points, select "Add Wii Points" from the main Wii Shop Channel screen.

You can either purchase a Wii Points Card in a store and redeem the code here to get your points, or you can use your credit card to add them instantly from the comfort of your own living room.

If you're buying points with a card, you'll be able to choose to buy them in $10 increments. Select the amount you'd like to buy to continue.

Select between Mastercard and Visa on the next screen.

Enter your credit card information, including the security code from the back of your card, then press "OK" to continue.

Enter your billing information (address, etc…) on the next screen and press "OK" to continue.

The final screen is the Confirmation Screen. Press the "Yes" button to charge your card and add the Wii Points to your account.
Buying From the Wii Shop Channel
Now that you've added points to your account, return to the main Wii Shop Channel screen to start your shopping.
Choose the category of game (Virtual Console or WiiWare) you'd like to buy and select it with the Wii Remote.

You can browse the games by popularity or category. Once you've found one you want, select it with the Wii Remote to continue.

On the "Details" screen, confirm that you've selected the correct game, then perss "Download" to continue.

Choose a destination to save to and press the "A" button on your Wii Remote.

A confirmation screen will appear, verify that you're downloading the correct game once more, then press "OK."

The Download Confirmation screen will show you just how many points and how much memory you'll have after the download. If everything is to your liking, press the "Yes" button to begin the download.

You'll be treated to an animation of Mario collecting coins as the game downloads. Once it's finished, back out of the Wii Shop Channel and find your new game at the main menu.