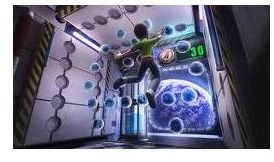 Kinect Adventures
$150 bucks is hardly chump change and justifying spending that amount on an unproven add on for your 360 is not a decision to make lightly. Thankfully Microsoft is attempting to lessen weight of the decision by including the pack-in game Kinect Adventures.
Now I'll admit Kinect adventures was not the first game I thew into the ole' 360 after I brought my Kinect home nor was I particularly excited to try it. I figured it was at best a series of glorified tech demos they threw together, more of an afterthought and a marketing point than a real game. Thankfully thought I was wrong for the most part, and although there is one notable exception Kinect Adventures actually ends up surprisingly entertaining, albeit only briefly.
Presentation (4 out of 5)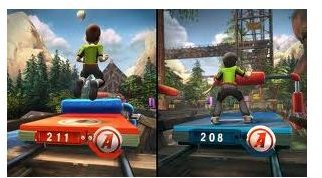 For a pack-in game there's actually a decent bit of detail to Kinect Adventures. The menus all have a sort of cheesy adventure comic feel to them and most of the environments carry over a similar theme. That's not to say that there's anything particularly memorable but everything does have a sense of polish that you'd hope for from a Xbox 360 title.
The menus are a breeze to navigate through and the tutorial screens before games are easy to understand and thankfully also just as easy to skip.
Once everything is set up and configured you'll find the drop in multiplayer to work admirably. Overall everything about Kinect Adventures' presentation works well enough.
Gameplay (3 out of 5)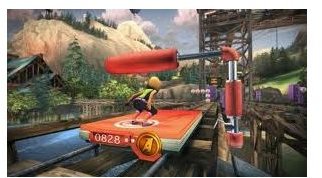 The gameplay of Kinect adventures is pretty hit or miss. On one hand you have the games like River Rush, Rallyball and Reflex Ridge which are actually pretty fun. On the other hand are the only briefly entertaining Space Pop and the abysmal 20,000 leaks.
Space pop is fun enough at first but it's incredibly easy and there's almost no depth to it and 20,000 leaks is about as fun as a Tom Sawyer fence painting sim would be. These games are disappointing and considering you only get 5 mini games to choose from having almost half of them taken up by boring games really reduces the value of Kinect Adventures.
Fortunately though the rest are very well done and although they also don't offer a lot of depth they're fun enough to keep you and your friends entertained for a few hours.
The singleplayer "adventure" mode is just an excuse to send you through the same levels over and over again with different goals and I can't see most gamers sticking it out just to get the goofy trophy's the game presents you with.
Graphics (3 out of 5)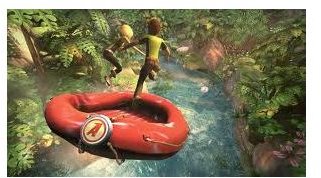 Graphically speaking Kinect adventures isn't going to sell itself on it's visuals, but at the same time they aren't terrible. Overall they're fairly middle of the road with River Rush and Reflex Ridge surpassing the others in terms of visual detail.
Despite being by far the worst of the bunch entertainment wise 20,000 Leaks actually has a pretty charming look to it and while it's a little odd seeing aquarium fish raming themselves into a glass wall it's the one well done feature of that game.
Everything is fairly simple and cartoonish but there are enough graphical flourishes to remind you that you aren't playing a Wii game and the characters animate fluidly for the most part. It's nothing to write home about but Kinect Adventures actually outshines some of the other launch titles in the graphics department.
Sound (3 out of 5)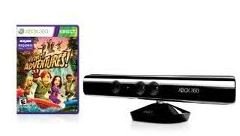 The audio side of things is about as strong as the visual. There's nothing here that will impress you and none of the songs are going to be stuck in your head, but everything fits the theme and the river sounds and splashes are actually pretty decent. Not surprisingly River Rush is the best of the bunch in the sound department and it seems to be the game that overall has the most polish.
If you've played a family oriented game in the past decade though you more or less already have an idea of what to expect from the sound department in Kinect Adventures. Thankfully though there isn't an annoying announcer throwing around horrible lines like in another, not to be mentioned, snowboarding title.
Multiplayer (4 out of 5)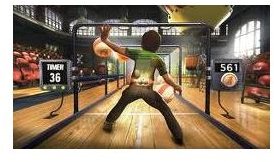 I've spent a lot of time with the Kinect in the past few weeks and I can safely say if you're looking for a single player experience save your cash for just about anything else as none of the launch titles are much fun without other people.
Kinect Adventures is no exception and the fun factor is definitely amped when you add a few friends to the mix. Most of the games are cooperative which is, I suppose, good for families hoping to play with their kids but if you're really looking to get the best out of Kinect Adventures multiplayer I'd suggest pairing off into teams of two and competing against each other. Once again River Rush and Reflex Ridge are going to have the most staying power.
Controls (3 out of 5)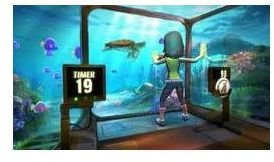 For the most part Kinect Adventures controls extremely well. Everything moves like it should and generally the one to one motion has only a very slight delay to it. I was most impressed with RallyBall as it really shows of just how well the Kinect can track your movements, not only of your arms and body but your legs as well. I used to be a hockey goalie and I was surprised to see that the classic drop to your knees butterfly not only was picked up but worked in Rallyball, although my knees ended up paying the price before too long.
At the opposite end of the spectrum Is 20,000 Leaks. This game has you tasked with the thrilling challenge of putting your hands and feet over leaks in an aquarium, and yes it's as dull as it sounds. Not only that but for some reason in this game the Kinect sensor often failed to pick up my movements and the leaks on the far side of the screen seemed practically impossible to stop even when my arms should have been in the right place, it's awful and if the entire experience was this bad I would have written Kinect Adventures off in an instant.
The Verdict (3 out of 5)
If Kinect Adventures was a stand alone game it would be woefully underwhelming, as it stands though it is a fairly entertaining introduction to the Kinect and does show off the technology fairly well. The cooperative nature of most of the games should also appeal to families with young children.
Just don't expect to go long before you're looking for a new title to keep you entertained.
Considering that It is part of the basic Kinect bundle though I have to say it does add a degree of value to the package and I'm glad Microsoft added it in and it's likely to impress any of your friends and family who've never seen a Kinect.