iPhone Games Review: MyTown for iPhone Review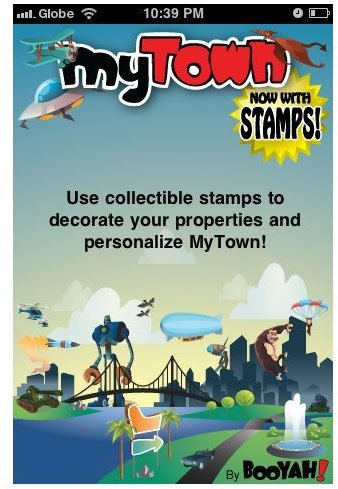 MyTown iPhone Game Review - Gameplay and Features
Call it a mobile monopoly game. Call it a WeRule or FarmVille clone with actual places that you visit. Call it a social networking game. No matter how you may want to categorize MyTown, we can't discount the fact that it is a pretty addictive iPhone game. Proof? The millions of downloads it got from the iTunes App Store.
The gameplay is pretty simple and very monopoly-like, only this time you play it on your iPhone and the city you build is none other than the current geographic location where you currently are. Using your iPhone's GPS, the game maps out your location and the surrounding areas, giving you the different establishments where you can check-in and eventually purchase virtually to build your city empire. Yes, you read it correctly, the game lets you check-in to places like FourSquare and Gowalla, only this time you can check-in to any place on the virtual map of your current location. As soon as you have enough "virtual money," you can then opt to purchase the establishment and it becomes one of your properties.
Pretty simple? Boring or what? Actually, it's kind of get exciting as you acquire more properties and assets. You also get to unlock new properties, check-in to the properties and later on purchase them as well.
The fun begins when out of curiosity, you decide to check out your "virtual property" to get a feel for how it actually looks. Just don't claim it and tell the people in the establishment that you're the owner, otherwise you might find yourself humiliated.
So, how do you get money to purchase new properties? Well, the property you just bought is actually "virtually earning" for you. If you've purchased a Spa, you get to earn when people actually visit it. Or you may also earn money from establishments which are rented by other people. Again, we're talking of virtual ownership folks. So don't get too carried away thinking that you really are a billionaire.
Our Verdict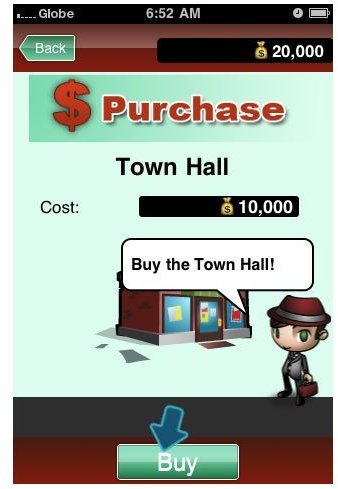 At first I thought I wouldn't enjoy playing MyTown on my iPhone because I'm so hooked into playing on my iPad instead. And besides, I didn't get to play too much of FarmVille and WeRule on my iPhone because I'm not really into this kind of game. But then when I fired up the game and it started to identify places and establishments near my location, the game's excitement started to trickle in on me. Who would have thought that I could own the nearby McDonalds's or grocery store where I eat and shop? Only in MyTown.
Would I continue to play it and build my city? Well, why not? I'm into location-based social networking apps anyway. I use both FourSquare, Gowalla and even Google Buzz to check-in on places I've visited so I might as well check-in also using MyTown. Who knows it could be fun? If you get hooked too then check out MyTown Tips & Tricks.
Would we recommend this game to you? Depends on what type of iPhone gamer you are. If you're into monopoly, or to be specific the WeRule and FarmVille type of games, then you'll find MyTown even more enjoyable.
(Price: Free) (Download link)
Image credit
Screenshots courtesy of author (iTunes Download)