The Best Free Android Games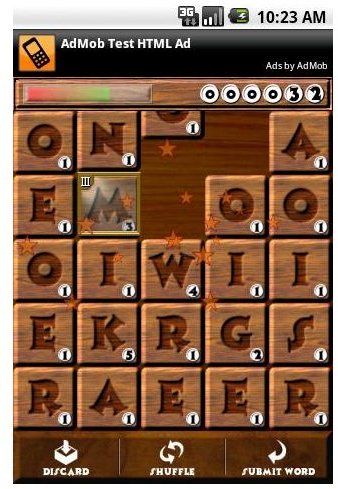 While there are thousands of important things that you can do with your Android device, inevitably there will come a time when you want to download a game and have some fun. With more and more Android games becoming free to play, it can be a little difficult to sort the wheat from the chaff. I've put together this list of what I feel are the best free games that the Android Market has to offer. I've decided to only include games that can run on almost any Android device, because while Cordy and Rocket Bunnies are great games, if you can't play them, then including them on this list doesn't do you any good. I am also only including free games that have significant gameplay times, as the free versions of Abduction and Robo Defense, while awesome, are too small to really qualify as a full game.
If you feel I've forgotten any deserving game, or think I included one that has no business being here, feel free to drop in a comment and tell me how stupid/awesome/ignorant/brilliant I am. If you want to download any of the best free Android games listed here, just open up the Android Market, either in a web browser or on your device, and search for the title.
20. Dropwords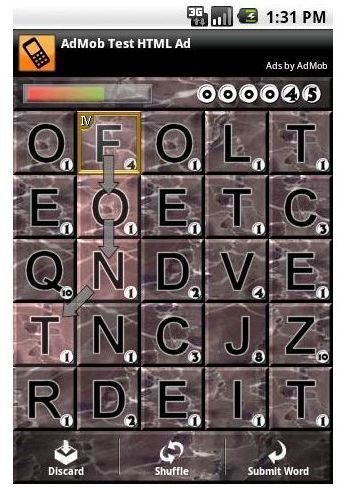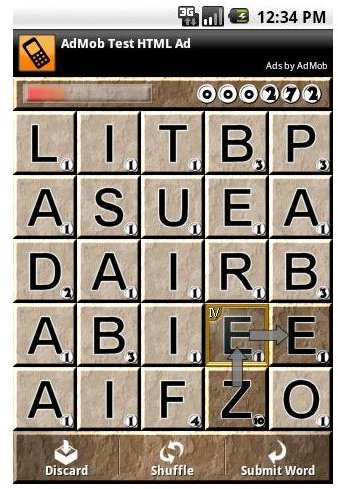 This inventive little game is billed as a cross between Scrabble and Boggle, and I find that to be a fairly apt description. Once you start the game, a group of letters drop onto the screen. Your job is to string those letters together to create words. Words score you points and give you time back on the clock, which keeps your game from being over. The game offers you two dictionaries to choose from, a Webster's and an official Scrabble dictionary, although I found that the Scrabble dictionary allows for a lot of strange two and three letter words, making the game a little simple to play. With this really being the only fault, if you love playing word games on your Android device, you really can't go wrong with Dropwords.
19. iMobsters/World War/Street Racing/run Football Manager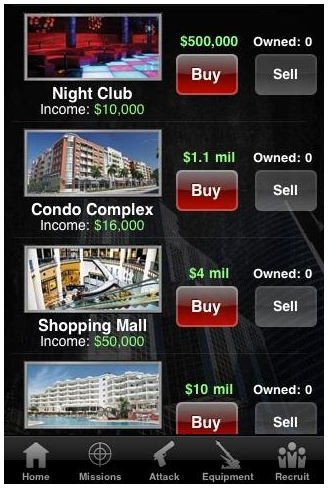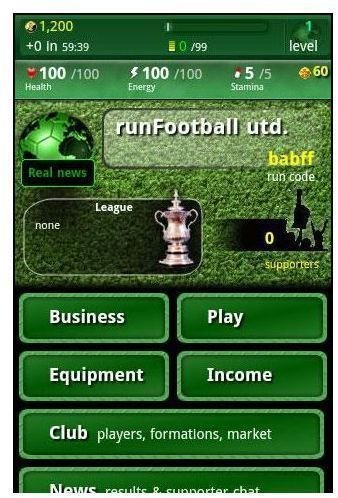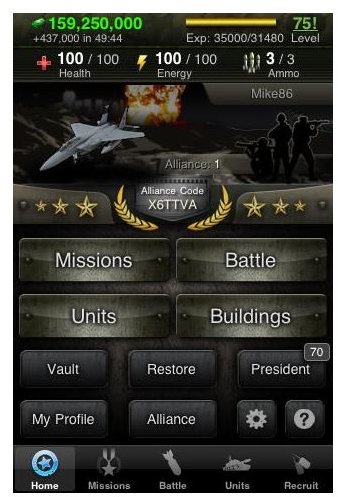 These games all get grouped together because they are all so similar in gameplay, just with slightly different window dressing. These games have you take control of a character, from a new mobster to a football club owner, and pit you against millions of other people around the world. The games immerse you in the life of your chosen character and have you complete missions to slowly build up your rank. Then you are able to wage battle against other players for loot and supremacy. Each game is laid out almost identically, so if you like one, you will probably like them all. You can download iMobsters, World War, Street Racing, and run Football Manager from the Market.
18. Choice of….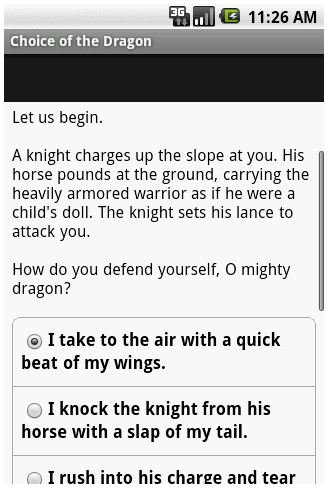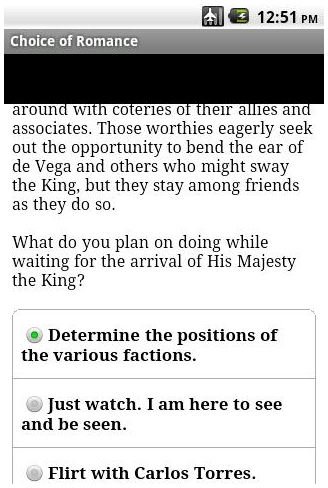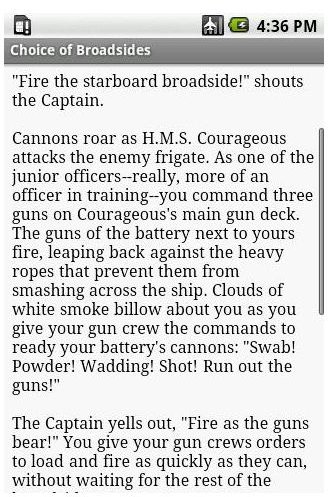 Game developer Choice of Games has taken those enjoyable Choose Your Own Adventure stories from the 1980s and developed a line of Android apps that pretty much do the same thing. These games are all text based, and you take the role of the protagonist in the story. As the story progresses, you will be given multiple choice questions that will determine the direction of the story, and the fate of your character. Choice of Games has a story about a dragon, a naval adventure, romance and vampires, and could always add more stories as time goes on. While the adventures can be a little short, you can always go back through and make different decisions to see where the story takes you. You can see all the free Android games available from the Choice of Games developer page at the Android Market.
17. Townsman 6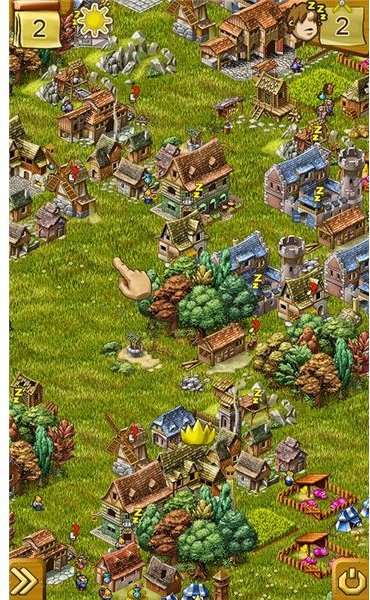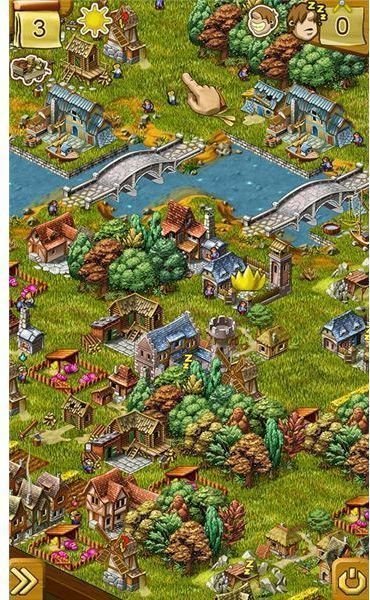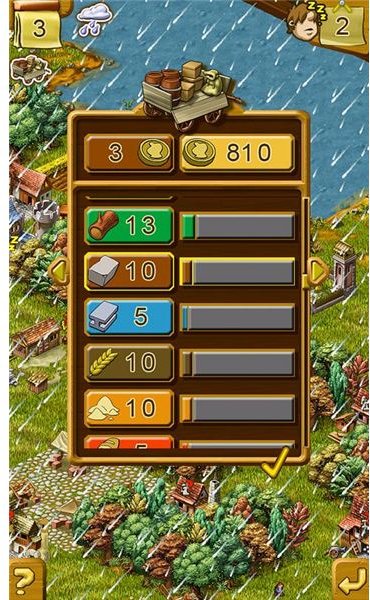 Due to screen size and input constraints, good real-time strategy games are quite difficult to find on smartphones. Finding a free one is almost impossible. Thankfully, RTS lovers can now play Townsman 6 for free on Android devices, as the developer has decided to release it with ad support. Townsman 6 puts you into the shoes of a French town owner back in pre-industrial times. The game lacks the army functions that most computer-based RTS games possess, but I doubt that would work well on a smartphone anyway. This means that the game is all about micro-managing your town's economy as you try to expand your empire and take on the King of France. The game is a little difficult to understand at first, even with the tutorial, but once you get the hang of it, the game is enormously fun.
16. 250+ Solitaire Collection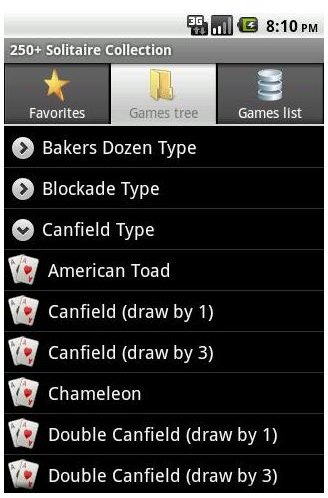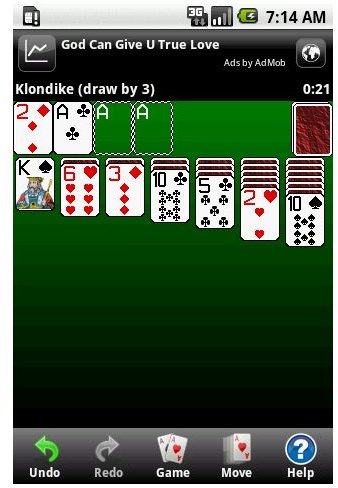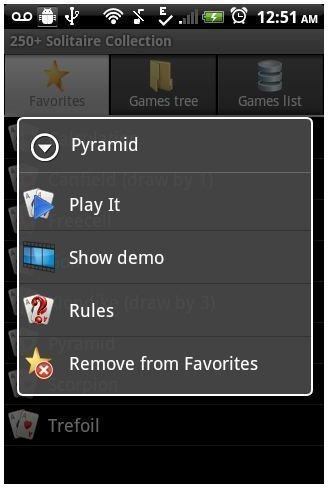 There really isn't much to explain about this entry on the list of best free Android games. Many of the games on the Android Market take time to load, time to understand and time to play. This is simply solitaire, with the added bonus of having over 250 different game versions to choose from. The game includes detailed rules for each game and each game variant, along with a demonstration for those who learn better by watching, rather than reading. The package is sure to include all your favorite solitaire games, as well as a few new games and variations that you will definitely want to check out. There isn't a lot of flash or pizazz here, just some solid solitaire games that you can pick up and play any time you have a few free minutes.
15. Jewels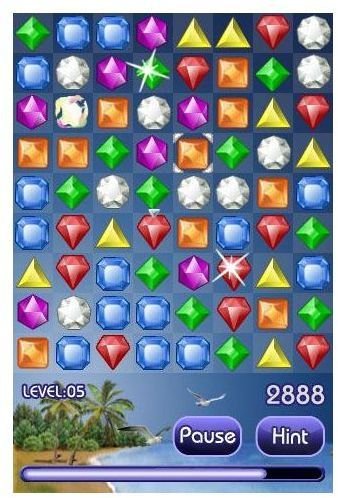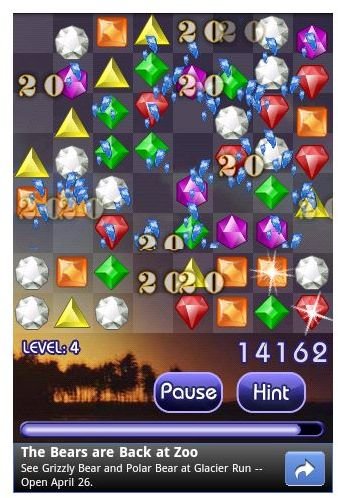 There are two free Android games titled Jewels, and both are more or less just copies of the popular Bejeweled games. For this list, I chose the DroidHen version of the game, as it comes much closer to the actual Bejeweled 2 game. However, the MHGames version is just as fun, albeit with a few features missing, and judging by the comments it is a little more stable, although I had no stability issues with either game. The concept of Jewels is just change the position of two adjacent jewels to create three, four or five in a row. The collected jewels disappear, and new ones fall from above. There are several game modes ranging from a timed mode where speed is king, to an endless mode if you just like capturing jewels in a laid-back atmosphere.
14. Pair Up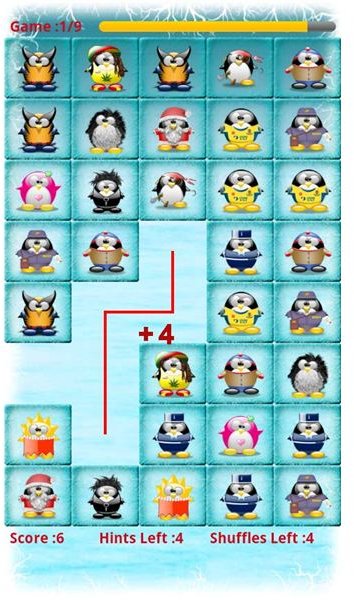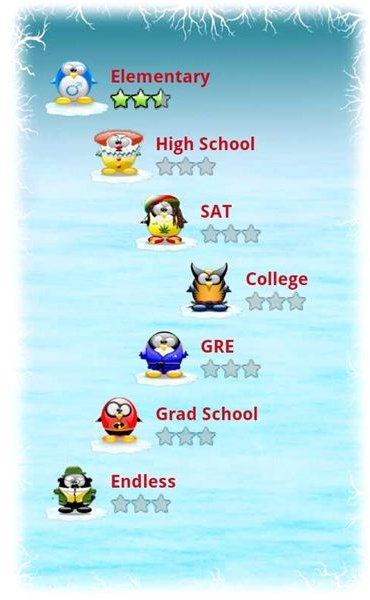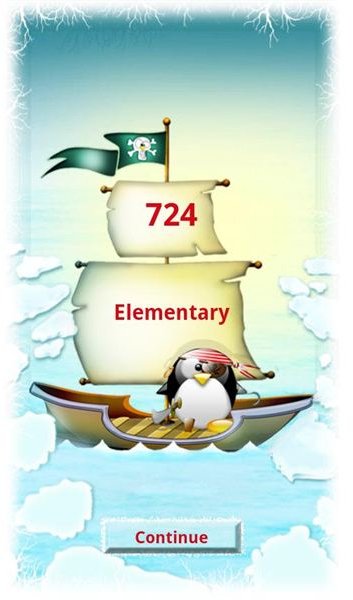 Pair Up is a simple little free Android game where you have to select two identical images on a game board. The images have to be connected by a path that can only make two turns, making the game a little more difficult than it would first appear. The game is still fairly simple, and a bit of fun, but what really gets this game on the list is the scoring system. All of the available levels have a three-star rating system, based on how many points you score during the game. You get points for the distance between the two members of the pair, and any time left over at the end of each round. Completing the third star on each board can be extremely difficult, as you need to quickly find pairings that are far away, and eligible. Funny how such a simple thing as a high score goal can turn a little game into a big time waster, as you keep trying for that perfect game.
13. Bonsai Blast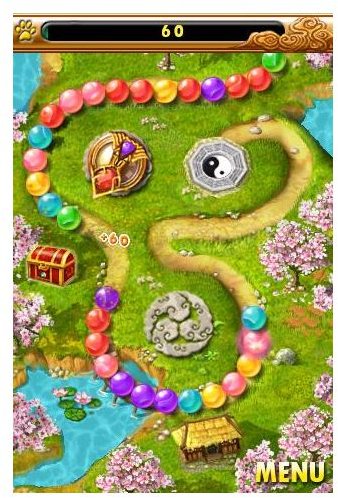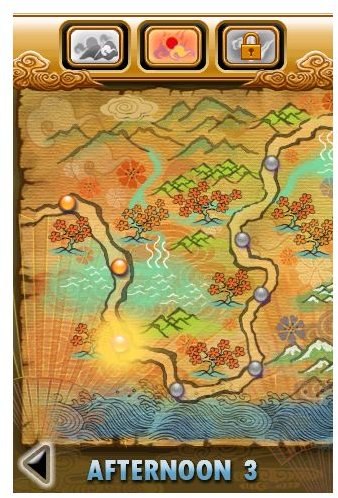 This is another Android game that you have probably seen before as a flash-based computer game, but it is just too much fun not to make an appearance on this list. The game consists of a long string of marbles that move along a game path. You control a device that can shoot marbles into the string, and whenever you match three of them, those marbles disappear. Your job is to destroy the string before it gets so big that it reaches the end of the path. The game includes some surprisingly tough boards and beautiful scenery. Bonsai Blast is a great way to test your mind and reflexes, or to just kill some time.
12. Hungry Shark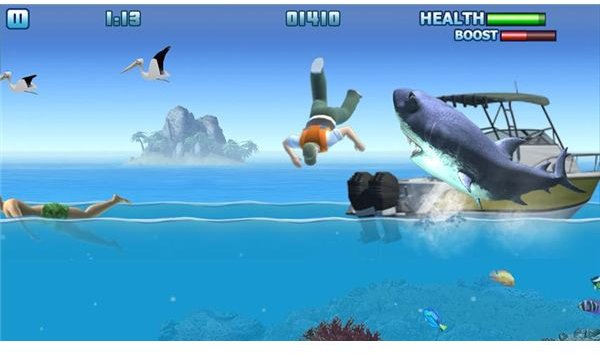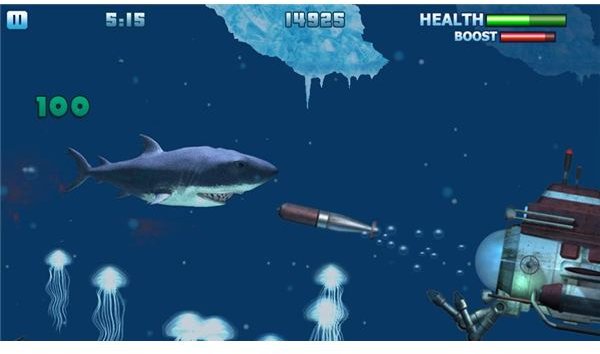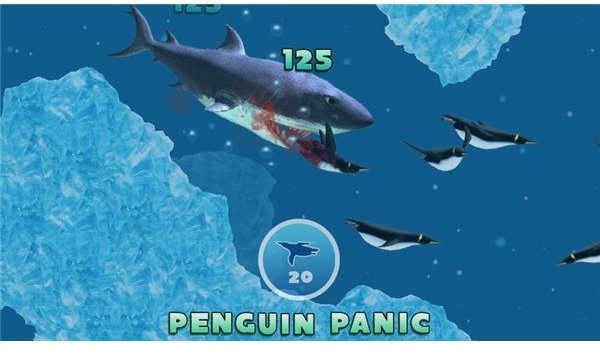 If you have ever watched Jaws and felt just a little bit of sympathy for the shark, Hungry Shark is definitely the game for you. The gameboard consists of a vast underwater expanse that you can maneuver through as a starving shark. Eat people, fish, pelicans, penguins and more to replenish your health and grow your shark. Watch out for obstacles like depth charges, jellyfish and hunters, which can all sap your health and end the game. Hungry shark uses the motion sensor in your smartphone to control the shark, giving the game a unique playstyle as you move the shark around the 2D board. The free version of this Android game is limited to 12,500 points, but that is actually quite a lot of gameplay.
11. Pocket Legends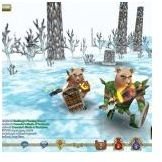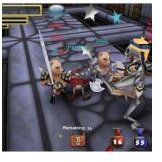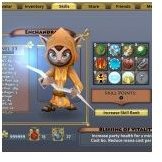 Pocket Legends brings a full 3D MMORPG to your Android device, letting you play in a persistent game world with players from around the globe. The game is remarkably like many computer-based MMOs, including fleshed-out character creation, numerous character abilities, an open world and tons of loot-based rewards. Head out on your own or hook up with some friends to enjoy everything that this world has to offer. Like all free MMOs, you can greatly increase your experience by purchasing certain items and abilities, but there is no need to do that to just enjoy the game. Be aware though, Pocket Legends is just as addicting as some other MMORPGs, so only download the game if you are sure you don't mind spending hours of your time playing it.
10. Cestos 2
Cestos 2: Party Time, is the follow-up app to the popular Cestos multiplayer game, which is another of the best free Android games around. The game has you take control of three marbles that are positioned on a game board. You choose the direction your marbles will move and the amount of power they will move with, while up to three opponents do the same. The goal will vary by the type of game, but it can range from avoiding a hole in the middle of the board, to running over an area of the board in a certain sequence. Since you don't know what your opponent will do, it becomes a complex guessing game as you try to out-think your opponent. As you defeat opponents and gain levels, you can customize your avatar from a list of a number of options. Cestos is a ton of fun, and can be extremely challenging when you run up against the right opponent.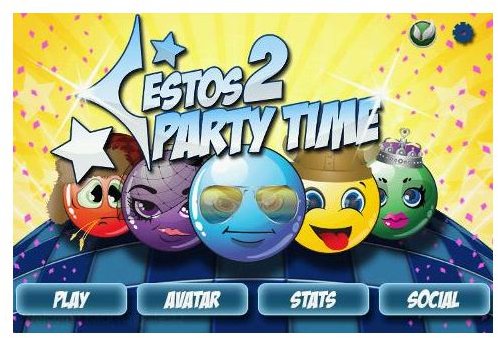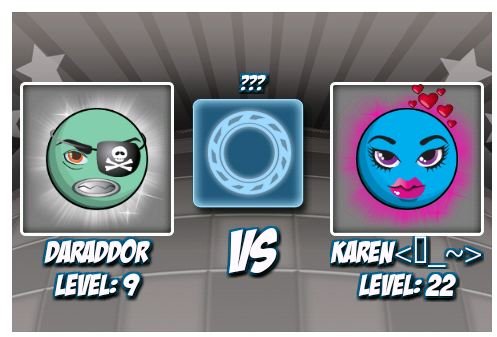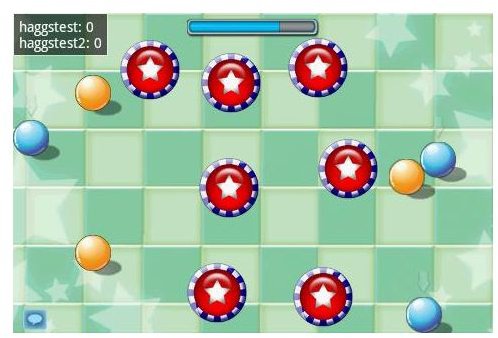 9. Homerun Battle 3D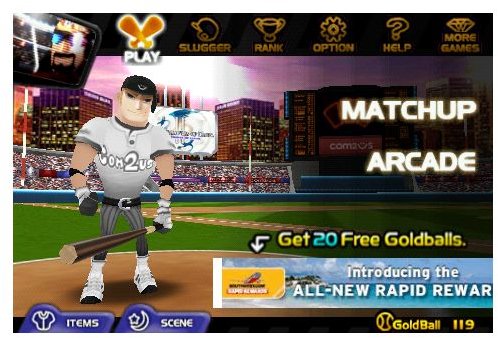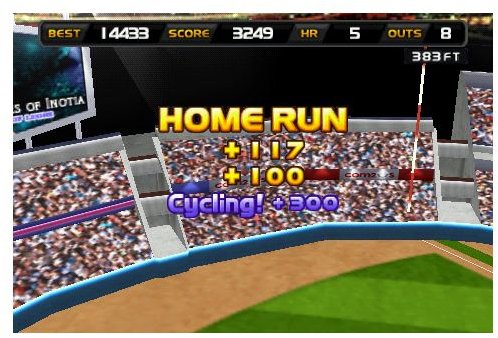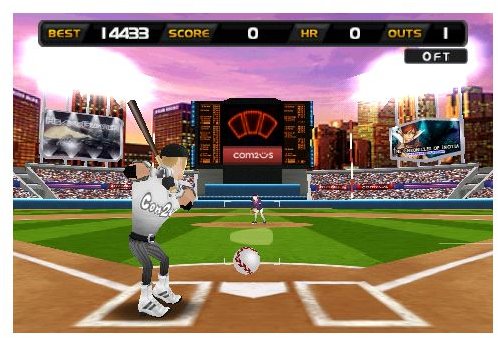 If the thought of slugging homer after homer over the outfield fence appeals to you, Homerun Battle 3D is the game for you. This amazing little game is nothing but a home run derby, where you have to knock baseballs over the fence to score points. The game features a single-player option, where you continue to score points until you get 10 outs, and a multiplayer option, where you go head to head against someone from around the world in a race to a given score. The graphics are a bit on the comical side, which fits in with the arcade vibe of the game. Almost any Android device can run the game, although slower devices may lag from time to time, which can be frustrating in a game based around timing. The free version of this app makes for a really fun experience, and if you fall in love with it, the paid version makes it a little easier to customize your character and matchup with opponents.
8. Medieval Castle Defense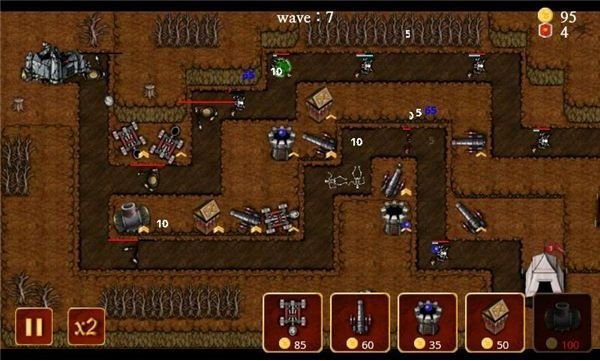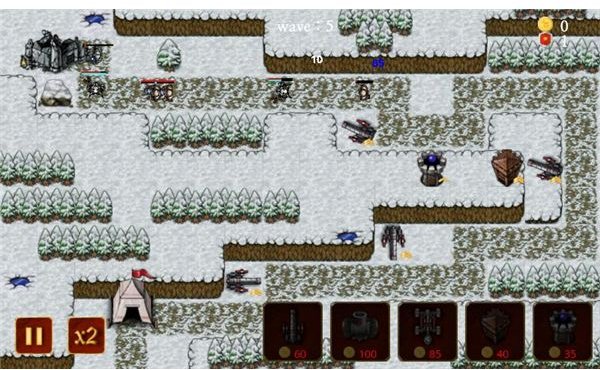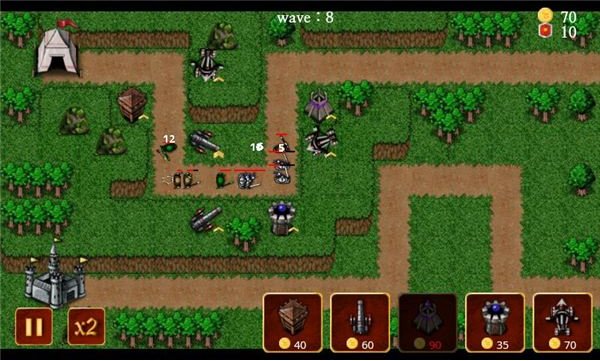 There are a ton of tower defense games on the Android Market, like the aforementioned Robo Defense, but the best of the completely free ones is definitely Medieval Castle Defense. The game consists of a path leading to your castle, which various monsters will walk down. If any monsters reach the castle, you lose a life. Your job is to build a system of towers that will attack the monsters and destroy them before they can reach the end of the path. After you have defeated a certain number of waves, you complete the board and move on to the next one. While the game starts off being fairly simple, after a few boards it will take some real planning to be able to defeat everything in time. If you want to play a great, classic tower defense game, check out Medieval Castle Defense from the Android Market.
7. Roller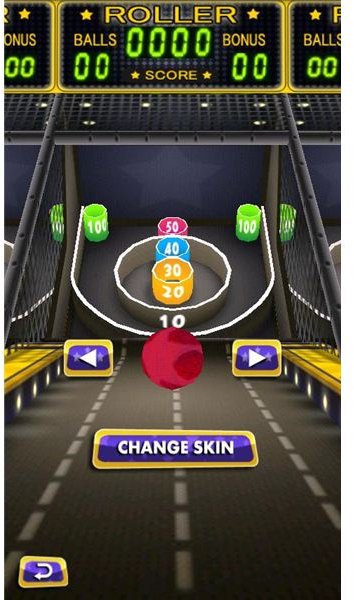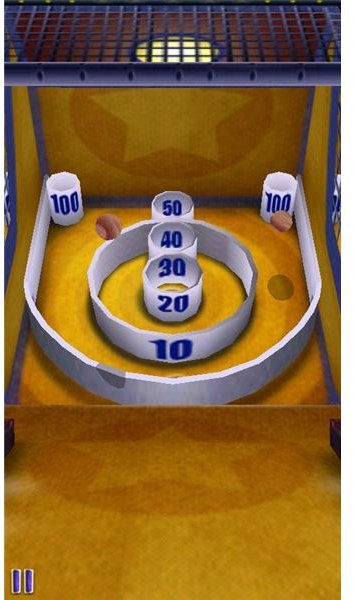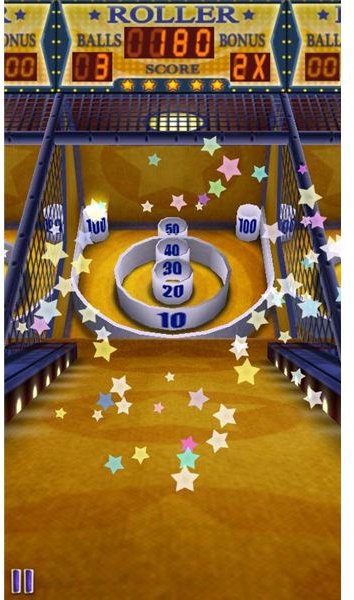 How does a skee-ball app make it this high on a list of the best free Android games? I don't really know, I just can't stop playing it. The game is simple, just roll the ball down the course and aim it for the holes. Score points based on the number listed on the hole, or aim for the glowing hole to get a bonus multiplier to each subsequent roll. After each game, your last 20 scores and your overall high score are listed on a graph. There isn't much to do here but try to beat your own high score, but if you need something simple to play in under a minute, Roller is your game. I have no idea why this free app is so addicting, but it is.
6. Live Hold'em Poker Pro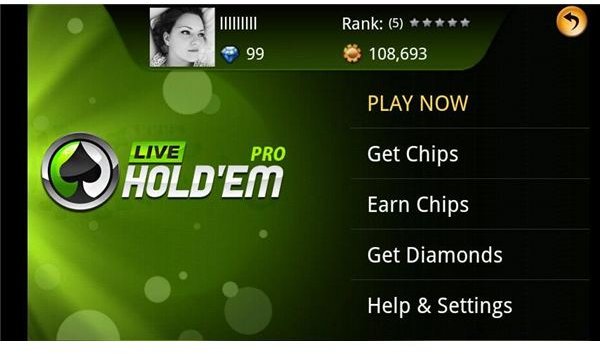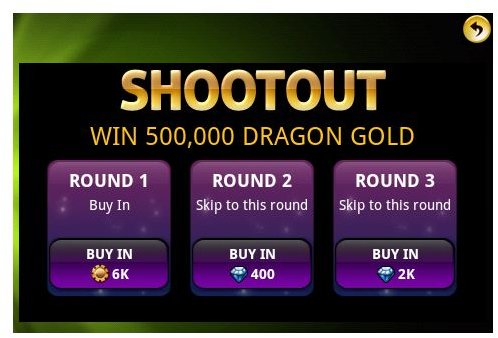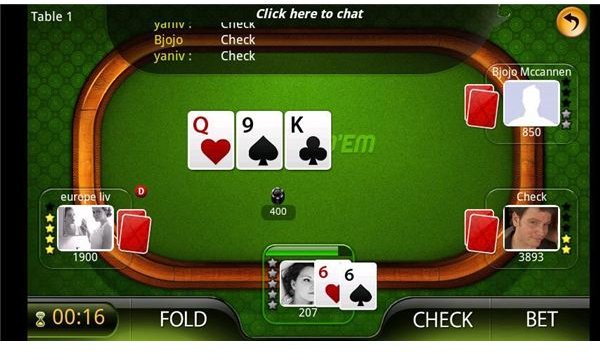 The poker boom may be over, especially with the shuttering of many online poker rooms, but you can still flex your Hold'em muscles with players from around the world with this free Android game. Live Hold'em Poker Pro features a slick interface, free chips and multiple game modes. You can play in a ring game, get in a sit-n-go tournament, or play in a multi-layer shootout tournament. You get free chips every day, so you can enjoy all the features of the game without having to spend a dime. When you want to get your poker on, and the Department of Justice still has the poker rooms under wraps, you can download Live Hold'em Poker Pro form the Android Market.
5. Pobs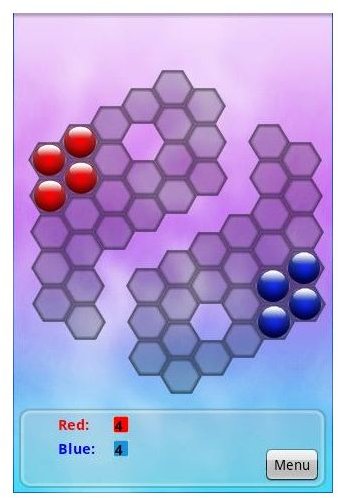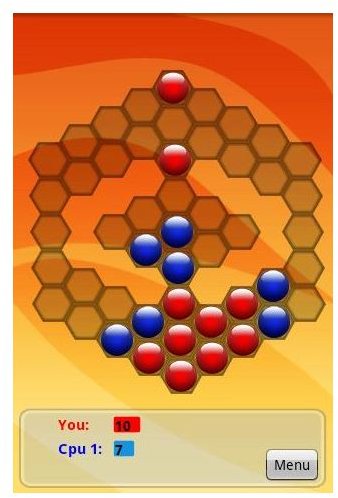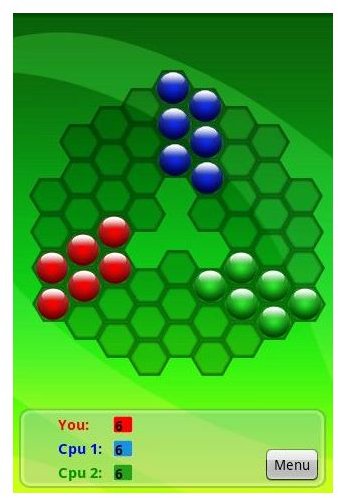 Pobs is a board game that bears some resemblance to Reversi, Go and Checkers, but has some rules and boards that make it a game all its own. You start the game with a few pobs, which each fill one hexagonal space on the game board. Each turn, you can add a new pob in any space adjacent to your current pobs, or move one of your pobs two spaces away from its current location. When you add or move a pob, any enemy pobs adjacent to the new one will transfer over to your side. The game goes back and forth until the entire board is filled with pobs. Pobs features several different game types with up to 20 different boards and three difficulty levels. At first, you will win with ease, but as you progress up the difficulty ranks, the AI becomes much smarter and you start several boards at a severe disadvantage. Pods is both challenging and addictive, with games that are short enough to enjoy even if you just have a quick minute of time to play.
4. Stupid Zombies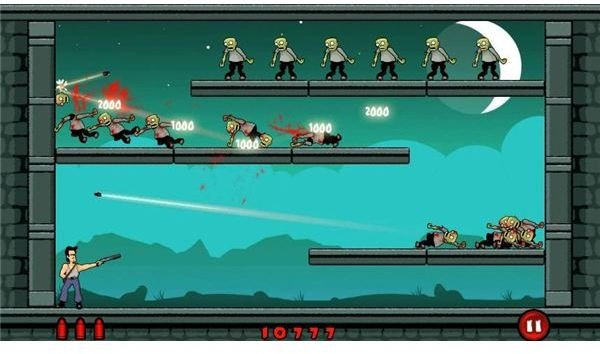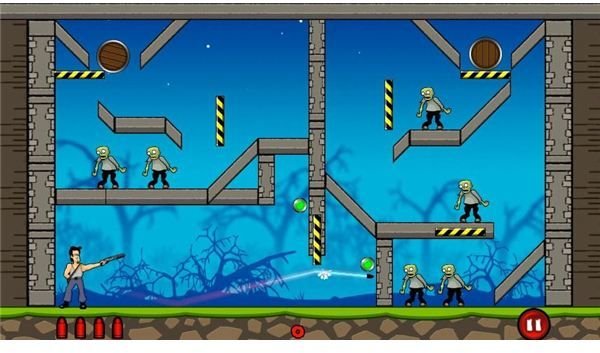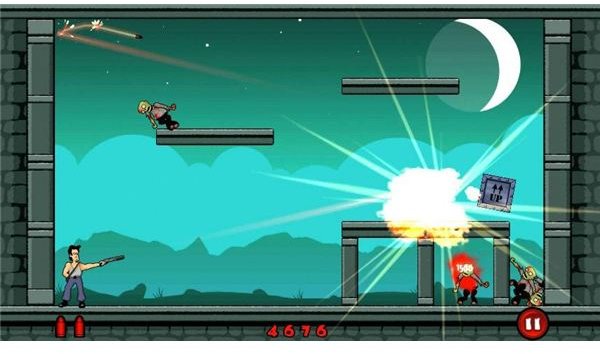 Zombies are hell bent on taking over the earth, or shambling down the street, or whatever it is that zombies do, and you are tasked to destroy them. Stupid Zombies' gameplay is very similar to Angry Birds, as you have to aim your shots to try and take out all the zombies on the board. This free Android game does add a bit more complexity, as you can bounce your shots and angle them around obstacles to best fulfill your goal. The graphics are top notch and the levels are both fun, challenging and zombie-filled, an epic combination if ever there was one. This game was so much fun, I decided to break my own rule about game availability to recommend it. Stupid Zombies does require a certain amount of processing power, so it may not be available on all Android devices. If you are lucky enough to be able to play it, head to the Market to download Stupid Zombies now.
3. Star Traders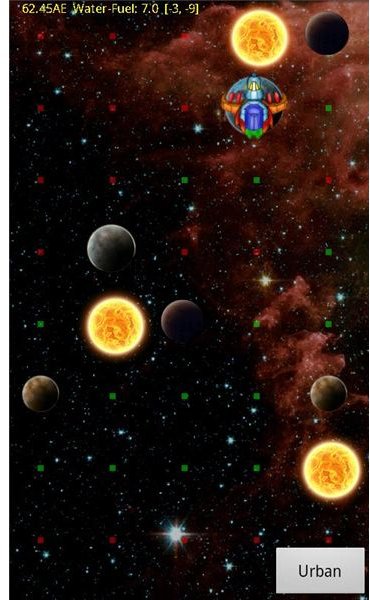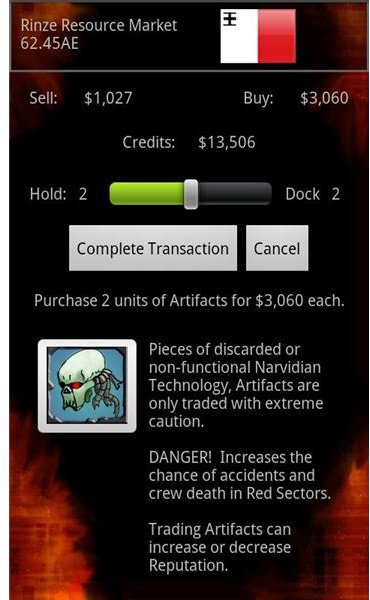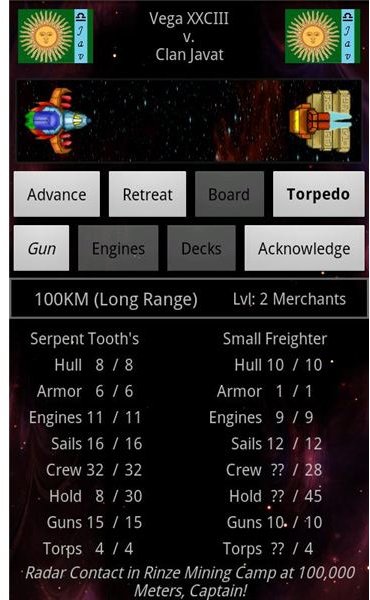 Star Traders is an absolutely epic, space-based role playing game for your Android smartphone. You play as the commander of a single ship and have to trade, steal, smuggle and fight your way to galactic supremacy. The game has a huge map with over 40 planets ranging from the height of civilization to the most remote outpost of life. Not only do you have to worry about keeping fuel in your ship, but you have to worry about your standing with the different factions, the happiness of your crew and even the prices of various goods on different planets. While this may sound like a lot of stuff, you can still ignore it all and just have some fun roaming from planet to planet while you kill stuff. This RPG has everything a fan of the genre could want. To top it off, the developer seems to really know what he's doing, as the game also features a "Mini" version for Android devices that don't have an SD card (or for anyone who doesn't want to store the entire 2.2 MB game on their device). As soon as that Firefly marathon is over, head over to the Android Market to pick up Star Traders.
2. Angry Birds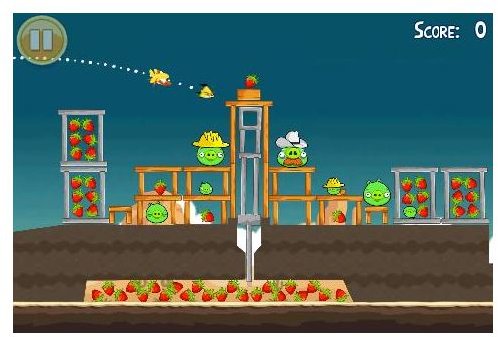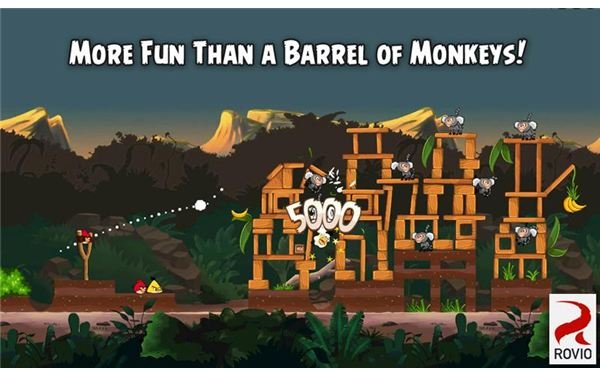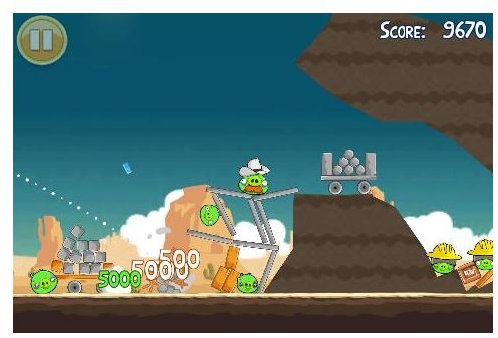 There's no surprise that a list of the best free Android games would include this monster. For the sake of brevity, I'll include all the Angry Birds games into this one entry on the list, as they are all excellent enough to make the list individually. The goal of Angry Birds is to propel your bird toward a structure or game board, with the goal of destroying the pigs that have stolen your eggs. Once the bird hits the board, simple physics take over as the structure starts to come down on top of the pigs. The concept seems simple at first, but once you get a few boards in, you understand just how complex this game can be. The graphics are smooth and look good, even on lower-end Android devices, a testament to how well these games are programmed. Angry Birds is one of the most popular games in smartphone history, and with good reason. The Android version is free, since it is ad supported, so there is absolutely no reason not to check it out.
1. Trap!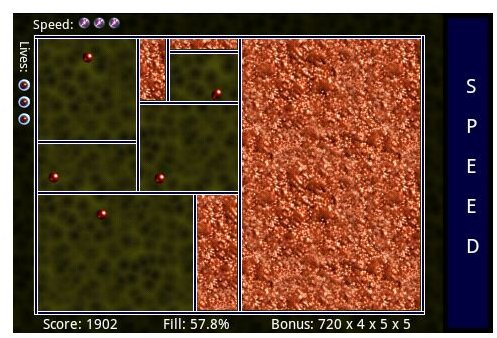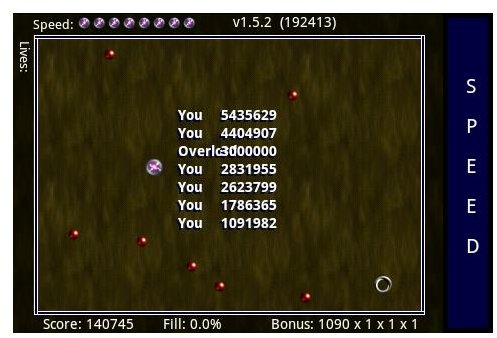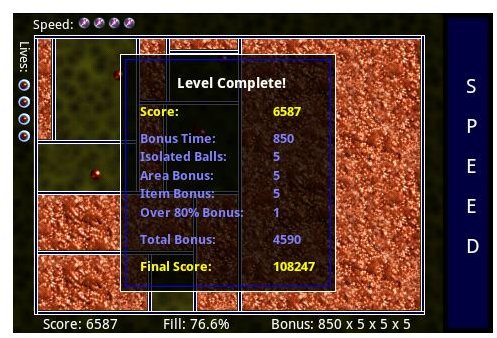 It may be difficult to accept that with all the high-octane free Android games currently available, that such a low-tech one would take home the top spot. However, time and time again when I reached for my phone to play a game I almost immediately went for Trap. Trap's concept, trying to capture free space by creating lines on a playing field, isn't a new one. The line has to reach the edge of the playing field, or the edge of another line, before a ball hits it and destroys it. The object it to enclose 75 percent of the game area, and then move on to the next level, which has more balls to avoid. The game isn't complicated, but it sure can be addicting. The scoring bonuses, from separating off a large area at once, capturing balls in individual areas, collecting bonus pieces and enclosing over 80 percent of the board, are required if you want to hit the high score board, adding a level of complexity to such a simple game. At once, Trap can be intricate, demanding and frustrating, but you'll keep finding yourself playing just one more game to one-up yourself on the scoreboard. Sometimes the best games are the simplest, and nothing exemplifies that statement like this game does.
References
Android Market, https://market.android.com/
All images taken from the Android Market, except Trap!, Poker Pro #3, Bonsai Blast #3, Jewels #3 and Homerun Battle 3D, which were taken by the author. Pocket Legends pics were taken from the Pocketlegends.com website.