Animal Crossing: City Folk - Tips on Using Gold and Silver Donations to Unlock Special Prizes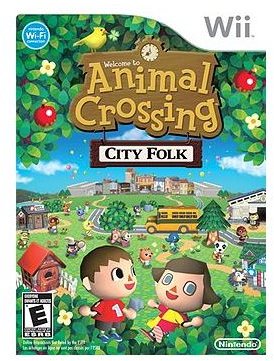 Animal Crossing: City Folk was released in November of 2008 for the Wii gaming system. It carries the same Animal Crossing traditions as its predecessors, and doesn't add too many new aspects from the older versions. But for those with a Wii, at least you get it on your platform. It's a good, fun, and family friendly game that consists of fishing, finding shells and fossils, and catching bugs for the museum. It has a very simple game play but before you even realize it, your day is gone and you've been sucked into spending all day playing it. Addictive is an understatement. To speed the process along get your hands on some Wii Animal Crossing: City Folk unlockables.
Bell Donation Unlockables
For these unlockables you will need to donate a set number of bells into the town fund in the town hall. They don't do anything, but are used to show off or as bragging rights.
Green Feather – Donate 100,000,000 bells to town hall fund.
Blue Feather – Donate 200,000,000 bells to the town hall fund.
Yellow Feather – Donate 300,000,000 bells.
Red Feather – Donate to the town hall fund, 400,000,000 bells.
Purple Feather – Donate to the town hall, 500,000,000 bells.
White Feather – You'll donate 600,000,000 bells to the town hall fund.
Rainbow Feather – You must donate 700,000,000 bells to the town hall fund.
Special Tom Nook Prizes
These items are earned by a points system. You'll earn one point for every 100 bells that you spend in Tom Nook's store. You'll unlock these special prizes from those points.
Banana – This unlocks when you are at 500 points.
Bad Bro'stache – This will unlock at the 2,500 point mark.
Kart – Unlocked at the 10,000 point mark.
Yoshi's Egg – At 1,000 points you'll unlock this prize.
Triple Shells – This is reached at 800 points.
Toad Hat – Unlocked when you get to 3,000 points.
Midna's Mask – You'll unlock this at 6,500 points.
Peach's Parasol – At 4,000 points you will unlock this prize.
Hero's Cap, Majora's Mask, or the Samus Mask – For 6,000 points it's unlocked.
Hero's Clothes, Varia Suit, or the Wario Hat – This unlocks at 5,000 points.
Tool Upgrading
These items you can get by doing certain things in the game to upgrade your tools. This will let you upgrade tools to their silver and gold counterparts if you follow the directions given.
Silver Fishing Rod, Silver Net, Silver Slingshot – All are sold at Tom Nook's Store.
Silver Watering Can – You need to buy 50 seed bags from Tom Nook.
Silver Shovel – Get this from Resetti's Surveillance Center that is in the city.
Silver Axe – Put a normal axe into the fountain for a chance at a silver or gold axe.
Gold Fishing Rod – You must catch one of every type of fish.
Gold Net – You'll have to catch one of every type of insect.
Gold Axe – Put a normal axe into the fountain for a chance at a silver or gold axe.
Gold Watering Can – Talk to Pelly in Town Hall after getting a perfect town rating for 15 days.
Gold Slingshot – Knock down eight balloons. There is a chance a balloon present will drop one.
Gold Shovel – Bury a shovel (a normal one) and then dig it up after 24 hours have passed
Overview
As you can see, there are a tremendous amount of things that you can get in the game, and this just is a scratch on the surface. Hopefully it will whet your appetite to see how much you can get while playing the game, and to see what else is out there just waiting for you to unlock it!