Guide to Holiday Events in Animal Crossing City Folk: June Through December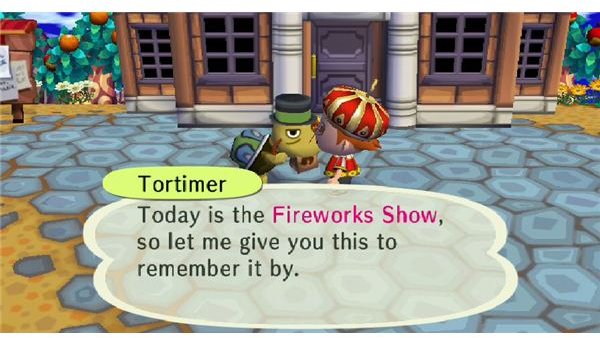 Our complete guide to holiday events in Animal Crossing: City Folk for the Nintendo Wii continues with information on all the holidays in the second half of the year. Check out all the great goings on during the months of June, July, August, September, October, November, and December.
June
Father's Day takes place on the 3rd Sunday of June each year. Like Mother's Day, you should expect to receive some carnation seeds in the mail from your in-game father. Remember that you can breed these with the seeds you received for Mother's Day to make special white carnations.
July
Not much going on during July in the Animal Crossing world, aside from the usual Flea Market and Bug Off. Players who spend a lot of time outside during the last few weeks of the month can get a bit of a suntan, this lasts until mid-September or so.
August
At 7pm on every Sunday in August, your town will host
a fireworks display in the skies. If you speak to Tortimer on any of these days, he will give you either a sparkler or a Roman candle. You can receive an unlimited supply of these personal fireworks.
All your town's residents will gather at Town Hall right before the display begins.
September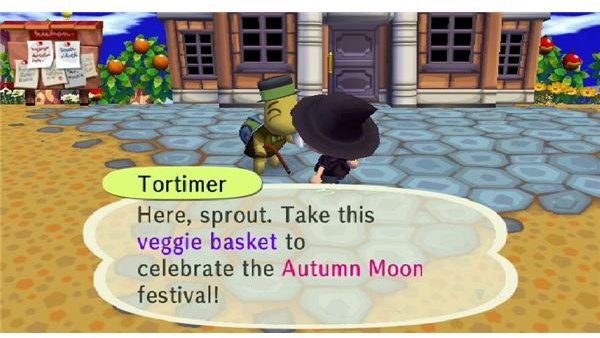 The first Monday of September each year is Labor Day in your Animal Crossing: City Folk town. Track down Tortimer on Labor Day and receive an exclusive picnic basket gift.
In 2010, the Autumn Moon festival takes place on September 23rd. Speak to Tortimer to receive the exclusive wheat bundle commemorative item.
October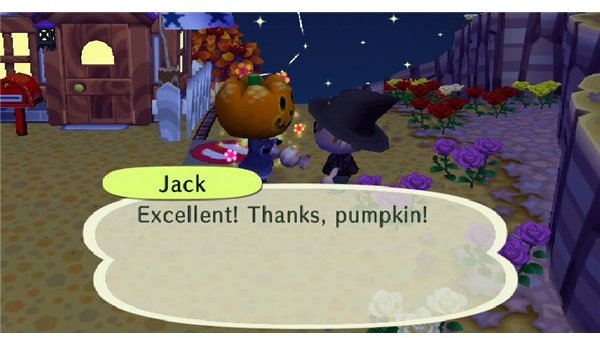 October 12th is Explorer's Day, the in-game equivalent of Columbus Day. Speak to Tortimer on this day and he will reward you with an exclusive sailboat model for your house.
On October 31st, Animal Crossing villagers celebrate the in-game Halloween holiday. Starting at 6pm, players who track down the special NPC named "Jack" and give him candy will receive pieces of furniture from the "spooky" series. Tracking him down repeatedly will result in multiple furniture pieces. Candy can be purchased from Tom Nook's store.
Villagers will also dress up as Jack during the holiday. One easy way to tell the difference between the impostors and the real Jack is to watch their behavior. Villagers wearing in-game costumes will run toward you, while Jack himself always remains stationary.
November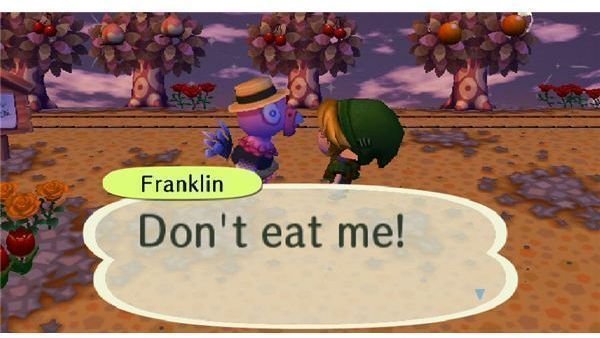 Starting November 1st, five mushrooms will be hidden throughout your town each day. Four of these are simple fungi, but one each day will be a piece of the rare "mushroom" furniture series. Mushroom hunting is the only way to acquire these items, so be on the lookout all throughout the month of November.
The in-game Harvest Festival takes place on Thanksgiving each year. From 3pm until 9pm, Tortimer will give you a set of utensils and ask you to track down the "guest of honor," Franklin the turkey. Once you find him, Franklin will trade your fork and knife for pieces of the special "harvest" series. You can continually trade your utensils until you get the full set. If you give your fork and knife to your neighbors, they may offer clues as to where Franklin is hiding.
December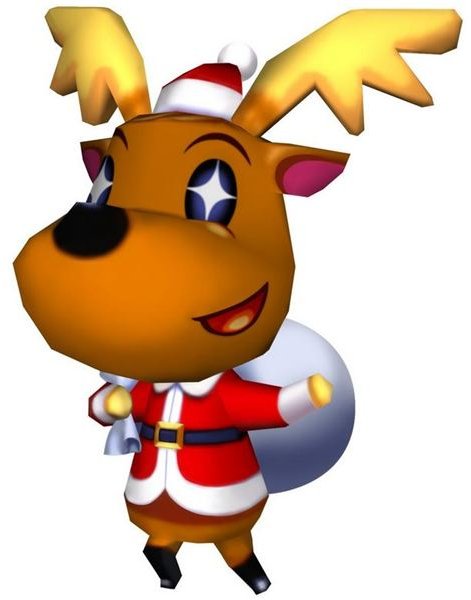 On December 24th at 8pm, Jingle the Reindeer comes to town to hand out presents. These presents are items from the rare "jingle" series (unfortunately, he's not handing out copies of Wii Sports Resort). Typically, players can only get one piece of furniture from him per year, but it is possible to trick Jingle into giving multiple presents by changing your appearance slightly.
Swap out your accessories (hats, masks, flowers, umbrellas, etc…) to trick him into giving you an additional gift. You can swap items multiple times to receive as many gifts as you have new accessories. Jingle typically departs at midnight on the 25th, so you only have a short four-hour window to catch him.
At 6am on December 31st, the countdown to the New Year begins in your Animal Crossing town. Tortimer stands in front of a giant countdown clock outside Town Hall. When the clock reaches zero at midnight, a fireworks display will light up the town and last until 2am. Don't forget to visit him again on New Year's day to receive your New Year's T-Shirt.
Congratulations, you've managed to survive a full year in the world of Animal Crossing City Folk. Now prepare yourself, because a whole new year of fun activities is about to begin.
Check out the other sections of the guide for more information on Animal Crossing events January through May, or to find out more about bug catching, fishing, or home decorating.
For more great Animal Crossing City Folk hints and tips, be sure to check out the other sections of the guide. For more on holiday events, check out part one of this guide.
Animal Crossing: City Folk is rated E for Everyone.