The Top 10 Best Games on Facebook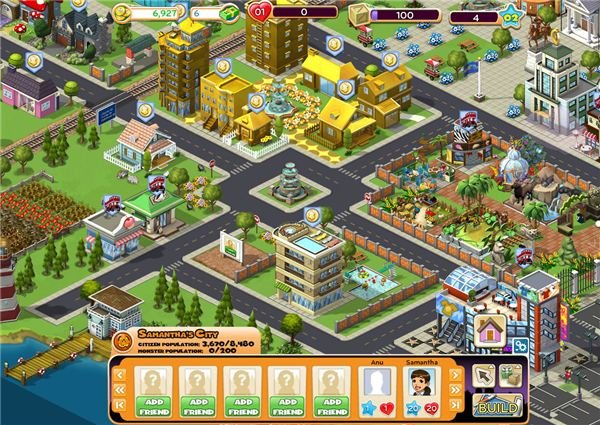 CityVille
Zynga's social smash hit is one of the most-played games on Facebook. In CityVille, players engage in digital city-building fun that involves managing cities, requesting materials from friends, growing crops and unlocking collectibles. The social game requires players to devote much of their free time to developing their city. Various quests provide several opportunities to players to earn profits and turn their cities into thriving metropolises.
Managing a city can be quite time-consuming and your buildings must be "staffed" by your FB buddies, else be ready to spend some bucks to finish building them. The typical Zynga model makes CityVille addictive as well as frustrating. But the amount of social fun it offers is the main reason for its success.
The Sims Social
The social adaptation of Sims has been the biggest surprise. It has easily outshined games like Farmville, though CityVille still rules the roost in terms of popularity rankings.The social twist adds more fun to Sims Social as players interact with other players in the virtual Sims world, which means virtual romance and fights with real people are now possible. This feature has been one of the strong points of this game. Besides interacting with FB users, players will find the interface and graphics very similar to the original game.
Sims Social has retained plenty of features seen in the original game but has made significant changes to fit the social gaming scene. EA's social simulation game has climbed to the top of the charts outperforming popular games like Farmville, Empires and Allies and Pioneer Trail, but only time will tell if it can really topple off CityVille from the top spot.
Adventure World
Treasures, traps, and secrets – that's Adventure World for you. This social adventure/exploration game is very different from other Zynga games you've played. In this game, you will step into the shoes of a wannabe Indiana Jones and explore exotic locations unearthing secrets and rescuing other explorers. With a variety of weapons and tools at your disposal, you will fight against pesky spiders and snakes, clear away obstacles and explore strange new locales filled with secrets and treasures. The social part of the game allows your FB friends to join your crew and help you gather more energy by performing various tasks for you.
Adventure World and Empires and Allies are two Zynga's most popular games right now, and both are very different from the Farmville model. I am really looking forward to making new friends, exploring strange new lands, and discovering treasures as I embark on a grand adventure.
.
Bejeweled Blitz
Fun and addicting, Bejeweled Blitz is your perfect game to spend a lazy Sunday afternoon. Since 2008, the game has charmed Facebook users with its twinkling trinkets and impressive gameplay twists. Several enhancements and features have made the game more interesting than ever.
In Popcap's Bejeweled Blitz, players have to match three or more colorful gems to earn points. There are many special jewels that help you achieve more matches and earn more points. The more time you spend matching trinkets, the more you get immersed into its amazingly addictive gameplay. Bejeweled Blitz is fun to play but difficult to master, which makes this game quite challenging.
Gardens of Time
Playdom's Gardens of Time has everything a hidden object game should have - amazing visuals, plenty of objects to find and an interesting storyline. The time-traveling plot gives enough opportunities for exploration as players will have to go back and forth between scenes to find objects. The game doesn't have any time restrictions, but players will get bonus points if they are quick enough to find all objects. There's also a typical spot the difference mini-game and an opportunity to decorate your own garden.
The points earned can be spent on buying rare artifacts, which can be used as decorative items. The better you decorate your garden, the more "reputation points" you earn and these points are crucial to unlocking new hidden object chapters. With plenty of gameplay variety, Gardens of Time is fun, addictive and one of the top games on Facebook. In fact, it is the only HoG game to feature in the monthly top 10 lists.
Empires and Allies
Empires and Allies is Zynga's successful attempt in bringing turn-based strategy to the social gaming scene. Although the game has a very CityVille-like visual interface, its engaging combat is one its main highlights. You are tasked to save your magnificent island nation from a possible invasion and to do this you will have to collect resources, build houses and train military units to defeat the plans of the evil Raven. The number of military units available is pretty diverse and includes land, sea and air units. With a nice narrative and good combat system, Empires and Allies seems quite promising and going by the stats and the number of players the game will stay at the social gaming scene for a long time.
Pet Society
Pet Society is a virtual pet simulation game that allows players to interact with digital pets. Players perform various tasks to keep their pets happy and rake in a few paw points. A player's pet can visit his friend's pet a number of times to earn coins.
These digital pets aren't a whiny lot. They exhibit human qualities and are fun to interact with. Your pet watches TV, goes fishing and loves giant hot dogs. This strange virtual world of pets has plenty of activities to keep you busy for hours. You can go for a shopping spree with your pet, participate in challenging competitions, visit friends, cook a delicious meal for your pup and decorate your garden. The variety of activities it offers truly makes it one of the best Facebook games of all time.
Words with Friends
This fun Scrabble-like game is the perfect social pastime for all you wordsmiths out there. If you've played the Android and iOS game, then it won't take you much time to become familiar with the Facebook version. It easily integrates with iOS and Android versions, and this means you can start a game on Facebook and pick it up later on your mobile phone. The cross-platform functionality it offers also lets you challenge a random opponent or your friend on a Macbook.
Words with Friends is one of the very few word games out there on Facebook that offers as much fun as Scrabble. Sadly, some of the best word games on Facebook have been shut down because social games like CityVille attract more people than Scrabble-like games. I hope this game doesn't meet the same fate and continue to attract serious word game fans.
The Smurfs and Co.
The Smurfs and Co. brings all your favorite Smurfs characters to life. Along with the amazingly original art style, social gamers will find the animation quite detailed and smooth. The social elements incorporated with the game are very much suitable for the casual gaming crowd.
Ubisoft's The Smurfs and Co. belongs to the city-building genre, so there's nothing new to learn if you are familiar with games like CityVille. What's interesting is the plot and the various "Celebrity Smurfs" that a player can attract to boost the happiness meter of his village. Along with the main quest, there are plenty of side-quests to complete. However, you will need your friend's help to build a village and send you stuff and so it is very important to have your most loyal friends send you key items in times of need. If you like themed games and have plenty of friends on Facebook ready to kill their free time helping you, then sign in and start playing.
Farmville
You may crack jokes, or ridicule the game model, but you cannot remove Farmville from your mind. The social sensation was once claimed to be more popular than Twitter, and is still one of the most-played games on Facebook. New entrants like Sims Socials may pose a threat to its popularity, but ardent Farmville fans won't care. They simply love the uncomplicated gameplay and the various new features introduced to keep them busy for hours. The social aspect of the game encourages "Farmvillers" to give gifts, help their fellow farmers by visiting their farms and exchange various special items. And the regular updates and refreshing content Zynga delivers is cherished the most.
What's your favorite Facebook game? What games do you generally prefer – adventure, puzzle or Farmville types? Share your own top 10 list with us and suggest titles that you feel should have made it to this list.
References