Facebook Disco Empire Review - Disco comes to Facebook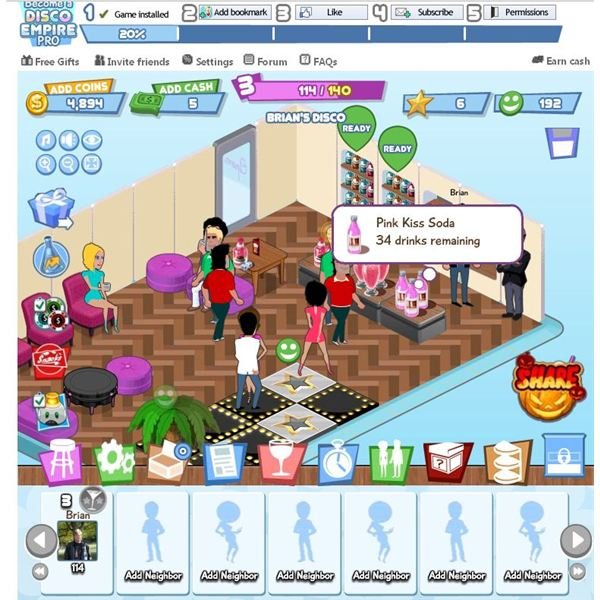 Disco Empire Facebook Basics (4 out of 5)
Disco Empire puts you in control of your own disco on Facebook. Make drinks and serve them, while your customers relax on chairs or use the dance floor. Clean your dance floor periodically for loot items such as additional drink servings. Complete is game challenges such as making as many drinks as possible in five minutes for rewards. Build a snack bar to serve your guests by collecting parts from your Facebook friends and complete a series of tasks to gain access to your own casino room. Add more drink counters, bars, and decorations to your disco to create your own unique atmosphere.
Serving Drinks (4 out of 5)
The whole idea behind disco empire is much like games such as Nightclub City, you serve drinks to get customers into your bar. You have a whole host of different drinks you cans serve such as beer, wine, martini, grasshopper, whiskey and so on. There's plenty of drinks to serve in the game so you'll always have something new to serve as you level up. Once the drinks are ready they will automatically move to the drink counter to be served. You can also create a snack bar to serve your guests food but you must acquire the parts from your Facebook friends who are playing Disco Empire.
Seating and Dance Floor (4 out of 5)
As customers drink they can sit on furniture you provide for them or use the dance floor. Periodically you'll need to clean the dance floor and you may pick up loot after you clean it. There's also some fun items such as the smoke machine which billows smoke, or arcade machines that will generate coins for you over time. You can also hire a bouncer which generates a few coins for you. A cleaning robot can be built for your dance floors after you complete a series of quests.
Decorations (4 out of 5)
Your disco can be filled with various decorations and item such as tables and chairs. You can change the look of the walls and flooring as well as add in dance floor tiles. You'll also find some fun statues such as the Elvis statue, a construction worker, police officer, cowboy and so on. Various pillars, paintings, speakers, flowers and signs can be added for a unique look to your club. There's already a large selection of decorative items in the game to keep you busy for some time.
General game Play and Conclusion (4 out of 5)
Disco Empire is a fun game and it has a lot of items to offer the player. However there's no free first expansion with the first one requiring tem game cash or two neighbors. Your initial club is quite small and it would be nice to get one free expansion as you play. Some store items are also quite expansive so you can't add a whole lot to your establishment in the early stages of the game. Disco Empire Facebook game is worth playing but follows the same basic concept as games such as Café World.