Facebook Game Review: Nightclub City
Nightclub City Game Basics (5 out of 5)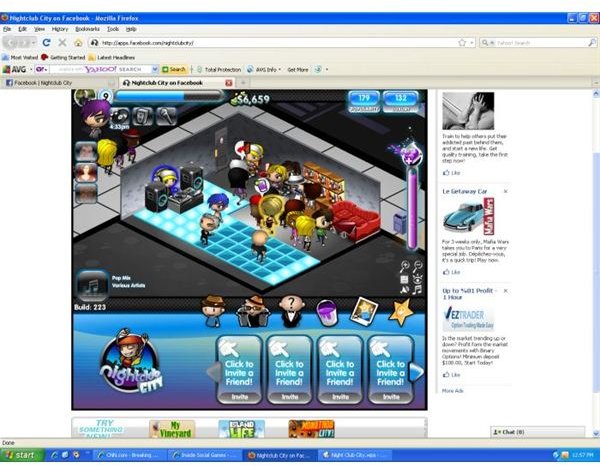 Looking to do some Nightclub dancing? Nightclub City lets you do just that with a fun nightclub building game on Facebook. The game puts you in control of your very own club where you serve drinks and keep your guests entertained with music. You play the role of the DJ and you can hire your Facebook friends to be bartenders, and bouncers. As you level up your club will expand allowing you to put down more dance tiles, bars, and seating for your guests. Each guest will have needs and some will leave if they don't like your establishment. Your bouncer can be used to throw out guests that are causing trouble. Your bartenders can perform tricks to get the customers to pay more money or serve drinks at double speed. As an owner you will need to buy more bar supplies for your quests which will cost game credits. At the DJ booth you can change music genres, or "drop the bass" to get your guests to buy more drinks. Your DJ can also dedicate a song which will cheer up one unhappy guest thus making them stay longer and keep paying.
Running Your Nightclub (4 out of 5)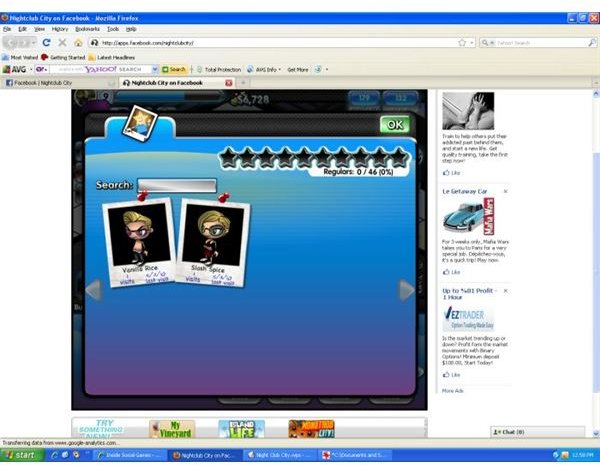 Getting your club up and running is a simple process in Nightclub City. You need a DJ which is yourself, a bartender and eventually a bouncer to remove troublesome guests. Once you have those three elements people will begin to flock to your establishment. As your club improves you can even invite "celebrities" which will arrive at your club and spend some big dollars to help your club grow. Naturally these celebrities are quite expensive so you won't be calling on them very often. A "wall" will be created that will show when each celebrity made a trip to your club. Each celebrity has a name based on a real life celebrity so you will have the likes of "Shuck Norris," or "Simon Scowl," visiting your club. Keep adding items and try to make one of the best Nightclubs on Facebook.
Decorate Your Nightclub (4 out of 5)
Decorating is a big part of Nightclub City. You have different seating options, bars, and DJ booths. More expensive DJ booths will allows you to play music continuously for longer periods of time with taking a break keeping more people in your club. As you decorate your club you can increase your luxury level which will wake patrons happy and raise the amount of tips they leave you. More advanced bars will increase the drink serving speed of your bartenders. You can change dancing titles, wallpaper and other items to your club.
Tips and Conclusion
Keep your drink reserves full or buy extra storage for drinks
Celebrities are expensive you don't need them right away.
Your club will expand automatically as you level up.
Nightclub City is a great Facebook game and a nice change of pace from farming or aquarium style games. While the game is still relatively new it looks like it could become a top Facebook game as long as the developers add some more content and continue to improve it. Nightclub dancing has come to Facebook and Nightclub City is a real winner.
This post is part of the series: Nightclub City Articles
A collection of other Nightclub City articles.