Nightclub City Tips - Best Cheat for Earning Cash & Leveling Quickly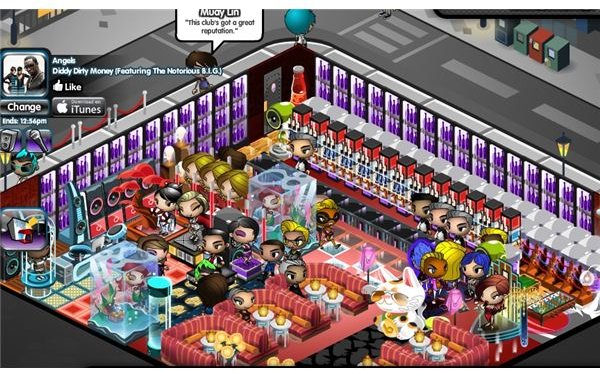 Becoming the Hottest DJ in the World
Booyah's Nightclub City is a 2D social simulation game where players operate and run their own virtual nightclub. Become a DJ and budding entrepreneur while balancing the multiple responsibilities that come with both roles. Hire bartenders and bouncers. Invite high profile celebrities to help promote and create buzz. Add a variety of luxury items to decorate and form special designated VIP areas. Play cool music sets of current artists at your club and guest DJ for friends. In this article discover the best Nightclub City tips and cheats for boosting popularity, leveling up quickly, and earning massive amounts of cash. Dominate the club scene while becoming the hottest DJ in the world with these tricks.
Nightclub City Tips for Leveling Fast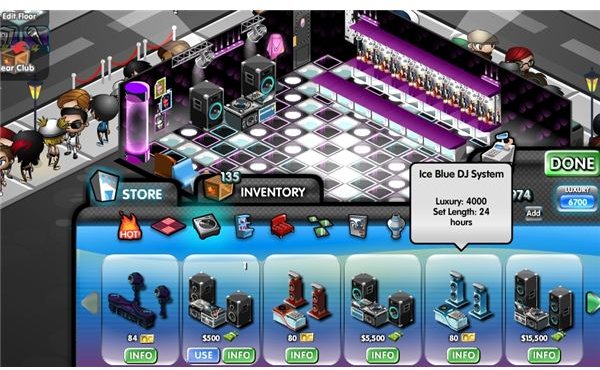 The secret to leveling up quickly is keeping the drinks flowing and the music pumping. Players only level up once they've generated enough income. One of the best Nightclub City tips is adding as many neighbors as possible. Players can guest DJ at their friends' clubs earning thousands of dollars. This amount increases with each additional neighbor. It's important to regularly guest DJ at most if not all of your friends' clubs to earn extra cash and level up fast. When spinning music sets in your club remember to dedicate songs and hit the bass occasionally to keep partygoers happy. Maintaining a high popularity and luxury rating is essential to draw in bigger crowds. Click on bartenders and select perform tricks to generate bonus cash at the bar. Monitor drink tanks and always wait until 100 drinks are gone before refilling. Another great tip is to purchase the Ice Blue DJ System or any other variation with a 24 hour set length. They generate income when you're not playing.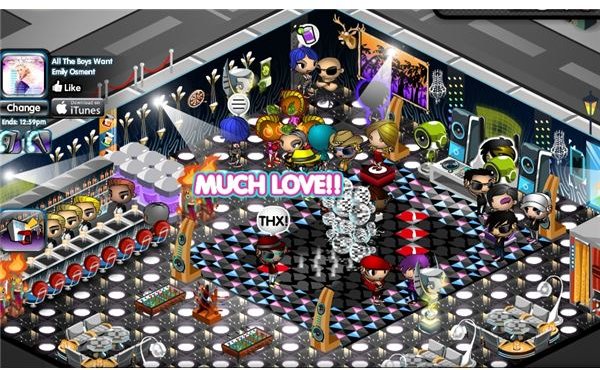 Design layout also plays a role in leveling. Players need to set up their club with adequate bar, sitting, and space for the dance floor. Make plenty of room for all three and place the bouncer near or in the center. It will be easier to remove drunks. Too many fights can bring down the popularity rating. Keep an eye out for fights and immediately instruct the bouncer to kick them out. Winning achievements earn money as well. For the bonus reward that comes with the Ladies Night or Sausage Night achievements players need to have a minimum of 8 clubbers of one gender and no guests of the opposite sex. It's best to go for this while the club size is small. Click on the bouncer and manually remove every male or female depending on the achievement you're aiming for.
Nightclub City Cheat – The Celebrity Boost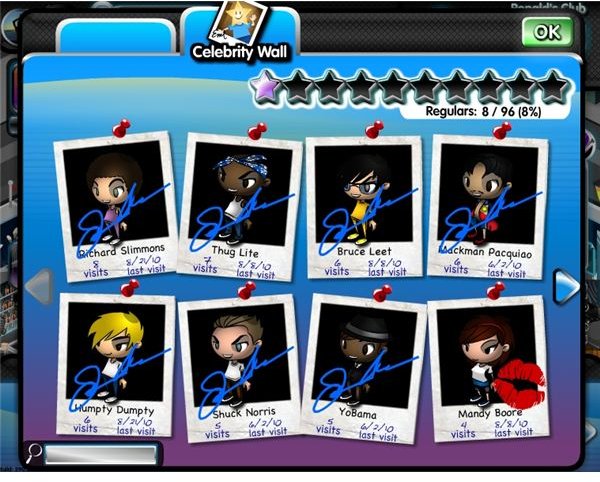 An easy Nightclub City cheat to do is the celebrity boost. This trick can only be performed once. Click on the celebrity icon. Buy the top 3 daily featured stars and then select two $50,000 public figures to appear. You'll win the bonus that comes with the achievement for inviting 5 superstars. Then purchase 5 more personalities of any price to get the achievement for having 10 celebrities. Finally while the party is still going purchase another 10 household names to earn the coveted achievement for 20 celeb visits. This trick will earn up to 1,000,000 dollars. To get celebrities to become regulars at your club they have to visit three times. After their third visit they will sign or kiss the picture on the star wall and begin to visit randomly for free. This will boost popularity and earn bonuses. Money equals leveling and success in this game. Following these Nightclub City tips and cheats will have you reigning as king or queen of the virtual nightlife in no time.
This post is part of the series: Nightclub City Articles
A collection of other Nightclub City articles.