Bar World Review - Own a bar on Facebook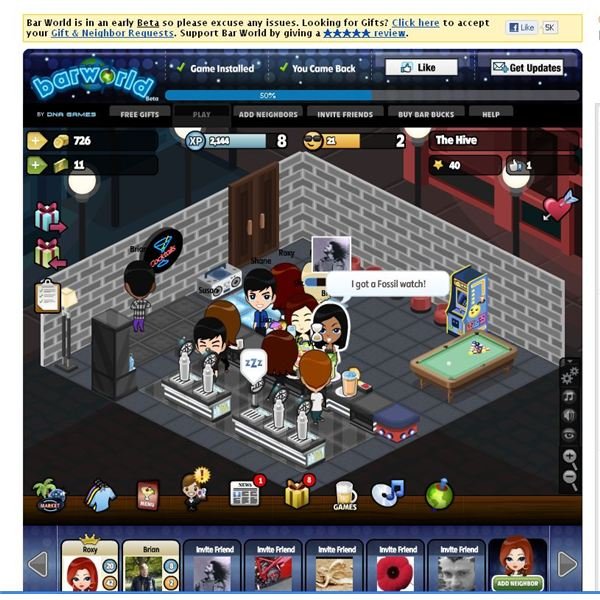 Game Basics (4 out of 5)
This game follows the same nightclub style formula as the popular game Nightclub City on Facebook. Players build up their own bar by serving drinks to make money. You can have music playing, seating options, and customize the look of your bar. There's not too much new here with the formula however you can visit different players bars and complete tasks at their bar. You can also choose from different locations for your bar such as downtown or the beach for a different look for your establishment. As you level up new locations for your bar will become available.
Drink Options and Customization (4 out of 5)
The game comes loaded with a great drink selection with twelve pages available currently. You can serve beer, wine, gin, margaritas, and many other drinks. You can also build a microbrew and wine cask to serve beer and wine. There's several bar pieces with different colors for serving your drinks and the same options for drink mixers. You can add games to your club such as pool or arcade machines which will generate coins. And your guests will use these games too. Fun statues and other decorations can be added as well as different dance floors and various color options for walls. Items can be rotated in the direction you want and placed in your inventory if you don't want them. Older items can be sold off for some coins back too by using the cash register. Overall the decorative options and drink menu for the game is good.
Music/Avatar Customization (3 out of 5)
You have several options for music in bar World such as rock, jazz, beach, electronic and more. You can change music from the music icon at anytime. You can change the look of your avatar by using the avatar customization in the game. Different skins, clothes, facial options and more are available at the expense of some coins.
General Game Play and Conclusion (3 out of 5)
Overall Bar World isn't a bad game but suffers from some slow loading issues with menus. To serve drinks you also have to physically pick them up and move them to the bar counters which is a bit of a pain with all the avatars around the counters. It's nice to be able to visit different Facebook users in the game without having to have friends playing the game yourself. You can boost drinks for coins and experience as well as train bartenders at other users clubs. This gives a bit of interactivity to the game and is a nice addition. This game isn't much different from Nightclub City and it has some loading issues but it's still fun to play. The game is still in beta and performance may improve. It is recommended due to the large drink selection and customization options already in the game.