Learn How to Play ESPN Sports Bar and Grill on Facebook with This Guide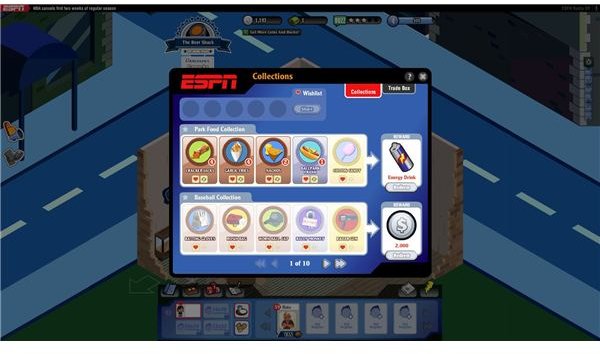 Game Basics
Welcome to your very own sports bar! The goal is to serve drinks and snacks while decorating to make the best bar possible. Players have many decorating options, including floors, walls, furniture, and other bar items. Players collect coins, experience and items as they play the game. Collected items can be turned in for rewards, like an extra energy pack or additional coins.
Playing the Game
ESPN Sports Bar in Grill on Facebook gives you a rundown bar to start out with. Your job is to build up the bar, and bring in more guests. Your bar features drink stations where you'll make the bulk of your money. Once you have placed a drink station, click on the station and select the amount you want. Drinks take game time until they need restocking. As you play, click on patrons with bubbles over their head to get extra payouts, experience points, and collection items. Once you have a few drink stations you'll earn enough money to start decorating your new bar.
Make the Bar Your Own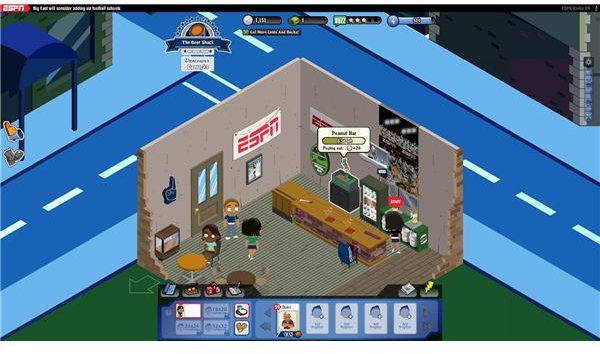 One of the nice things about bar and restaurant style games like this one is the ability to make each place unique. In this game, you have many different decorative options to choose from. Click the "update your bar" tab to enter the game store and begin making purchases for your new bar. The store has various sections where you'll find items for purchase. The "featured" section contains many of the expensive items in the game, as well as items you'll purchase with real life game cash and not the coins you make from playing. Under "drinks" find your bar items including food, televisions, or games such as a pool table. The "furniture" section features counters, wall decorations, new flooring, tables, chairs, stools, and other items for your growing bar. More items become available for purchase as you level up in the game. Place any items you don't want into your storage, or just sell them for a few coins back. With neighbours, or game cash, you'll have the option of expanding your new bar to accommodate more patrons and game items.
Creating Buzz For Your Bar
One thing you need to do as you play, is create "bar buzz." This will bring in more people to your bar, and make you more money. To create "buzz," use television screens to play sports games for your guests, and add plenty of decorative items to your new bar. Each item in the game store features a "buzz" rating. Try to select items that have the highest buzz rating, so that your bar becomes popular, and you get plenty of guests coming in. Large televisions are great for creating buzz in your bar but small items also add up over time. Food tables, such as a nacho bar or peanut cart, also increase your buzz rating. You'll find your buzz rating stats at the top of your main game screen.
Quests and Collections
This game features numerous quests that bring you rewards for completing them. To the left of your game screen, you'll find quests that appear as you play. You'll gain coins and experience as you complete the game quests. The game also features a number of collections. As you play, patrons will drop various collection items. Once you have a full set, you can redeem these from the collections screen. For example, if you have all the "Park Food Collection" items, you can redeem this for one energy pack.
ESPN Integration
The game features plenty of ESPN integration. At the top of the screen, you can click the microphone icon and listen to ESPN radio broadcasts as you play. Add a television to your bar, and click on it to display tapped or live sports games. You can't actually see the game, but it does provide updates.Furthermore, you can scroll through the list and pick any sports game that is scheduled to play. Both live and recorded games increase the buzz in your bar. You can buy ESPN sports magazines, and choose from various covers to display on yoiur wall. These cost game cash, however, and can get expensive - but they also increase the buzz in your bar.
Friends and Gifts
As you level up, you'll unlock various gift items to send to your Facebook friends. Visit your friends and perform tasks at their bar, like restocking beer or vending machines. When you visit a friend's bar, you can use energy at each establishment to help you restock. If you run out of energy, click the powerups tab (bolt) and buy a new energy pack with game cash or get some from a Facebook friend.
Build The Ultimate Bar
As you build your bar, be sure to send gifts to friends and visit them often. Like many Facebook games, this one will probably change over time. Be sure to check it often for updates and new items. Most importantly, have fun playing this bar building game.
References
Article is based on the author's own experiences playing ESPN Sports Bar and Grill on Facebook. Screenshots taken by author.