Pub Life Facebook Review: Own your own English Pub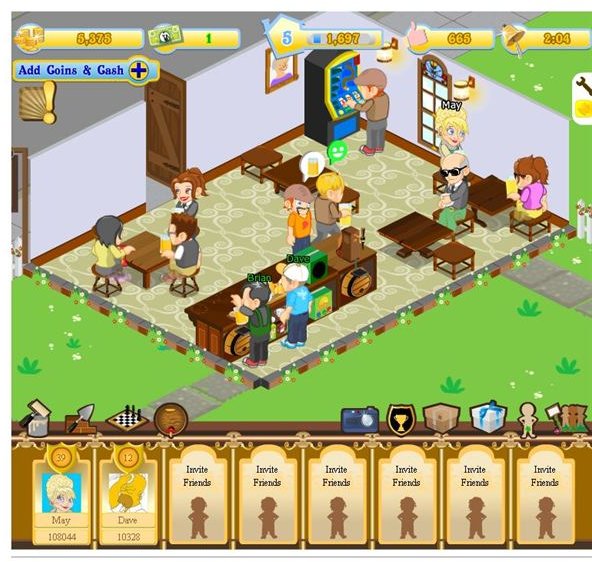 Pub Life Game Basics (4 out of 5)
Bar and nightclub games are popular on Facebook and Pub Life is another game in this mold. The goal is to build up your own pub, serve drinks and keep your patrons happy. Pub Life gives you an English style pub to operate. You can serve drinks as well as snacks to your guests along with entertainment features such as arcade games. A wide assortment of decorative items can be found in the game store for your growing pub. Make coins from the drinks and snacks you serve your guests. Hire your Facebook friends to help you run your new pub.
Drinks and Snack Options (4 out of 5)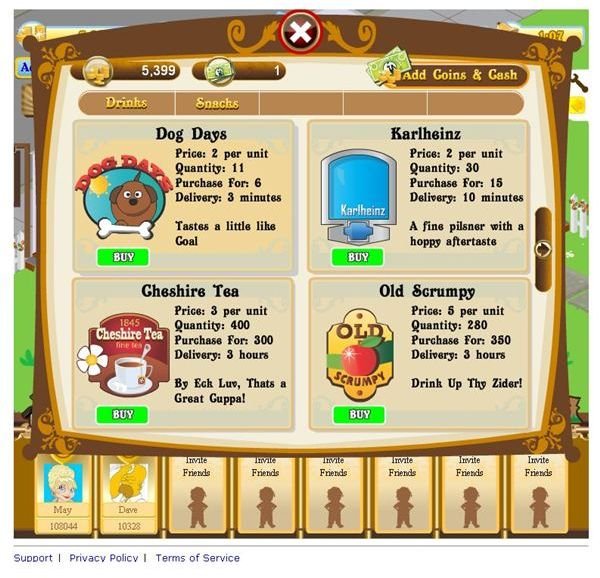 Pub Life features a nice menu of products you can serve your guests. You'll find English tea, beer, whisky, vodka, and wines in the game. Snacks such as a BLT, pork rinds, and a turkey sandwich are also available for your guests. Drinks and snacks are served from the bar and your avatar will pour the drink for your guest. The animations here are good as your guest goes to a seat and drinks their beverage. A few more snack options would be nice as the selection currently is quite limited in the game.
Pub Decorations (4 out of 5)
Most Facebook game sin this genre offer a wide selection of decorative options and Pub Life has those as well. You can pick from a variety of different chairs and tables for your pub guests with many color options available. As you level up you'll be able to add more bars to your game and serve more guests which also come in many styles. There's a nice selection of floor tiles, doors, and wall decorations. Plants, lights, fireplace and other items round out the decorative options in the game. There's enough selection here to get a nice looking pub. Since Pub Life has an English flair to it some banners or logos from football teams would make a nice addition to the decorative options in the game. Decorations also add to the reputation of your pub. Be sure to add more to keep customers coming back. Make sure you have plenty of tables and chairs too.
Game Play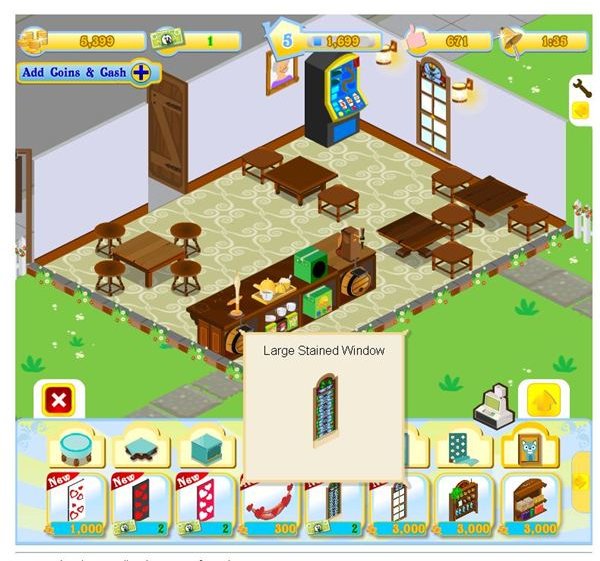 Pub Life offers the same style of game play as Nightclub City or Bar World so there's nothing new here except for the English flair. The avatars all look nice and it's great to see them actually do something besides just stand there. Your guests go right up to the bar and take their drink or snack to their table. Patrons will go over and play the entertainment games you have in your pub. These little touches add to games like these and make them more appealing for players. The soundtrack is good too. The only annoying things about he game is that you have to constantly clean things such as the tables and bars but this does add a bit of realism to the game. The decorative options are nice and some themes would be a welcome addition here.
Interface (4 out of 5)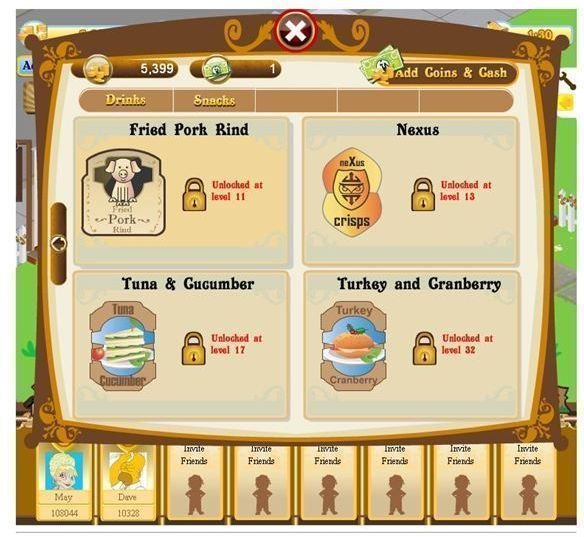 Pub Life has a standard Facebook game interface with the main menu items at the bottom. Here you can access the game store, see the drink menu, and expand your pub. Other options include snapshots, achievements, gifts, edit your avatar, and hire a friend. At the top of the game, you'll find your current experience level and number of coins you own as well as the reputation of your pub.
Graphics and Sound (4 out of 5)
For a Facebook game Pub Life looks nice. The colors are good and the game loads well. There are no slowdowns when you play and the game has a good soundtrack somplete with bar sounds such as background voices or the sound of cleaning. It's refreshing to see guests move around and play games in the bar. The graphics could use some more detail but overall they do the job in this game.
Multiplayer and Gifts (4 out of 5)
Pub Life features the same types of gifts you will find in other Facebook games of this genre. You can visit a Facebook friend and ear experience and coins in their pub by cleaning it. This is limited to five but you can clean as many pubs as you want provided you have the Facebook friends playing the game.
Conclusion (4 out of 5)
Pub Life doesn't offer anything new to this genre but it's still fun to play. Players who want an English feel to their bar games on Facebook will enjoy Pub Life. There's a nice mix of decorative options and drinks to serve your guests in the game and the soundtrack is good too.
References
All images from Pub Life.
Source: Article is author's own experiences playing Pub Life on Facebook.