Complete Fashion Wars Game Guide – Celebrity Diva Tips and Tricks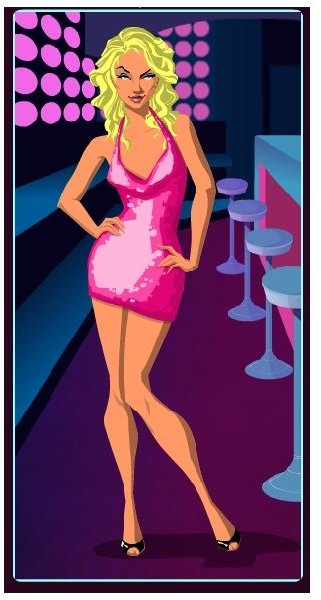 Zynga's Fashion Wars Game
Zynga's Fashion Wars is one of the most popular social fashion games online. Somewhat similar to the game Mafia Wars players battle each other vying for top rank. Instead of strength it's all about fashion sense. Users attend celebrity events, shop, fight in style showdowns, and enjoy being absolutely fabulous with their posse. In this complete Fashion Wars game guide you'll learn how to play along with some of the top tips and tricks around for leveling faster, mastering items, boosting income, and expanding your posse. Earn the title as Top Fashionista and have millions envy your lavish diva lifestyle.
Fashion Week Events, Fights, and Shopping Mayhem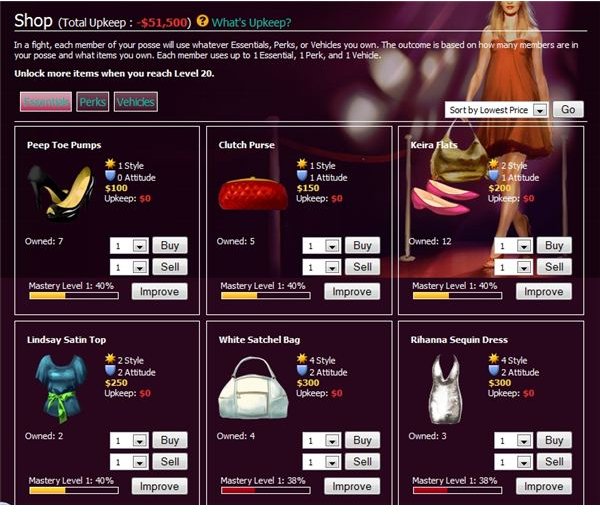 In Fashion Wars players become one of three specific types of divas. Choose Party Queen, Money Honey, or Yoga Diva. For beginners starting out Money Honey is the best diva to be. Each fashionista in the making earn money by attending events. Go to a film premiere, intern at a Fashion Magazine, rock out with celebrities at a Hollywood party, strut at a Runway Fashion Show, or Meditate with trendy Yogi. In order to attend these events players must be dressed to impress. Each special occasion has a list of attire needed. Click the shopping tab at the top of the screen to view various clothing and accessory essentials to buy. There are also perks and vehicles available. A diva is only as good as her extensive collection of couture outfits. Shopping for clothes in high demand for events is important. Once purchased players can go back to the event tab and simply click the attend button for major popularity points and cash.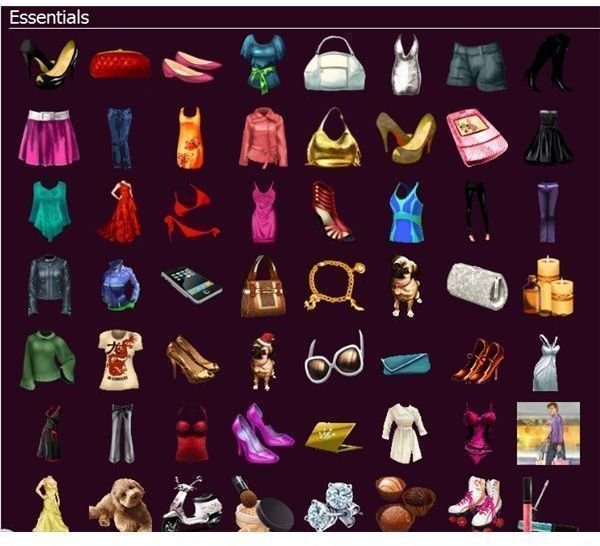 Fighting in style showdowns is another way to money and XP. When users click the fight tab a list will appear of other players available for battle. In the Fashion Wars game the outcome of the fight is determined by how many posse members and the fashion items each member owns. Fights randomly selects up to one essential, perk, and vehicle from every posse member to judge. These items can be mastered as well. Click the improve button to upgrade a specific accessory, outfit, perk, or vehicle. It can be expensive so only start mastering after accumulating more than enough funds.
Property for Sale – Boosting Your Income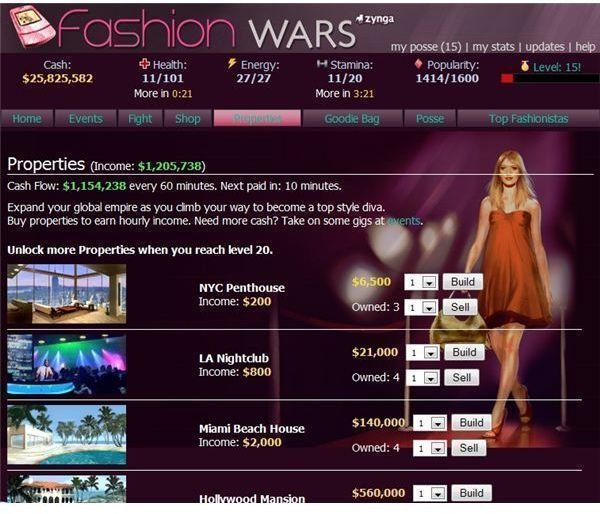 It's important to find reliable methods of generating cash flow in order to support the average fashionista's shopping addiction. Clicking on the Properties tab will allow users to invest in real estate. The type of property for sale varies depending on a player's level. As divas level up new locations are unlocked. Purchase a NYC Penthouse, LA Nightclub, Miami Beach House, Hollywood Mansion, Italian Villa, French Spa Resort, Vegas Hotel, St. Tropez Luxury Getaway, and even a Cape Cod Yacht Club. They serve as rental properties yielding additional income hourly. Purchase one of each available real estate hot spots when starting out. As your balance increases buy multiple homes and resorts. Look for the places that produce the highest income for faster results. When in dire need of cash they can also be sold for half their value.
Fashion Wars Posse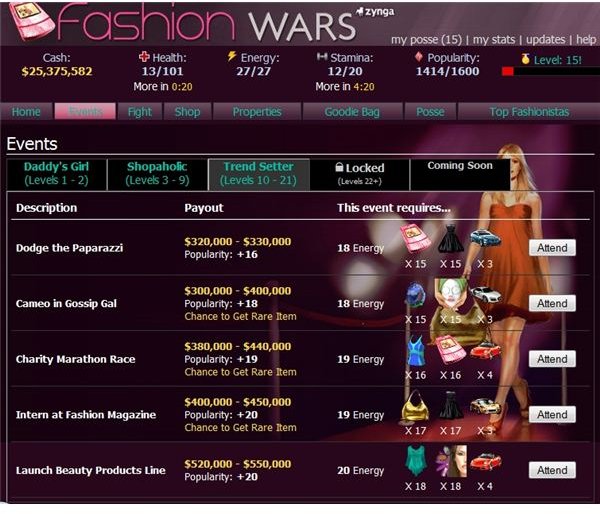 To truly dominate in the Fashion Wars game players need a large posse. Power is in numbers. The more posse members a player recruits the stronger they become. This gives rising divas an advantage when participating in fights and accumulating rare must-have items. Joining Add Me Groups is one of the most overlooked but essential game tips in Fashion Wars game for users to do. It makes it easy to expand your Fashion Wars posse without spamming friends. Although any diva can have a posse of 501 members or more, a posse size of 70-98 is an adequate amount. Send gifts daily, help out their pets, assist in fights, and deliver an occasional b-tchslap to them when they need it through the Posse Actions section on the Home page.
Game Tips in Fashion Wars Game
Below are more tips to help make your diva the fiercest fashionista ever to grace the runway during Fashion Week. Use these game tips in Fashion Wars game to earn more energy, win fights, and triple income.
Select up to eight BFF's to exchange free energy with daily. Choose them wisely. Pick users that play daily and are generous with gifting.
Earn extra energy by performing daily Posse Actions like sending friends' drinks, b-tchslap, and paying their pet special attention.
Distribute more points into stamina and attitude to have an edge in style showdown fights.
Always try to send posse members free gifts daily to create a stronger group.
Fight often it's a quick way to level up.
Adopt a pet they help divas during events and can earn an extra cash bonus.