Top Free Fashion Designing Games - Fashion Designer Review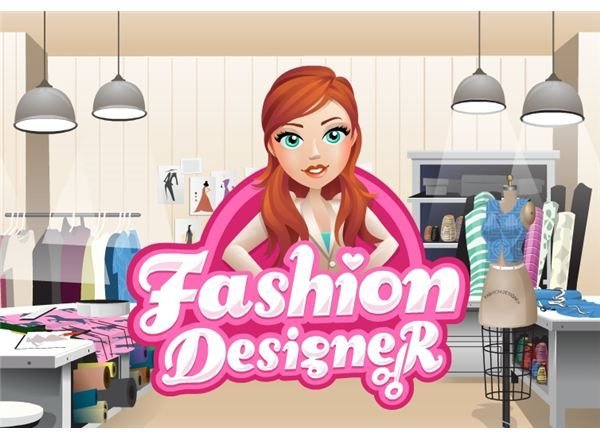 A New Adventure in Mall World
Fashion Designer is a 2D social game from the creators of Mall World that allows players to leave their boutique and step into the shoes of a budding designer. As an extension of the popular fashion themed shopping game users can easily navigate through both worlds as they create the latest trends and sell them to the masses. Set up a design studio and start a women's clothing line that showcases your personal style. Mix and match patterns or vibrant shades. Buy supplies. Make cutting edge outfits like Betsey Johnson or classic looks reminiscent of Vera Wang. In this unique role-playing, dress up, and makeover infused game imagination plus attention to detail can go quite far.
Be a Fashion Designer, the Gameplay (5 out of 5)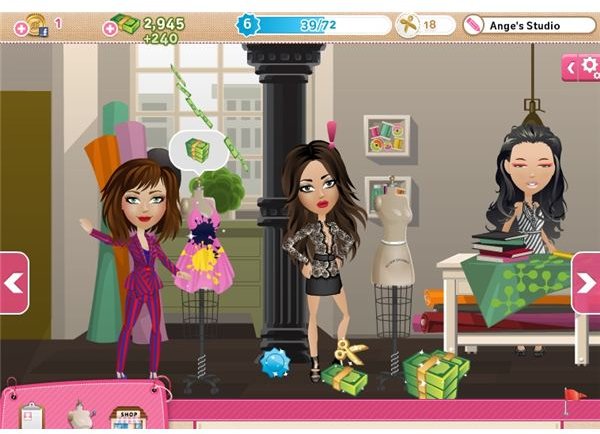 Most of the gameplay involves completing projects also known as jobs. Players start out in a small design studio with one tailor mannequin body form to use. Clicking on it will display quests in the form of jobs. Sometimes visitors like well known photographers or professional stylists will appear in the studio requesting assistance. A stylist may ask a designer to make a dress with a geometric detail or to create a 1920's Jazz Age costume featuring circle patterns. Quests are very descriptive adding a challenge which is a rarity in free fashion designing games. Players have to read carefully in order to create the appropriate look. A job might require designing an outfit for a press event promoting the Sports Today cover and mention think youthful with an edge. Once accepted users get to work on their tailor mannequin body form selecting their desired top or bottom pieces and then adding color. Patterns can be customized, duplicated, resized, and placed anywhere on the dress. Each project has a set production time and payment reward. It can take 5 minutes to 8 hours for a dress order to finish. As players progress jobs get harder. Outfits with lengthy production times also become more frequent making the gameplay seem slow at times.
User Interface/ Controls (4 out of 5)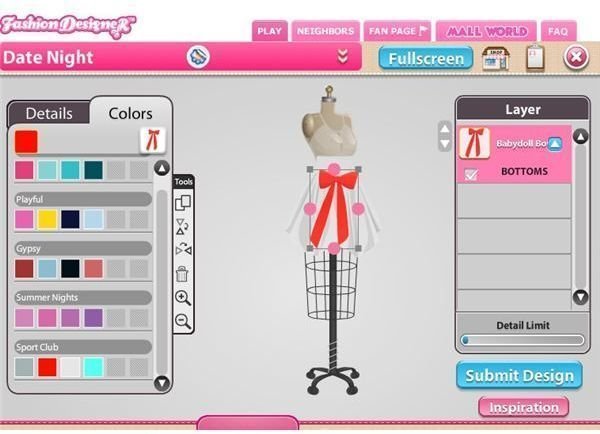 Designers also get a portfolio along with the opportunity to display their latest looks in the open showroom. This feature adds makeover options into the gameplay. All completed designs are automatically saved in the portfolio area. Players use any outfit and various accessories to create a look. Creating looks is lots of fun but players are limited in the amount that they can do. There are only two free empty slots and additional slots must be purchased. A quick click randomly selects a model to dress up. Change their hairstyle, skin color, lip color, and add shoes or jewelry. The entire game integrates Mall World and vice versa. Saved styles can be added to the showroom and the apparel included in your boutique. The easy to use interface is organized for users to navigate back and forth with ease. Players design dresses by clicking and dragging details onto the mannequin body. A list of resizing options on the side allows users to quickly delete, rotate, or enlarge any particular pattern.
Runway Style Graphics (4 out of 5)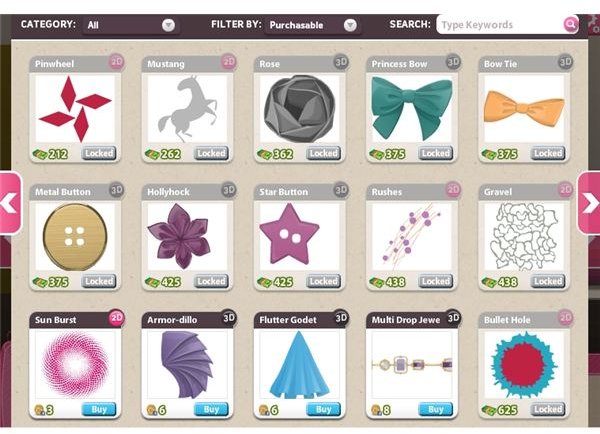 The 2D graphics fit nicely with the theme of the game. Before submitting a finished project a preview window appears with a random model strutting and posing. Players have the option of choosing the position they'd like to see the avatar in. Make them walk, clap for joy, or perform a glamour pose on an invisible catwalk. In the shop area there are dozens of cool details, color palettes, and fabric cut-out kits to buy. Add swirl twine, heart buttons, circular ruffles, thick zigzag, clamshells, feathers, bows, skulls, buckles, graffiti, paisley, multi drop jewels, or zodiac symbols. Pick from a full spectrum of colors and all the shades in between. Most of the items can be purchased with in game cash but some of the best details cost Facebook Credits. The wide selection lets users customize their line to be distinct and stand out from others. It's a great feature for any type of dress up or makeover game.
Sound (3 out of 5)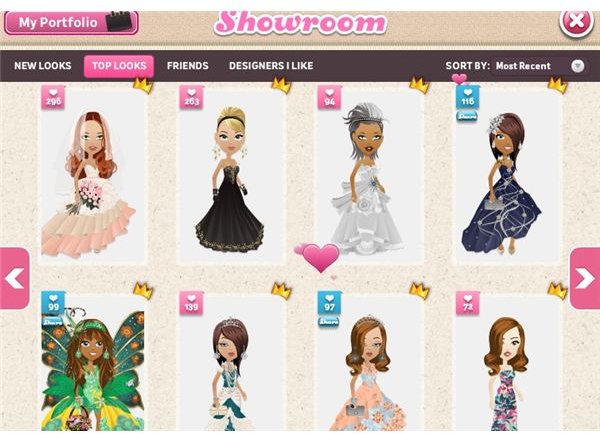 The theme soundtrack is a hip funky techno beat that plays continuously as users manufacture their masterpieces. It's not too loud or distracting. Mall World players will recognize the track since it's identical to the one used in the previous game. The same goes for the sound effects. During the production process light stitching, soft clinks, and dings can be heard. Each click of the mouse resonate an unusual card swipe effect. Bubble noises sound off as players collect cash and XP ribbons after a completed project.There's not a lot in terms of sound allowing designers to concentrate and let their creative juices flow.
Overall Rating: (5 out of 5)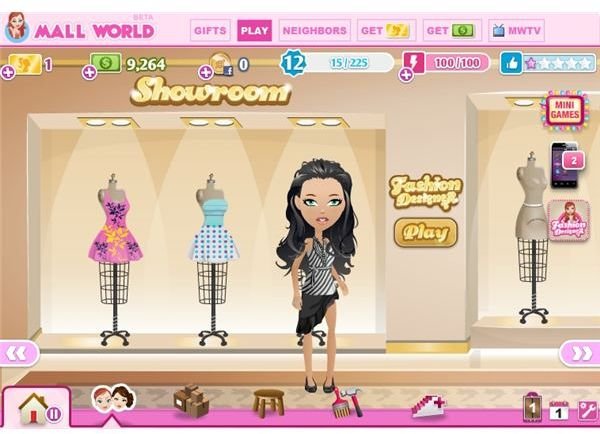 Fashion Designer is one of the best free fashion designing games online. Players delve deep into the industry as a rising designer making apparel for celebrities, famous photographers, magazine editors, professional stylists, and major department stores. Create thousands of different outfits from scratch using cool details in the form of shapes, fantasy, mysterious, colorful, plaid, retro, and nature themes. Build up your portfolio and add your new threads to your pre-existing boutique. The social multiplayer aspects could be better. There's no real incentive to visit friends. Players primarily vote and share looks with each other but the designing options are so great they make up for it. If you love clothes, designing, shopping, and makeovers this is the game for you. It takes Mall World up a notch in my book and is definitely worth playing.
References
Source: Author's own experience.
All Images by Ange P.