Facebook Fashion Wars: Leveling Up Faster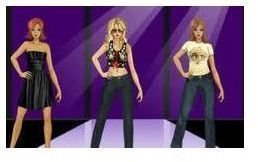 Facebook Fashion Wars is a fashion-inspired game based on strategy and social networking. The goal is to become queen of the fashion world and to beat the competition. To keep the game going, players need to learn how to level-up faster in this game. There are a variety of strategies that make this possible.
Getting Started
To get started, players will choose one of three divas to be: Money Honey, Party Queen or Yoga Diva. This can be changed during the game, but it will cost the player 15 favor points. Players want to keep their favor points so it is best to choose wisely. If a player must change, this can be done by going to the Goodie Bag tab and selecting "Change to a New Character Type". The Party Queen will get her energy back faster after a night of partying and will be able to attend more events. The Yoga Diva is able to heal faster and get her health back quicker following a fight. The Money Honey is able to earn money faster.
Those hoping to level up faster should go with Party Queen. Once you get to certain levels, you can pay to restore health and money is less of a factor. However, none of the levels come with needing less energy or time to restore it.
Favor points are earned by progressing through the levels in the game.
Property
Many players dive in and go straight to building their posse and do not even think about property. This is a mistake. Start off with purchasing as much property as you can. Forget the fashion and snatch up the real estate. Every hour, you will earn money from your property and it adds up quickly. To start investing in real estate, head to the Properties tab. Player level determines the available properties and as the player completes levels and levels-up she will be able to see and purchase new and different properties. Players should strive to start buying n New York City Penthouse, Hollywood Mansion, Miami Beach House and Italian Villa. From there, go for a Los Angeles Night Club, Las Vegas Hotel and other exclusive and luxurious properties. As players start making money and balancing out, they should start to go for purchasing multiple homes and resorts.
The Posse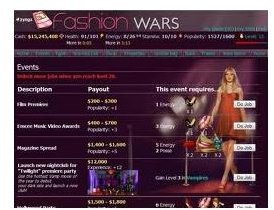 Now, that the player has established plenty of real estate and is making big money, it is time to start building the posse. To dominate the Fashion Wars world and level-up quickly a large posse is necessary. A posse of about 100 is a good amount to strive for. Facebook allows 501 or more, but 100 is plenty for this game. Getting a large posse requires social networking. Check out the different Add-Me Groups scattered around Facebook and join them. Get to know other players and help them out by helping them in fight and other Posse Actions, sending gifts and other things related to this game. Many will return the favor which will increase your posse and help you when things like gifts and help in fights are needed. Another quick tip is that frequent fighting does help in leveling-up.