Salon Street Review – More Than a Free Nail Salon Game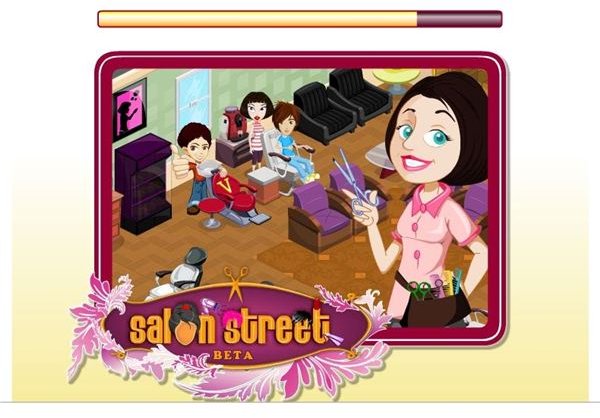 Salon Street
In Bit Rhymes' Salon Street on Facebook players design and manage their own spa. Become a professional beautician with lofty goals of running the most popular salon in the city. Comparable to popular titles like Market Street, It Girl, or Mall World it combines the best elements of dress up and makeover games with Sims management. Personalize your avatar with the latest clothing and hairstyles. Order the necessary supplies. Perform luxurious treatments on customers. Upgrade service chairs to perform more high-end spa treatments. Hire friends as employees or use temporary workers as staff. Visit your neighbors' shops and help out for a bonus. Build the ultimate salon.
Starting Out, the Gameplay (4 out of 5)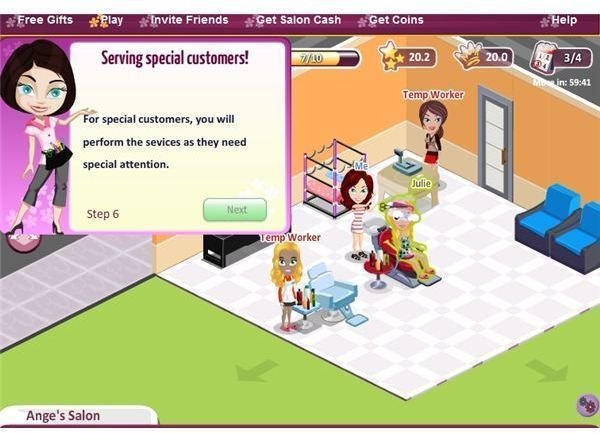 Players start out with a standard service chair and one special VIP station. Temporary workers are stationed at these chairs and at the register. Players have an option to hire friends as employees in order to cut costs and save money. Although it's ideal the hiring process often feels like tedious spamming. Users must post multiple requests on friends' Facebook walls and hope for a response. Once fully staffed salon owners must decide on which services to offer. Give salon customers glamorous Hair Cuts, Aroma Facials, French Manicures, Microdermabrasion, Eyelash Extensions, Hair Extensions, Dead Sea Mineral Treatments, or Laser Hair Removal. For each service specific supplies must be ordered. In the service catalog a list of available services with supplies appear depending on a player's current level. The number of serves, earnings, and delivery times vary depending on the treatment type.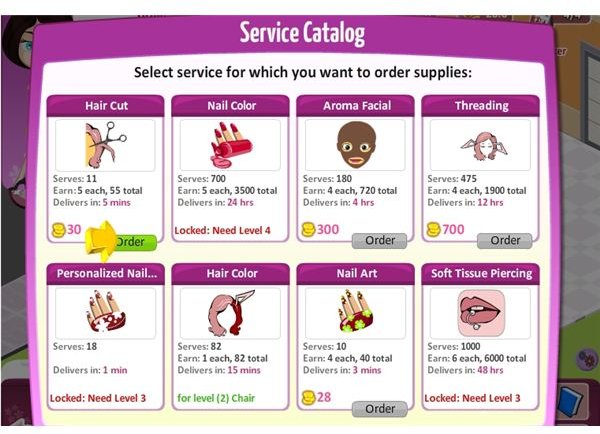 Much like the game Market Street most of the gameplay revolves around ordering supplies from the service catalog and restocking chair counters. Orders appear in boxes on the salon shelves when delivered. Clicking on the service chair will display available supplies to stock. Players simply click to stock chair counters. Experience is primarily earned through ordering and restocking supplies. In Salon Street some services require a specific chair level to perform. A handful of helpful friends are necessary to acquire the parts for an upgrade. Although most of the treatments are performed by the staff players get to tend to VIP clientele. These special customers are your friend avatars. Each day a certain number of scheduled VIPs will enter the salon. Players get to select their style. Choose from different hairstyles, colors, and nail patterns. Like Mall World users can visit their friends' salons and help out. Restock their towels for a daily coin bonus or revive expired supply orders. The gameplay can be slow paced at times, especially when waiting on orders.
User Interface/Controls (4 out of 5)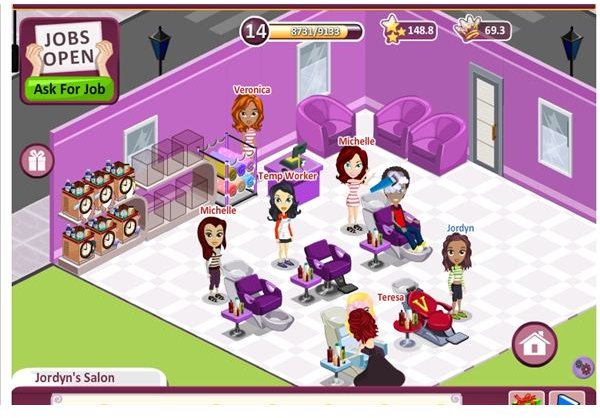 Salon Street has an easy to use interface. At the top of the screen are the fame rating, luxury rating, and VIP appointment schedule. Similar to other management simulations games such as Restaurant City or Nightclub City the more decorations added the higher the establishment ratings spike. A good score produces a better influx of paying customers enabling salon owners to boost income. When players tend to VIP clientele they must click on the customer to lead them to the special chair and then click again to start the spa treatment. Located in the bottom right hand corner are icons for the service catalog, shop, gifts, and the dressing room. Players can easily navigate through different sections of the salon with a quick click. Mousing over a service chair treating a customer will display the time left until the procedure is finished along with the supply status. The game also features a nice open or close shop option. Simply clicking on the door icon will automatically switch the sign allowing owners to shut down for the day or an hour or so to do some remodeling without clients interrupting.
Graphics (4 out of 5)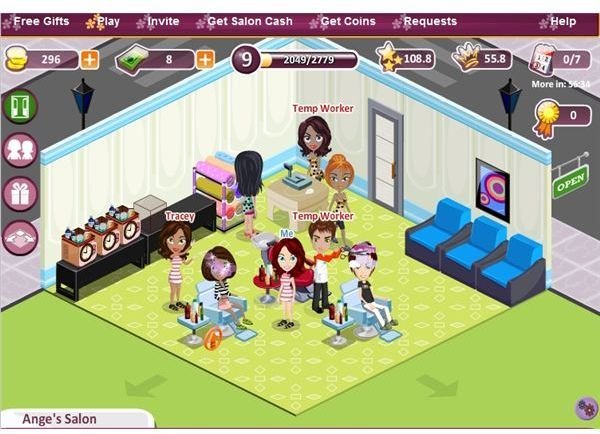 Each specific treatment has a particular animated action. Players can watch in amazement as employees quickly get to work. You'll see hair bottles tossed up in the air, glittering mud packs being applied, and lots of interesting styling techniques. Spa owners also have complete control of the appearance of their avatar and salon design. Similar to It Girl players can play dress up with their avatar by entering the dressing room area. There are dozens of different hairstyles in a diverse range of colors. Users can alternate between striking colors like a fiery red to platinum blonde. Change the contour of eyebrows, eye shape, or apply some lipstick. Although the selection is small players are able to buy sexy blouses, sweaters, dresses, skirts, jeans, and shoes to personalize their character. There are also various themes and decorations that users can add to design their spa. Choose from modern, Mexican, retro, and oriental styles. These core themes are included throughout the furnishings, machinery, and décor items. Add bright blue lunge reception chairs, glass vanities, antique vases, colorful tables, and various shelving. In Salon Street the assortment of decorations is limited. Players have aquariums, flowers, drink dispensers, magazine racks, mirrors, and paintings to use as décor leaving little for originality. Customize the floors with colored tiles patterned to match the basic themes. There's a nice selection of posters to hang up along with various wallpaper designs.
Sound (2 out of 5)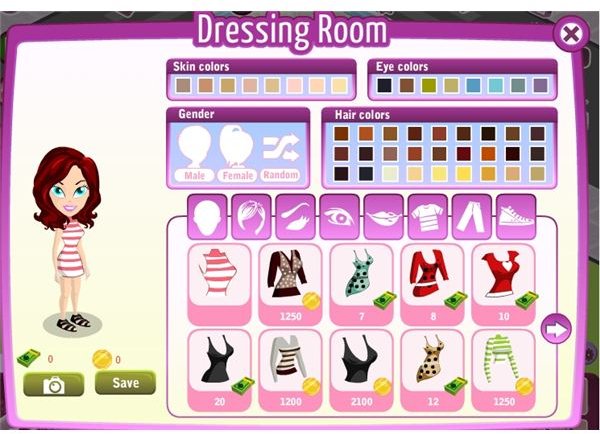 The sound throughout the game is almost soothing. Elevator music plays continuously in the background. Mute options are available but not necessary. Unlike other virtual hair salon games there's very little sound. Rings chime when customers pay at the register but that's about it. The game would be a lot better if it had slightly more realistic sound effects. The sound of hair being clipped, water running during shampoos, zapping during laser treatments, or even customers chatting gibberish could add appeal. Gamers who prefer to play with the sound off will like the quiet tune and calming atmosphere implemented in Salon Street.
Overall Rating: (4 out of 5)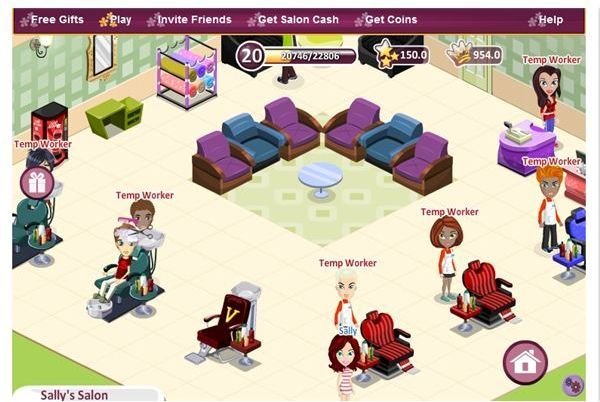 Overall it's a good game. Players get to explore a career in cosmetology as they attempt to build and run their own salon. Become an expert beautician as you try out some of the latest procedures. Perform everything from facials to piercings. Upgrade service chairs, order supplies, and restock counters. Give friends the special VIP treatment. Choose from various hairstyles, shades, and nail patterns. Assist friends in their shops. Play dress up with your avatar. Buy cute outfits and accessories. Design the look of your spa with themed decorations. Similar to favorites like It Girl, Market Street, or Mall World fashion and business collide. Players who enjoy virtual salon games will love Salon Street.
References
Source: author's own experience.
All screenshots from Salon Street