Club Penguin Extras
Disney's Club Penguin has a lot of extras going on for those who have paid memberships. Penguin players who sign up with a free account only have access to the main area locations, can collect coins through the mini-games and can chat in game only. To buy items with your earned coins, have access to all the mini-games and find game extras such as secret rooms in club penguin who need to create a membership account. You can learn more through, What You Get With a Club Penguin Membership Account.
Here we take a look at the current three secret rooms on club penguin and how you can get your penguin to each one. Each secret room has it's own set of game play extras that can add a little more coin to your collection and a little more fun to your area exploring. It is important to keep in mind that the developers create new secret rooms in different areas every year that are only open for a limited time. The secret rooms in club penguin that are covered here are the three main hidden rooms and will not be rotated out.
Elite Penguin Force Secret Room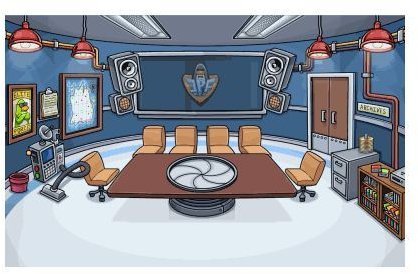 The Elite Penguin Force (EPF) used to be called Penguin Secret Agent (PSA) and was built up of secret agent members who passed the secret agent test. The goal of members who become secret agents and join the EPF is to help keep the island safe and solve a multitude of missions. Once members pass the test they are automatically taken to the hidden room. Agents can access the room during other times of game play by clicking on the golden M in the upper right hand corner of the screen while logged on. A screen shot of this secret room can be seen in the image to the left. This is just one of the secret rooms in club penguin and is currently open.
Question One – Yes

Question Two – Honest

Question Three – Being mean or rude

Question Four – Report them

Question Five – Saying their address

Question Six – I want to keep Club Penguin safe

Question Seven – I want to help other penguins
Remember that in order to get to this room you have to become a secret agent. Being a secret agent comes with the responsibility of helping to keep Club Penguin a safe place to play online and you will be required to report any suspicious activity by clicking on the golden M, just as other members are asked to do.
Secret Volcano Room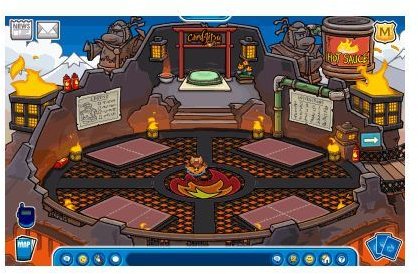 The Volcano room can only be gotten to after your penguin becomes a black belt ninja and is allowed into the Ninja Hideout. In order to become a black belt, you have to beat a series of rounds and competitors at card-jitsu. The following is how to accomplish your penguins black belt status and become a ninja.
List is ranked in order of colored belts with the amount of wins needed to move up to the next belt.
White – 5 wins

Yellow – 13 wins

Orange – 21 wins

Green – 30 wins

Blue – 40 wins

Red – 52 wins

Purple – 64 wins

Brown – 76 wins

Black – 88 wins
Once your penguin has achieved ninja status and Sensi allows you into the ninja room, go to the left hand area of the screen where you will see a stone that has carved flames on it. Click on the carved stone and then move farther left to the stone door that has carved flames on it. The door will open and you will be able to enter one of the coolest secret rooms in club penguin. In the image to the left is a screen shot of the volcano room.
Other Secret Rooms
There are even more secret rooms in club penguin that are currently available. The date when these will be rotated out is an unknown at this point, just keep in mind that one or more of these rooms maybe no longer be there when your penguin is out exploring the island looking for them.
This list will have the name of the room on the left hand side, while the location that it can be found in on the right.
Crow's Nest – at the top of the mast on the ship Migrator.

Captains Quarters – inside the Migrator must retrieve Rockhopper's key from the Book Room.

Ship Hold – located inside the Migrator, through the Captains Quarters.

Secret Cave – located inside the Mine Shack, must dig for items to unlock the cave.
For more information on Club Penguin and to check out the areas that are available for game play on the island, see How Do I Get More Coins in Club Penguin? to start earning those extra coins and buy more items for your penguin during game play.
*all images provided by and Club Penguin™ Disney Online Studios Canada Inc. © 2010