Party Lands on Facebook - Create multiple parties on Facebook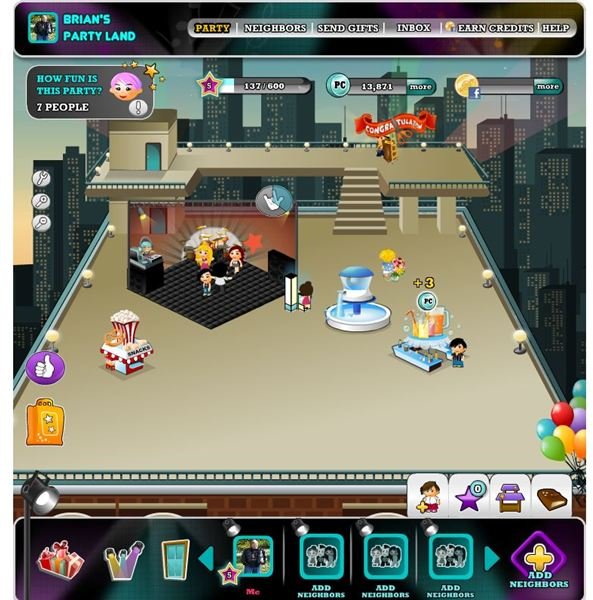 Party Lands Basics (2 out of 5)
With P
arty Lands on Facebook you can create multiple parties for your guests. At the party you can serve your guests food, drinks and provide them music. You can collect coins from the various items featured at your party such as your food vendors and musical entertainment. Be sure to keep your party clean by picking up trash that appears periodically as you play. Invite your Facebook friends to come and join your party. Use an assortment of decorations to liven up your party and give it your own unique look. Use attractions such as a photographer to increase the fun at your party.
Overall Game Play (2 out of 5)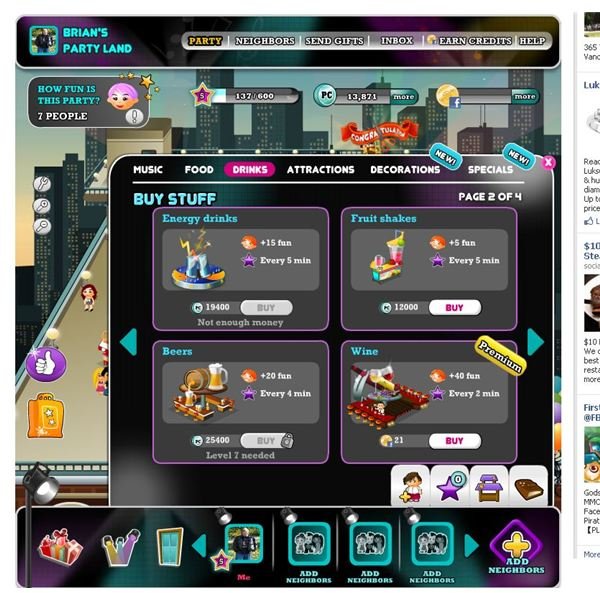 While Party Lands might seem like a good idea the game has several problems. The first glaring problem with party lands is the avatars that represent people are just very poor looking and too small. Facebook games have grown a lot over the past few years and should look better than this one does. While the music soundtracks sound great the game play leaves little to be desired. In the game you can collect money from your entertainment venues but here's very little else to do in the game. While you can create multiple different parties in the game they are all basically the same just at different locations that cost a large amount of money or game level in order to achieve. So while you can throw parties at Hawaii, on a beach, the moon, or in central park the parties still remain the same just with different backdrops. The avatars run around the party in a circle and don't do anything else. You collect garbage, listen to music and add more items to your party. As a player can only save up coins and get a new location for your party. The locations do look nice but they don't add to the game play. You can add decorations to your party for a theme such as birthday candles, disco balls, lamps, and ropes. The selection is quite limited and nothing looks all that impressive.
Party Entertainment (2 out of 5)
In your game you can add various vendors such as music. For music you're paying for different tracks whether it's rock, funk, or salsa to name a few. The music all sounds great but it is about the only thing in the game that is actually good. Food carts can be added such as pizza, popcorn, fruits, and Chinese but these all cost quite a bit on money and aren't that thrilling. Drinks such as soda, punch, and beer can be served but these don't add to the game play either since your guests don't actually eat or drink anything in the game.
Conclusion (2 out of 5)
You'll find better party style games on Facebook such as Nightclub City which offer a wide selection of options and better game play. Party Lands does allow you to make multiple parties and the locations look nice but the game play is too mediocre to recommend the game to anyone. If you must play another party game you might give Party Lands a try otherwise stick to the other games on Facebook in this genre for a better experience.