Zynga's Rewardville Lets Gamers Earn Cool Rewards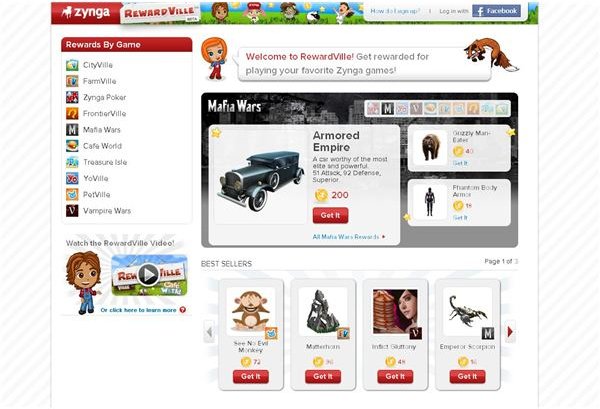 Rewardville is a Zynga website where you can earn special rewards from all your favorite Zynga game such as CityVille, Farmville, Frontierville, Mafia Wars, and more. As you play Zynga games, you'll earn 'Zynga coins" which can be exchanged at the Rewardville site for cool prizes and items for your Zynga games. There's a video on the website that explains how the coins work too. As you play your coins will slowly accumulate so you get rewarded for playing the games you love. You can browse through the rewards by game and see the bestsellers too. Be sure to send your friends the Rewardville mystery gift daily so they have a chance at some Zynga coins and other bonuses. Below are some sample items you can get from the program.
CityVille Rewards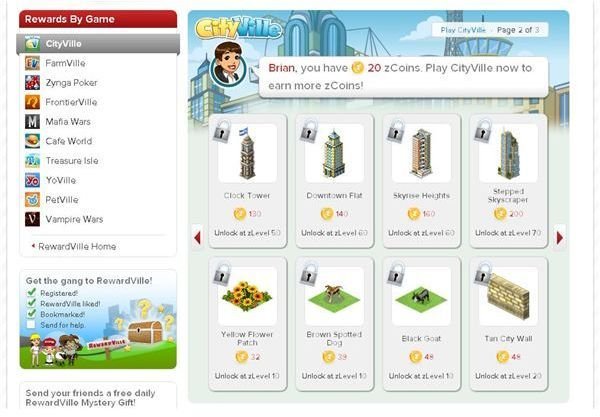 CityVille has some cool rewards such as a daycare, billboard, old frontier house, various skyscrapers, and other buildings. The rewards are sure to change so be sure to check back often. The daycare building comes free just for joining the program. The porch home is free with the Farmville rewards.
Farmville Rewards
Farmville features rewards such as the porch home, bistro table, fire station, covered bridge, wagon, lighthouse, curiosity shop, bike shop, and blue birdhouse. More items are sure to be added to this game too.
Frontierville Rewards
Frontierville has various rewards including a cannon, statue, messy table, buggy, whiskey jugs, mystery animal, lemonade stand, brown manure cart, and smoke signaler. The sewing machine is free with the Frontierville rewards.
Mafia Wars
Mafia Wars features various weapons and cars such as the stretch classic, Hawk monocycle, road razor, copperhead, and many more. The stretch classic car is free with the Mafia Wars rewards.
Treasure Isle
With Treasure Isle, you'll find a surfboard, disco dock, pineapple balloon, sea dragon, Zynga boat, white seal and more. The speedboat is free with the Treasure Isle rewards.
Café World
Café World rewards include Farmville window, charmed fire pit, Zynga floor lamp, shark attack title, Zynga roof, Zynga car, and many more. The entertainment system is free with Café World rewards.
Other Games/Conclusion
You'll find rewards for the other games such as YoVille, Zynga Poker, Petville, and Vampire Wars too. View your current coins and see your Rewardville level at the top of the Rewardville site. As you level up with Rewardville, you'll unlock different rewards you can buy. I hope that we'll see plenty of neat items with Rewardville that will enhance our Zynga games. Be sure to get your friends using rewardville so they can send you the mystery gift which may contain Z coins you can use to buy items at RewardVille. Keep playing the Zynga games to get more coins and great items with this neat Zynga program that rewards you just for playing their games.