Facebook Games: Hollywood Magic Review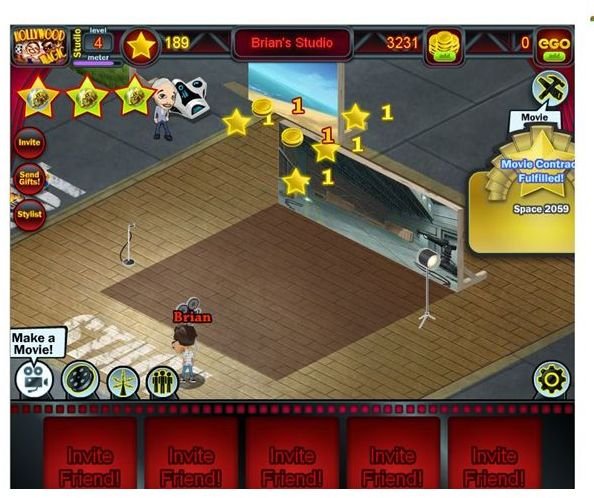 Hollywood Magic Review The Basics (4 out of 5)
In Hollywood Magic, you have your own movie lot and it's your job as the director to make great movies. You can pick from different scripts, backdrops, actors, furniture, and more as you design your movie. The game even lets you design your own dialogue as you level up in the game so your movies are unique. Purchase new movie scripts and set pieces in the game store and even cast your Facebook friends as actors in your movies. With Hollywood Magic on Facebook, you can be the famous director you have always wanted to be.
Making Movies (4 out of 5)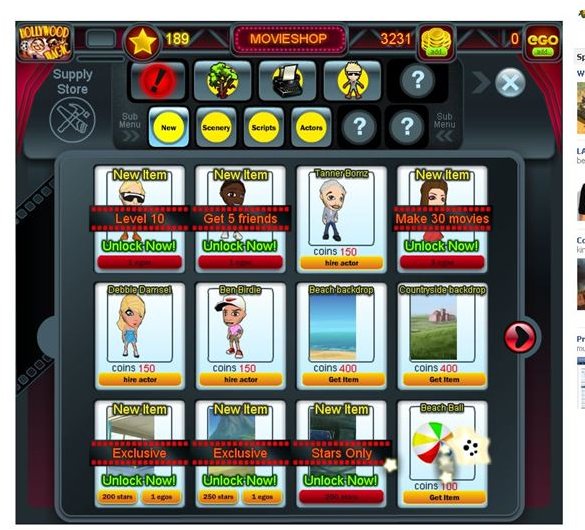 Making movies in Hollywood Magic is a basic process but don't expect to see long deep movies here. Most movies are just a few lines of dialogue. To begin to make movies you will need to buy a script from the game store. Once you have a script you need a backdrop and a few pieces of furniture if the movie require them. You can buy these in the game store and then click on them to add the set pieces into your movie. Starting movies need one or two actors, which are found in the game store as well. Add all these elements to your movie and you are ready to go. Once your movie is completed you can show it and it will collect additional coins for you over time. You can also watch your films from the box office and promote them on Facebook so your Facebook friends can view them. Complete movie-making quests to receive experience and coins back in return. As you level up you'll gain access to more scripts, actors, and set pieces for your movies. Read the news to see which of your Facebook friends have made movies and collect your gifts from friends. Use the friend's tool to find out which friends have made movies in the game.
Game Play (2 out of 5)
On the surface Hollywood Magic might seem like a great game but the game play leaves little to be desired. The movies are very short and you only get a few lines of dialogue. While it's cool to make up your own text dialogue for your actors and it can be humorous to do this concept doesn't add to the game. The back lot of your set becomes crowded with junk after you have made a few movies and you need the proper set pieces to finish your movie. There's a mediocre selection of movies to start and most of them end up being the same thing even if you add your own dialogue because they are so short. After you have made ten or fifteen movies, you end up being bored of the whole process. You can't decorate your set area or make it your own. Your actors and set pieces just sit there in a big mess and you select the things you want to use in your movie. Only the ability to add your own dialogue saves this game from being a complete waste of time.
Graphics/Sound/Multiplayer (3 out of 5)
Hollywood magic features a boring soundtrack that does little to add to the movie making process. There are a few other sounds in the game but nothing of any value. The graphics are decent enough but they seem to bog down the game and make it run slowly at times. The graphics might improve on a better system, however. Even the graphics don't add much to the game play. The sets are plain looking and the actors don't look much better. Set pieces like beach balls, chairs and other pieces are mediocre at best. You do have some multiplayer elements in the game and the ability to cast your friends as actors in the game. You can view the movies your friends made as well. Since you can make your own dialogue, some people might find this a fun thing to do.
Interface (2 out of 5)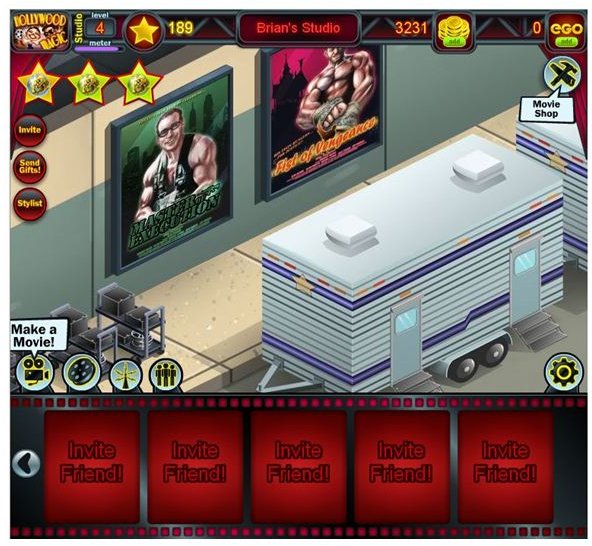 Another problem with Hollywood Magic is the poor interface. Once you have several set pieces and movie actors on your stage area, it can be cluttered. The camera is quite jerky and it's difficult to move around. There is no way to organize the different sets and pieces you have accumulated for playing. A delete button or a storage area would be ideal since it would give you some place to put your set items. It's also difficult for the beginner to actually figure put how to make movies. You need to buy most of the items from the game store but it's unclear from the interface that this is what you need to do. With some decent organization of the interface, it would improve the muddled mess that the game player is faced with in the game now.
Conclusion (2 out of 5)
Hollywood Magic has the elements to be a iunique and fun game but it lacks the polish that makes a great Facebook game. The main problems are with the interface and general feel of the game. The movies you make are far too short and the fact that you can make up your own scripts doesn't save the title. Hollywood magic has the potential to be a good game but it needs some work first.
References
All images from Hollywood Magic.
Source: Article is author's own experiences playing Hollywood Magic on Facebook.