My City Life Game Basics (4 out of 5)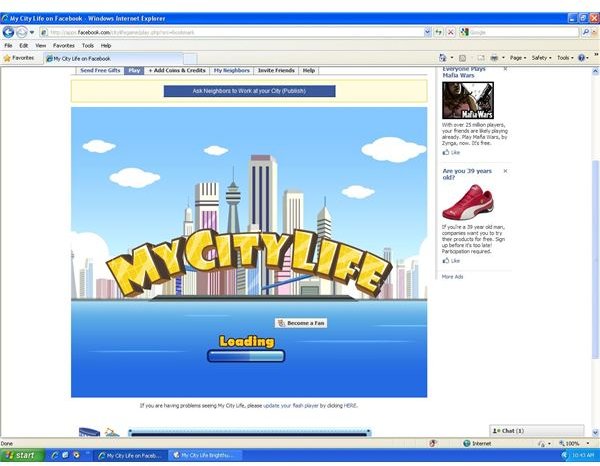 My City Life is one of the latest in a series of City building games on Facebook. The game operates in basically the same way as other Facebook city games such as My Town. Players use houses, businesses, and other structures to collect coins to further upgrade their cities. My City Life also features stats that need to be monitored. Crime, employees, pollution, power and transport can be monitored from the top of the game and periodically you will need new structures such as roads for transport to keep these stats working well. If your town is too polluted you need more nature items or add more business to increase employees in your city. These new additions make this game more like a Sim City style game although still very basic in scope.
Housing/Business (3 out of 5)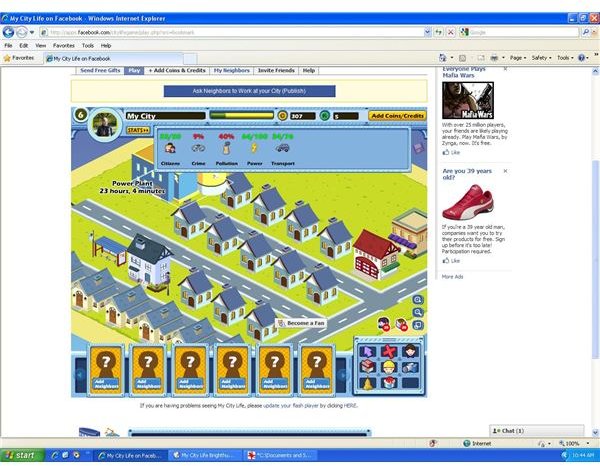 There are different houses you can add to the game which will generate coins over a period of time. If you are late for collection you won't get the full amount for the structure. There are small houses, two levels, apartment complex, single family home, mansions, condos and more. More houses will become available as you progress and level in the game.
The next set of structures will provide your city with a business district. These work the same way as housing and will provide you will coins to buy more structures. Here you have cafes, grocery stores, furniture stores, bank, shopping mall, factory and so on. You can start with a basic café or grocery store and then work your way up to more advanced buildings as you level and gain more income. It will be some time before your city is thriving.
Municipal, Nature, and Entertainment (3 out of 5)
The municipal buildings are more advanced and will take you time before you can afford them. Generators and power plants will provide additional power for your city and you need these to keep growing. The expensive college will allow you to hire workers to fill your fire stations and police departments. There is a town hall and a capital building too.
Several entertainment buildings are provided such as the stadium, theatre, and art gallery. Nature buildings such as the greenhouse, small park, and central park will reduce the level of pollution in your city. These buildings come into play later on in the game when you have a good cash flow coming in and can afford these more advanced structures.
Decorations and Transportation (3 out of 5)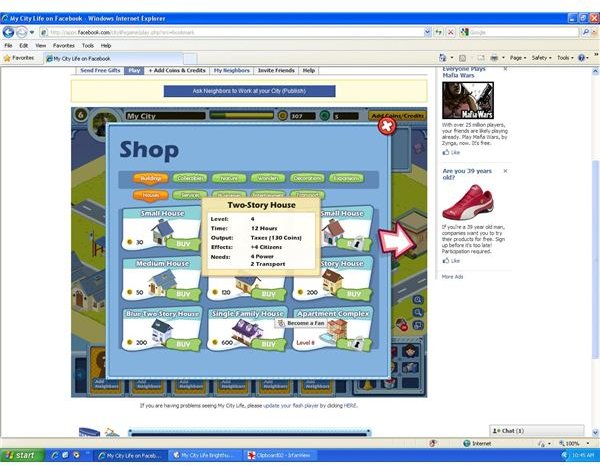 There are a few decorations in the game but the selection at present is pretty disappointing. You have a few shrubs, trees, a fence, and a couple of posts, but not much other selection. Hopefully the developers will add more of these items soon.
Roads cost money to put down but are important since they impact the transport statistic. You should lay roads where you plan to put structures so you have enough transport. You can also add a train station, bus station, and airport to your city. The only problem with roads is you need to keep rotating them to fit the way you want which can get annoying. You can do this with the default cursor once you lay them but it seems like an additional step that could be avoided with different road angles available to purchase.
Your City Statistics (5 out of 5)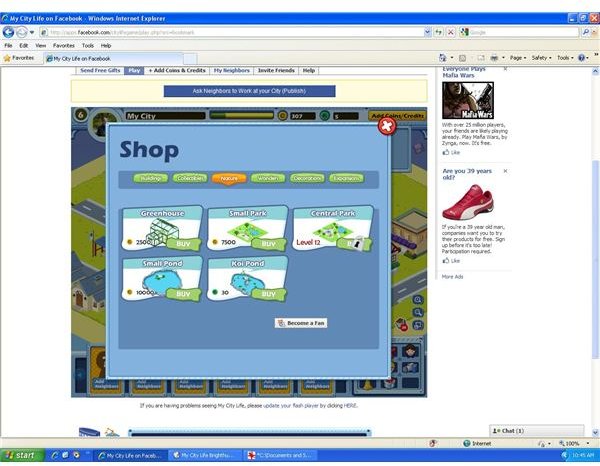 Many buildings have modifiers that will help or hurt the main statistics in the game which are employees, crime, pollution, transport, and power. So for example, if you have power plants your power will get a plus statistic but your pollution will get a negative hit. Houses will add citizens to your city but you will need more power and transportation. A police station is great for reducing crime but requires more transportation and citizens to fill. Businesses add crime to your city but increase the money you make in the game. Each structure needs to be balanced with another making the statistics part of this game a great addition to just putting up structures and raking in money from them. You really need to think about each building and how it will impact the functionality of your growing city.
Expanding Your City (3 out of 5)
You will start with a small plot of land and if you have two Facebook friends playing you can expand it to the next level. Players can also expand by using game cash which you will get at each level you reach. This method is slow but free or you could just buy additional cash and expand right away the choice is yours.
Conclusion
My City Life is not the best looking city building game but the additional of statistics really make you think as you add each structure to your city. This improves the game and I hope other city building games on Facebook use this model because it works quite well. The interface is easy to use and you can also send gifts to your friends.