Facebook Game Review: My Town Build your own fledging towen from the ground up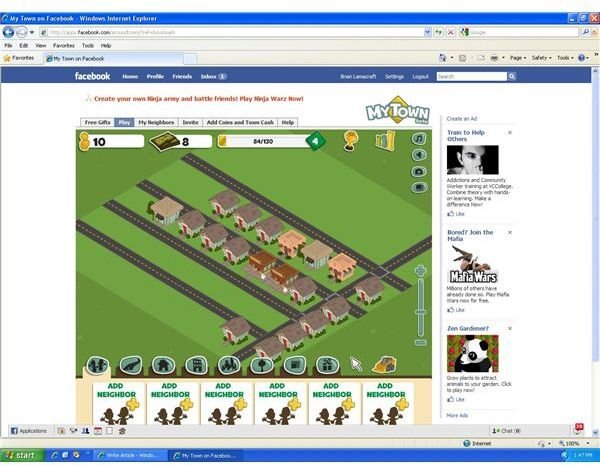 My Town Game Basics
My Town is a fun Facebook city building game. Your goal is to build up a thriving city and populate it with many different structures including various different homes, businesses, and city buildings such as the town hall or gas station. You can decorate the way you want with shrubs, parking lots, fences and other items to give your city the look you want. You won't find the in-depth management features you get with titles such as Sim City but there are plenty of buildings to construct to help grow a thriving city. Some structure will take coins while others while take Facebook cash and will need to be purchased with real life cash just like other Facebook titles. There is a good mix of both coin buildings and cash buildings to give your city variety.
Building Roads (5 out of 5)
Once nice part about My Town is that road construction is free so you can layout your roads prior to putting down houses if you want. Having the roads a free feature is a great way to help you plan and a welcome addition to this game. There are different road types such as turns, straight pieces and stops such as the four-way stop. Some decorations such as simple plants are also free while more elaborate ones coast a few coins.
Putting Up Houses (4 out of 5)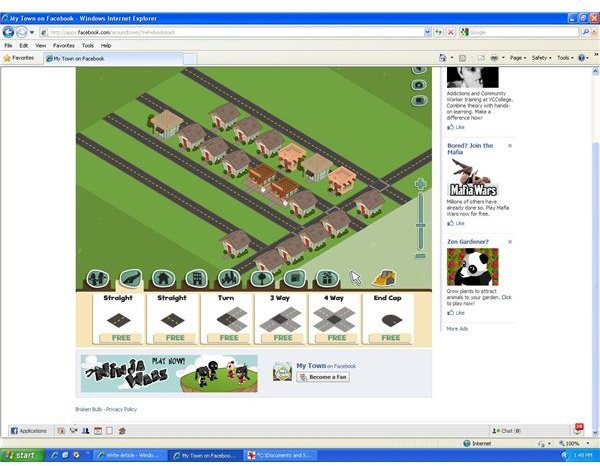 The game has many different houses to choose from and more become available as you level up in the game. You have suburban, city, bungalow, condos, apartments, luxury apartments, and even eco friendly buildings. Each building will gain you a certain amount of coins and experience. You must be online before the collection timer runs out or you won't get the full amount of coins for your structure. The structures do vary in collection time so you can judge which buildings to get so to collect the maximum coins when you are online. This feature works much like the crops in Farmville, they expire over a certain amount of time and in this game it's the amount of collection money that expires if you don't collect it in time. If you mouse over a building it will tell you how much time is left until the next collection of coins.
My Town Business Structures (3 out of 5)
Another big part of My Town is the businesses you can add to your fledging town. You have small offices, small shop, small business, restaurants, corporations, factories, medium business, shops, office towers, and other business related structures to add to your landscape. Each business building works like your housing and will add a certain amount of coins to your coffers.
My Town City Structures (3 out of 5)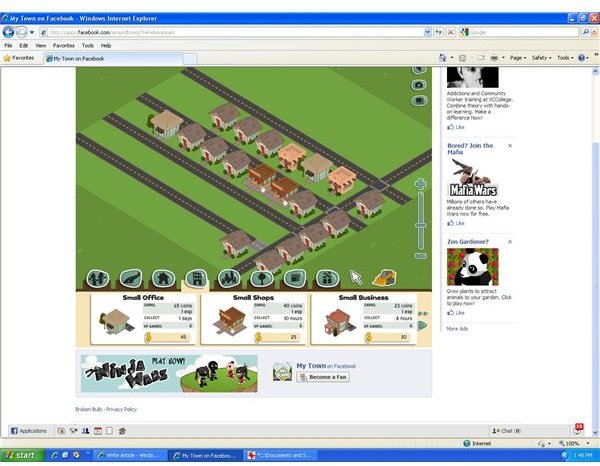 You can also add many city buildings to your town such as the town hall, gas station, supermarket, grade school, graveyard, airport, fire station, library, high school and zoo. These buildings don't earn you coins they instead give you more experience to help you level up faster. Higher experience buildings will unlock for you to use as you gain levels yourself so you will have new structures at your disposal.
Town Expansion (4 out of 5)
There are two ways to expand with the first involving your Facebook friends. If you have several of your Facebook friends playing My Town you can use those numbers to unlock expansion levels. If you don't have any friends to use you can also unlock expansion levels with game cash. After you level up you will receive one game cash for free but if you want more you will need real dollars to get it. I wish there were a few expansion levels that just coast game coins since sometimes it is hard to get your friends to play game that you like on Facebook.
Game Interface (4 out of 5)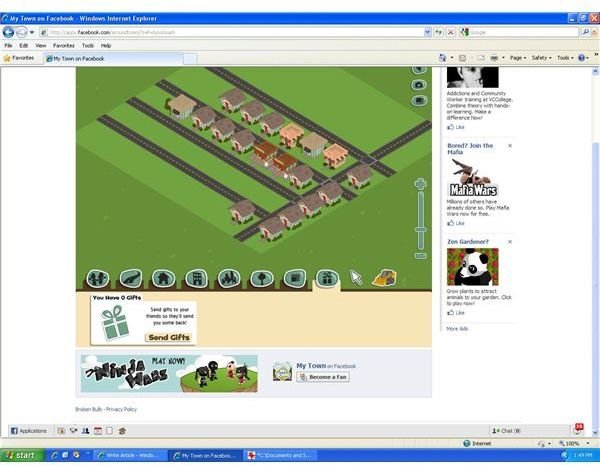 The game interface is very easy to use with icons clearly displayed telling you what they do and each structure is labeled well as to its experience, cost, and coin collection time. You an easily remove structures and roads with the bulldozer and there is a nice music track playing in the background. Use the statistics icon at the top of your screen to see how your city is doing. View your game trophies or zoom out to see your town.
My Town Update and Conclusion
My Town has added a lot of content since this review. You can now get many new buildings and purchase land for a whole new town if you like. The game has dozens of new buildings for your city and a new tool that helps you collect your money quickly. The game still isn't as good as other city builders such as Social City or the new CityVille by Zynga but it's a game worth playing if you like sim city style games.
This post is part of the series: My Town Guide
More articles about My Town for Facebook.