My Town Game Basics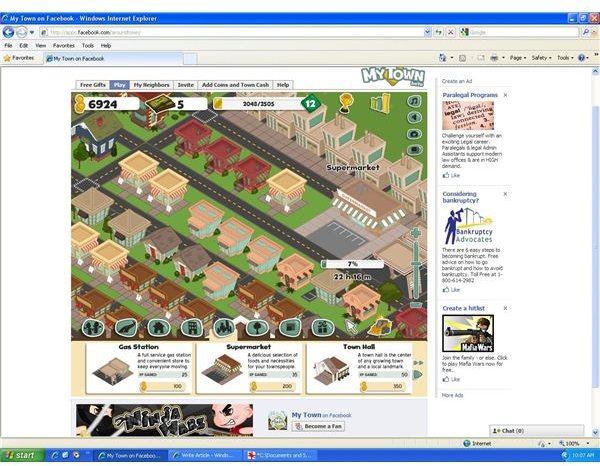 As a new player in My Town you need to know a few things to get started. Your structures are the source of your income and run on a timer. Each building timer will produce the maximum amount of coins if your logged in before it expires. If the timer expires you won't receive the maximum amount of coins although you will get a few. If you have played Farmville the principle is the same in that game your crops expire in this game it's the maximum amount of money that will expire. For example if the timer is 4hrs you will need to log in within 8hrs to get the maximum coins. Houses and shops will give you coins while municipal buildings like the town hall will give you just experience. This experience doesn't expire so you will always get some once the timer has finished which is usually once per day. You have many building options including houses, businesses, municipal buildings, roads and decorative items.
My Town Your Houses
Your first buildings will be houses and you can put these anywhere you wish. All houses have "rent" timers which will give coins once the timer has finished. Under the "homes" tab you can see all the different houses and pick ones that have the right timer for when your going to be online so you can collect the money. You have different home options from basic houses to apartment buildings, bungalows, Victorian homes and so on. Look for the coins the house will produce and the timer which are the two things you need to be aware of when it comes to homes. Other homes will become available as you level up and your town expands. Homes will also give you small experience points too. The following homes make good starters:
City – Produces 55 Coins, 1 Xp, Timer 12hrs (40Coins Cost)
Suburban – Produces 15 Coins, 1Xp, Timer 4hrs (10 Coins Cost)
Adobe – Produces 33 Coins, 1Xp, Timer 6hrs ( 20 Coins Cost)
My Town Business Buildings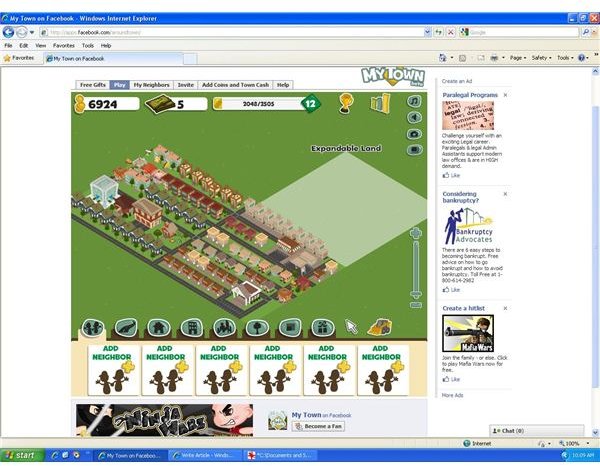 Your shops produce coins and some experience points. Most shops will only earn one experience point but if you have many shops this can quickly add up and you can advance your city in a shorter amount of time. You will also get experience from placing the building and then the small amount when you collect the coins. Like homes the businesses also work on a timer which can vary from a few hours to over a day. There are shops, restaurants, corporations, offices, hotels, movie theatres, and more available to you. Some good basic businesses are:
Small Office – Produces 65 Coins, 1 Xp, Timer, 1Day, 6xp Building (45 Coins Cost)
Small Shops – Produces 40 Coins, 1Xp, Timer 10hrs, 6xp, Building (25 Coins Cost)
Small Restaurant – Produces 119 Coins, 1Xp, Timer 2 Days, 6xp Building (70 Coins Cost)
My Town City Buildings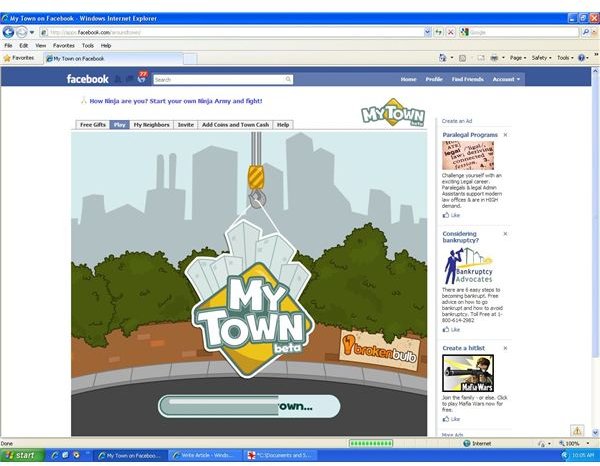 Your city buildings are more expensive and they don't earn you coins but they give a good amount of experience for each building. These buildings also run on a timer but it doesn't expire so you can always collect some experience. The city buildings will give you a small "quest" at the end of the timer but you don't have to do anything just click on the building to get your experience. You can chose from gas stations, supermarket, town hall, grade school, post office and many more. City buildings are also larger so you will need more room to place them down on your map. Some basic city buildings are:
Gas Station – 25xp 100 Coins Cost
Supermarket – 35xp 200 Coins Cost
Town Hall – 50xp 350 Coins Cost
Decorating Your Town
My Town has a few decorations that are free while others cost just a few coins. You can get your city looking quite nice with the free decorations and all roads are also free. You might want to put down your roads before any structures and get your layout first. Only railway tracks will cost you coins Some free decorative items include:
Ally Tile
Sidewalk Tile
Small Tree
Shrub
Roads
You will alsofind many other decorative items that are under 10 coins each such as fences, different trees, path tiles, and some street lights, so feel free to experiment with different looks for your town.
Expansions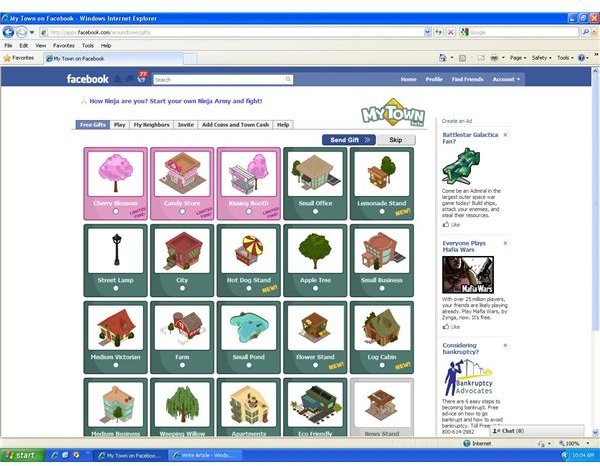 You can expand your town right away if you have Facebook friends or you can wait and collect game cash at each new level. As you level up you will eceiveone free game cash that you can use to expand your town. You will need more coins and Facebook neighbours with each expansion. For example if you want four town sections you will need four Facebook friends to get it or game cash. Like other Facebook games you cans end structures that are not avaialble in the actual game to your friends to use in their town. More gifts are always being added so be sure to check often for new material. Some gifts are limited time so get them while you can.
Tips and Conclusion
When timers have expired the structure turns red. Double click the structure to collect coins and then reset timer.
Structures that have been collected but not reset are in blue.
Buy buildings with longer timers if your a casual gamer, shorter if you play all the time to maximize your coins.
You need game cash to buy some of the more advanced buildings.
My Town is a great little Facebook Sim City style game and fun once you get going. Be sure to watch your timers which is really the only thing you need to be aware of so you get the maximum coins from buildings. The game continues to add new items and get better as the months go by. I hope you enjoy My Town, now get building mayor.
This post is part of the series: My Town Guide
More articles about My Town for Facebook.