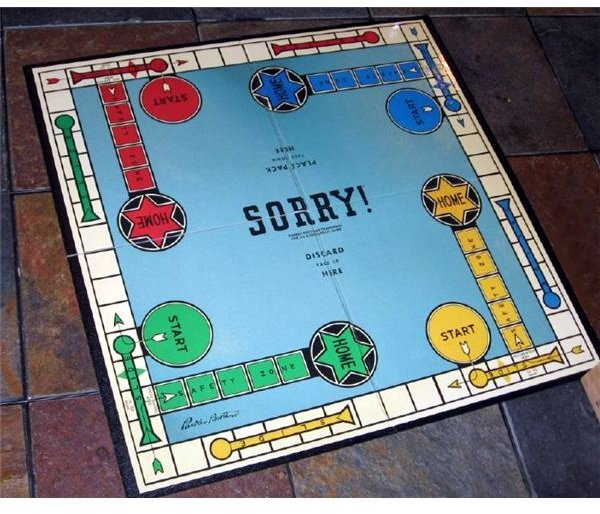 Sorry Sliders Game Concept
Sorry! Sliders transforms the original dice-centered Sorry! game into a pawn-sliding dexterity game, similar to Rebound or the classic pub favorite, shuffleboard. Players slide plastic pawns with ball bearings inside of their base down a track towards a bulls-eye. The track is customizable, and allows for four different game to be played while also accommodating one to four players.
At the center of the customizable board is a bulls-eye with point values assigned to each of its rings. When your pawns land in parts of the bulls-eye, you move a separate "scoring pawn" the equivalent number of spaces towards home. This scoring mechanic ties in the new dexterity game to the classic version of Sorry! simultaneously granting the game a sense of familiarity and novelty.
Sorry Sliders Game Components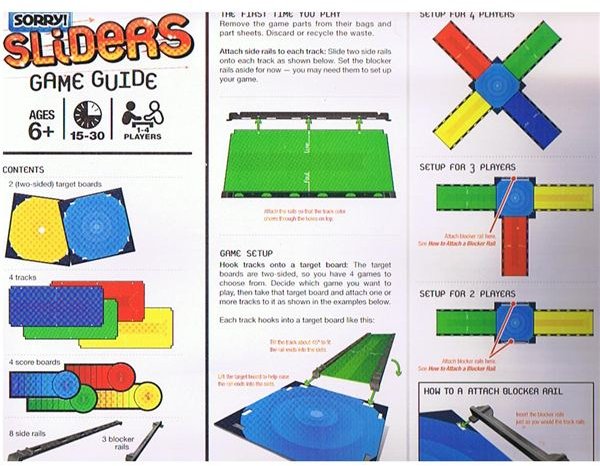 If you are like me, you shop thrift stores and garage sales for used games. The only down side is that a good chunk of the time, your game might be missing a few components. If you were to buy the Sorry Sliders game new; here is what you would get:
2 x Double Sided Target Boards
4 X Tracks
4 X Score boards
8 X Side rails
3 X Blocker rails
16 X Sliding pawns (4 of each color)
16x Scoring pawns (4 of each color)
Sorry Sliders: A Worthwhile Edition to the Game Closet?
I am a fan of the Sorry Sliders game based solely on its premise. For me, dexterity games provide a nice change of pace from traditional board games, and they allow adults and children to play together in a manner that is still exciting for all players.
For me, there is something deeply satisfying about games that require repetitive motions. I like skill based dexterity games like bowling and Rebound. I'm a fan of throwing a baseball around, and I even enjoy tossing a Frisbee for awhile if I'm at a park or beach. Sorry Sliders is sort of like that. It provides you with a structure and rules and then turns you loose to work on your skills and technique. The game board is customizable, so you can set up a solo track to practice, and parents and children can play the game together and derive a similar level of enjoyment.
If you don't mind paying full price, pick up the game today. Or be patient and watch out for it at your local thrift store. Chances are, you'll find it before the year is up.
Xbox Sorry Sliders
Hasbro's Family Game Night for Xbox Live offers a version of Sorry Sliders through their online marketplace. While I generally enjoy to play live versions of dexterity games, I do enjoy playing other board games on Xbox Live like Carcassonne and the Settlers of Catan. That being said, a few rounds of Sorry Sliders online with some random strangers might be a good way to spend fifteen minutes. You can find out for yourself for 800 Microsoft points ($10.00).
Resources and References
Vintage Sorry! board image courtesy of myguitarzz: Originally listed on flikr @
https://flickr.com/photos/myguitarzz/161457552/ and later added to wikimedia commons: https://en.wikipedia.org/wiki/File:Sorry_diamond_edit.jpg