Garfield Gets Real for Wii Game Information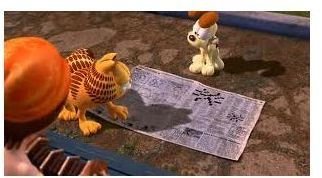 Garfield Gets Real is classified as an action adventure video game that is available on the Wii. It is based on the movie that shares the same name. This game can be played as single-player, but on those family game nights, it makes a good multi-player game as well.
Premise of the Game
Garfield is living life as a normal, low-key house cat after he becomes tired of his life as a comic strip star. He then discovers that his comic strip is going to be canceled if he fails to get there prior to the newspaper going to print. This game follows this plot as Garfield makes his way through a variety of obstacles to get back home.
Gameplay and How to Play
There are seven levels in this game. Players change between playing as Garfield and Odie and make their way through seven different areas of the game. All of these will connect the real world and the cartoon universe. Players will complete 150 smaller tasks as they make their way through these areas and each of the seven areas has a key story challenge. The 150 small tasks will help players with the key story challenges.
Players are essentially making a movie as they progress through the game. There is a clap-o-meter that will reward you for sound effects, prop use, humor and skill. Once a player finishes the game, her film is rated. Ratings include special edition, Director's cut, feature, second rate feature and B movie. Now, this game is often touted to be like the movies, but in reality it is far more action adventure than actually creating a movie.
All seven locations are different. For example, he first two levels take place in the bedroom and the kitchen in Jon's house. Garfield will perform some tasks while sometimes being stopped by the game to pose for photos. Then, in the third level, he is at a playground and he then continues on his journey.
All of the levels in Garfield Gets Real are timed. If you fail to complete the level before the time runs out, you will have to start over and try again.
Throughout the game, Garfield will also battle some Bosses, such as Carly the Sewer Alligator, Hale the Hardy, Adonis the Albino Sewer Rat and The parrot.
Considerations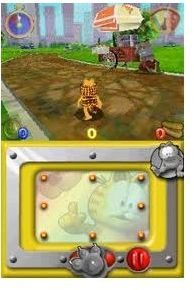 To learn the controls, players will have to take a little time to read the manual. It's apparent simplicity is deceiving in this way. However, the controls are not difficult to learn once you read a bit and play the game for a little while. Even young children can catch on quite easily.
The first two levels are not terribly difficult, but once you get to the third level, the game can start to get a little hard. This is where young children may start to lose interest, so a family effort can help to win the game. Garfield also moves a little slow during the game and is not completely graceful. This is mostly what starts to make the game a bit difficult. If he moved easier and faster, the game would be much easier.
This post is part of the series: More Garfield Articles
Check out these other Garfield articles.