Cartoon Network is best known for airing original animated television series of different genres, be it the original Cartoon Cartoons series or pop anime like Naruto or Dragon ball Z. Ben Ten is one of the world's most famous animated series created by a comic book writers group called "Man of Action". It debuted in December 2005 and since then it became one of the best animated single episodes in Cartoon Network. The full series kicked off later and was last aired on April 15, 2008. The same year also saw the telecast of Ben 10: Alien Force.
Ben Ten revolves around the adventures of Ben Tennyson, a teenager who accidentally gets access to the universe's most powerful device —The Omnitrix. This watch-like device has the power to transform an individual into an extraterrestrial entity by combining DNAs of the selected extraterrestrial life form with the user's DNA. Upon attaching the device to his wrist, Ben Ten gets the ability to transform into various alien forms such as Heatblast, Ripjaws, Stinkfly, Ghostfreak, and many more.
The success of Ben Ten resulted in various comic book and video game spin-offs. The top Ben 10 kids games online are already becoming a rage amongst children. There are loads of Ben 10 games ranging from platformers and MMO's to card and puzzle games. Here are some of the best games that can be played free online:
Ben 10 Savage Pursuit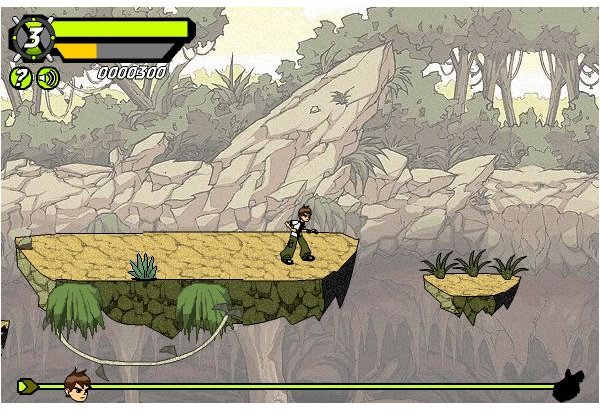 Savage Pursuit is a fun Ben 10 game with multiple platform levels, exotic alien monsters, obstacles and power ups. The best aspect of the game is the ability to transform into various aliens including Cannonbolt, Wildvine, Wildmutt and Heatblast.
In this game, players can take advantage of the abilities associated with the alien life forms. For example, pressing the Up key makes Wildvine grab a branch and swing from one twig to another. Pressing Space bar activates Wildmutt's mine detecting ability. Each alien life form is associated with different powers – Cannonbolt changes to a ball, Wildvine spurts explosive seeds and Heatblast throws fireballs.
The 2D graphics of Ben 10 Savage Pursuit closely resemble the animated series. In fact, all online Ben 10 games features excellent 2D visuals at par with the cartoon series. The comic book style cut-scenes between levels make the game fun and interesting.
Ben Ten Alien Force Action Packs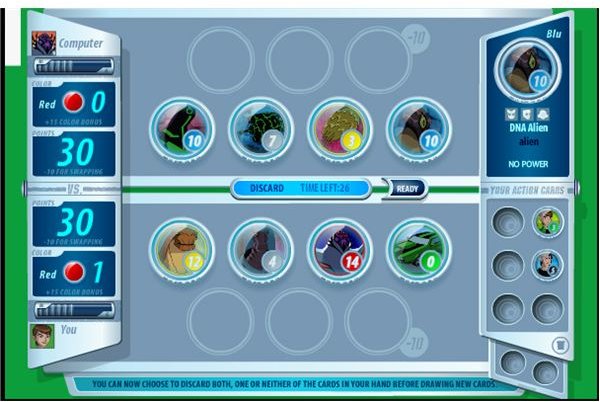 If you are interested in online card games, then you should play Action Packs. After selecting Heroes or Villains Action Packs cards, you will have to play those cards in sets of four. You can choose and drag them on to the game board with your competitor (AI) doing the same.
The computer then flips the cards and add each side's points. The game has an in-depth strategy guide that provides tips on which cards to draw and which card color to choose to get maximum scores. Action Packs is not for the action gamer, but for players who would prefer good online battle card games that involve strategy.
Ben 10 Omnitrix Unleashed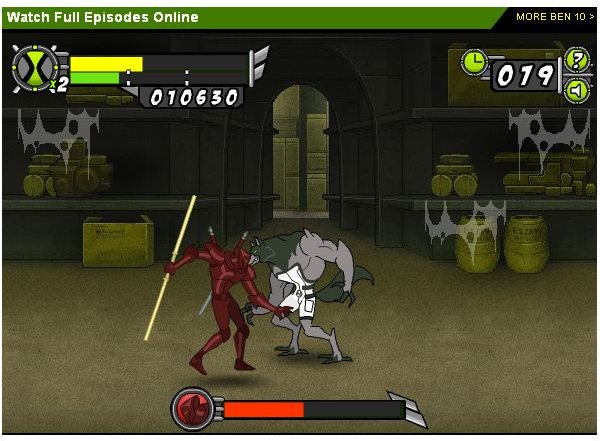 Omnitrix Unleashed is an action platformer that offers loads of fun and entertainment. Unlike Savage Pursuit, this online game has only three alien life forms to choose. But, Omnitrix Unleashed is story-driven that assures many twists in-between levels. The cut-scenes between levels are taken from the original animated series on Cartoon Network.
The combat system is based on combos and special powers. Every successful combo kills raises the green special power bar. Once it reaches the maximum level, you can use the chosen Alien's special power to vanquish enemies in a group quickly. Compared to Savage Pursuit, the 2D sprites in Omnitrix Unleashed are much larger and sharper. With excellent gameplay features, combos and cool 2D graphics, Omnitrix Unleashed is one of the best Ben 10 kids games online.
References
Screenshots by the author