Best Lilo and Stitch Games for Kids and Teens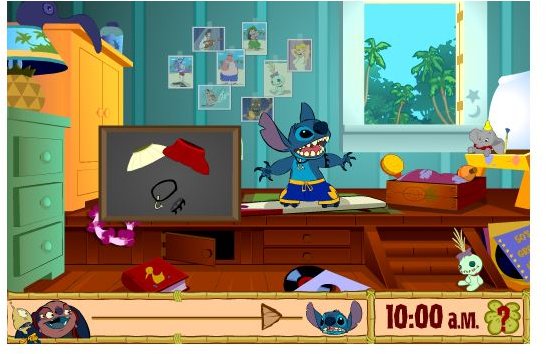 Best Lilo and Stitch Games to Play Online
Lilo & Stitch is an offbeat, delightful and creative animated comedy released by Walt Disney Pictures in 2002. The story revolves around two cute characters Lilo, a lonely Hawaiian girl in search for friendship, and Stitch—an "adorable" most-wanted extraterrestrial criminal. When Stitch crash-lands Earth to escape a genetic experiment conducted in a distant alien planet, he gets adopted by Lilo. She finds him to be just an "ugly", yet cute pet and helps him to see life her way—to care, forgive and help others in need.
The animated movie's exotic tropical setting, attractive illustrations, and unforgettable characters made it one of the best Disney animated movies of all time. Inspired by the movie, there are also several Lilo and Stitch games over the Internet. With excellent 2D cartoony visuals, these creatively designed games are a must for every Lilo & Stitch fan.
Stitch: Master of Disguise
An online Dress-Up game with a twist, Master of Disguise requires sheer timing and quick thinking to dress Stitch in different attires and save him from the clutches of the bounty hunters. During play, one of the picture frames will light up on the wall. Stitch has to be dressed exactly like the picture, which could be an exotic Hawaiian girl, a weird-looking witch doctor or Elvis Presley! You will have to search for clothes and accessories scattered here and there, in drawers and cupboards and dress Stitch within the set amount of time. You will have to use the mouse to search and click on cloth pieces to dress Stitch. The game's fun, addictive and one of the most entertaining Lilo and Stitch games to play online.
Play Stitch: Master of Disguise
Stitch's Laser Blast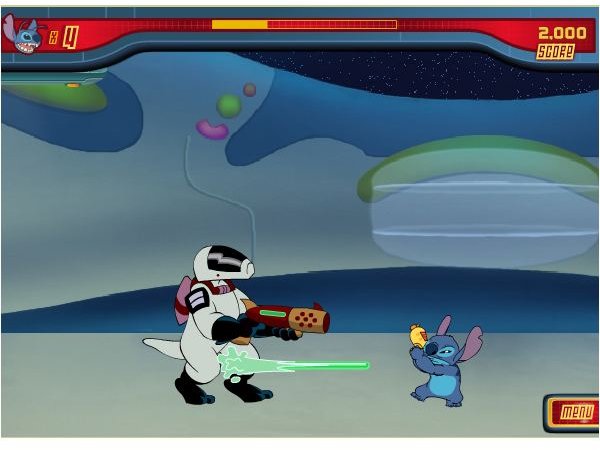 An action game of galactic proportions, Laser Blast follows our most-wanted, daring extraterrestrial's adventures in outer space. The main objective is to help him escape from the evil Captain Gantu's Spaceship. Armed with a laser gun, Stitch will have to confront numerous guards and strange galactic violet and green-colored beams aiming upwards.
You will have to press the V button to switch Stitch's state and defend against these colorful beams. In a normal state, Stitch can bypass violet beams, whereas in a special, "triple laser state" he can easily go past green beams. Changing to a special state, you can use Stitch's triple laser power to toast guards and enemies. The controls are based on the keyboard, with arrow keys to move and jump, spacebar to shoot laser beams and C key to punch. The 2D Stitch character looks exactly like the original movie and the entire visuals are well designed by the Flash game developers. The game is a plain action/platformer and will suit every player who loves this genre of video games.
Play Stitch Laser Blast Online Game
Lilo and Stitch Peanut Butter Express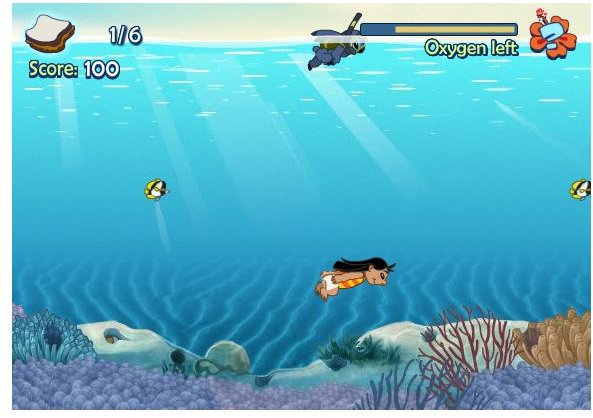 This is one of most creative Lilo and Stitch games on the Internet. With an underwater theme, Peanut Butter Express allows players to play Lilo and feed little hungry fish. You will have to use arrow keys to swim left, right and up and press spacebar to drop peanut butter sandwiches on crevices to feed fish. You will also have to avoid dangerous snakes, tortoises as they could take a bite of the sandwich. Each fed fish will earn you 200 points, but the points decrease if any of the sandwiches get a bite from those dangerous marine creatures. With a creative theme, excellent colorful visuals, good animation and great underwater backdrop, Peanut Butter Escape is online Lilo and Stitch flash games on the Internet.