FamVille on Facebook Level 6 Player Guide
FarmVille Level 6 Nimble Farmer
Once you reach level 6 in FarmVille, you earn the title of Nimble Farmer. Some very cool things have now added to your list of avaible items for purchase, but working your way through the pages of Market items can be confusing. There is no real order to it, and although it can be fun to take a look at all the items you can one day buy, you need to have plenty of time to do so.
This guide will give you information about being a Nimble Farmer, with a few extra tips to help you in your goals of becoming a master agriculturist with the sweetest looking farm in the neighborhood.
Level 6 FarmVille Market: What You Can Buy With Coins
At level 6 you unlock some new items with some major perks. The game is picking up as you have more crop options with different growing

times to fit your lifestyle- you can choose crops that grow in a few hours if you like coming back to FarmVille several times throughout the day, or pick ones that take a few days, if you prefer.
The longer a crop takes to grow, the more experience you earn for planting it (and in general, slow-growing crops bring in a nice return on coins). However, if you do like to tend to your farm many times during your day, you can earn even more experience (and coins) then you would if you choose to wait several days before revisiting your farm.
A tip for players who do like to play throughout the day: Plant about half of your farm with crops that grow quickly and the other half with crops that grow over time. The cash-crops (slow-growing) will help you save coins for big items you will want, like a barn or a dairy farm, and the quick-growing ones can earn you fast money and experience.
Level 6 FarmVille Market: What You Can Buy With Coins continued
Here are the new items that you can now purchase at the Market with your coins:
Seeds
1. Artichokes: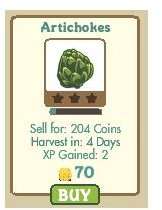 Buy for: 70 coins
Harvest in: 4 days
Experience: 2
Sell for: 204 coins
Artichokes are definitely one of the better cash-crops available to you now. Planting at least a good portion of your farm with artichokes will provide you with a nice chunk of change when it's time to harvest them.
The growth time is perfect for those who only like to visit their farm every few days as it eliminates the worry that all of your crops will die and go to waste.
Buildings
1. Tool Shed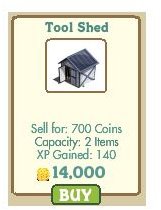 Buy for: 14,000 coins
Capacity: 2 items
Experience: 140
Sell for: 700 coins
The Tool Shed is very handy, especially as you progress throughout the game. You can store items that you don't want to use, for whatever reason. You will start collecting more and more things, many will be seasonal or holiday items, and having a storage spot is quite useful.
Find the Tool Shed in the Storage section of Buildings.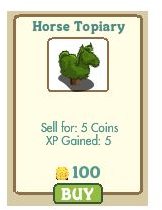 Decorations
1. Horse Topiary
Buy for: 100 coins
Experience: 5 (for purchase)
Sell for: 5 coins
The Horse Topiary will help to make your farm look more like a home.
Find the Horse Topiary in the Topiaries section of Decorations.
2. Mailbox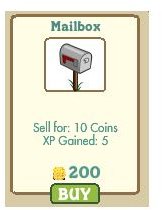 Buy for: 200 coins
Experience: 5 (for purchase)
Sell for: 10 coins
FInd the Mailbox in the Other section of Decorations.
An Additional Tip
Visit your friends farms and help them out whenever you log on to play. You can assist on their farm one time a day and it will give you extra coins and experience.
You are usually offered two tasks to perform on each friends farm. One task will be to do something like weed their land, which will give you twenty coins and five experience points, and the second thing you can do is fertilize their crops or plowed land (if they have any). You can fertilize five of their crops, each one earning you four coins and one experience point, for a total of twenty more coins and five more experience points for every friend you help out.
When your friends harvest the crops that you've fertilized (or vice versa), they will get an extra experience points for each one as well.
Please Note: This guide does not include information on limited edition items, or items that can only be purchased with Farm Cash.
If you enjoyed reading this then you might like:
Credits
Resource and Images