Best Fish Game on Facebook to Play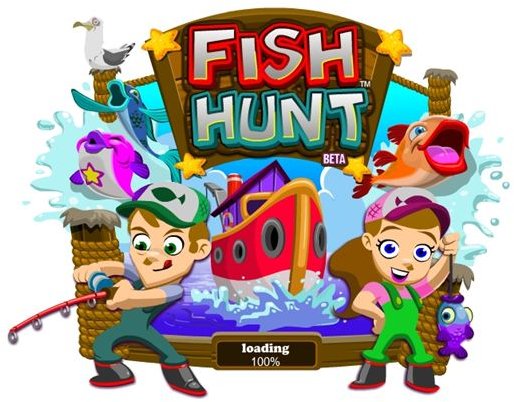 FishHunt Where Anglers Go
FishHunt is social role-playing fish game on Facebook by Hit Grab. Players step into the role of a female or male beginner fisherman with lofty dreams of becoming one of the top expert bass anglers in the world. This game is all about fishing which is rarely seen on social networking platforms. Catch and sell a large variety of fishes. Explore the open seas, collect bait, and complete challenging objectives. Compete with friends or help them out in their endeavors. Use strategy to find perch, guppies, trout, clams, and even dangerous sharks. Add them to your trophy collection and upgrade your licenses to move up the ranks from novice to professional.
Fish Guts & Glory, the Gameplay (4 out of 5)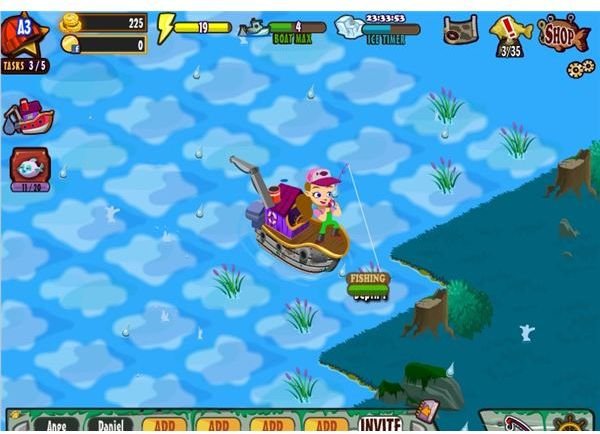 Most of the gameplay involves completing various objectives and lots of fishing. Players start out with a small boat and a generic-looking rod. On the left side of the screen is a list of tasks that are required in order to qualify for a license upgrade. FishHunt uses a somewhat unique licensing system instead of the standard leveling process. There are usually six or so main tasks that need to be completed. These quests often vary. A young fisherman may have to cast his net for a bigger catch, visit a particular location like Angler's Inlet, go fishing in some reeds, or find a collectible such as an old boot floating in deeper waters. Once all the tasks have been completed players are able to purchase their license upgrade for a fee of coins. License upgrades are very expensive. The prices get higher as players advance.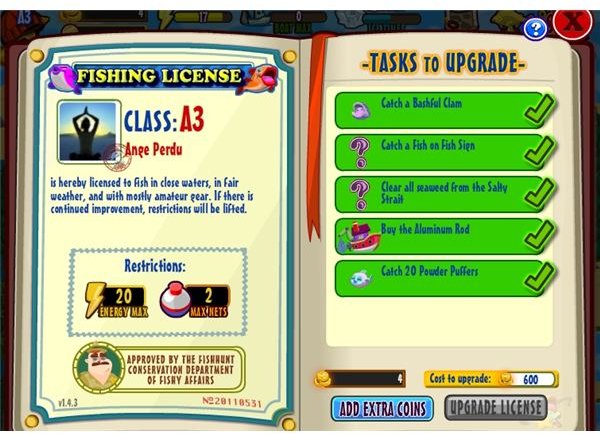 Coins are earned by selling fish. Catch Peewee Perch, Powder Puff, Snuggle Starfish, Gloom Guppy, Bayou Bottomfeeder, Tiger Trout, Bearded Koi, Red Dragon Gar, Sensei Snapper, Blue-Frilled Krill, Maverick Shark, Flounder, Clown Fish, and Brawny Prawn. Each species has certain traits or quirks. Hints can be bought to assist in finding them. Tips might state that the fish has been spotted around Cape Ravi or only comes out when it's clear. There are also various depths throughout the vast ocean. Some types are abundant at depth 2 while others prefer to swim in shallow water. Strategy is implemented throughout the game similar to how the sport is played in real life. Utilizing trade secrets, improving equipment, and using the proper technique can go a long way. Accumulating enough coins to afford upgrades is time consuming.
User Interface/ Controls (4 out of 5)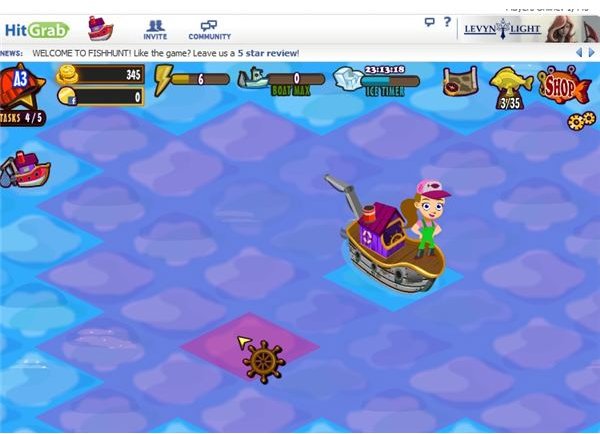 Luckily, the user-friendly interface and controls make fishing a breeze. Clicking on the fishing rod icon equips an angler. Similar to Zynga's Treasure Isle the ocean is divided into gridded sections. Four shaded areas appear in each direction of the boat. Mousing over the section will display the water depth. A quick click of the mouse casts the rod. Reeling happens automatically whether it's a catch or not. To maneuver through the sea players have to click on the steering wheel icon also located at the bottom of the screen and then the desired square they'd like to place their boat. There's no diagonal movement only left, right, up, and down which can be restricting at times. In order to complete tasks like clearing seaweed from the Salty Strait to prevent boat propellers from getting clogged players have to click and drag their mouse to search the ocean. Most actions are performed instantly with a couple of clicks. The Fish Market has a timer counting down until the next market update. The prices are constantly changing. Caught fish appear listed with a smiley face indicating whether the available sell price is a good or bad deal. Players can wait depending on how much ice they have until the market price changes or sell out immediately. It's a challenging but very cool feature.
Animated Graphics (4 out of 5)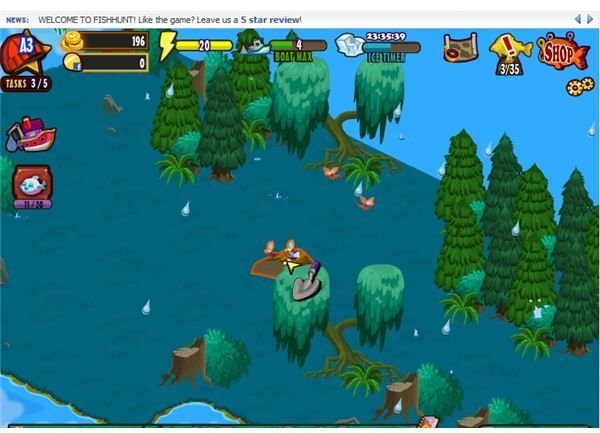 There's a decent amount of customization that can be done as anglers advance. Boat motors can be changed to Ultra Stealth or Hyper Jet for additional speed. Exchange the standard Scrap Crane for Wooden, Rusty Steel, Classic Oak, or the Industrial versions. Ice holding limitations and fish capacity is increased with each cabin improvement. Attach a Pine Freezer or Mega Hold instead of the original Dinky Shack beginners start with. Rods also come in a assortment of styles like Cheap Fiberglass, Aluminum, Carbon Fiber, Elegant Bamboo, and Titanium Power Rods. To stimulate a realistic fishing environment the weather randomly changes. A sunny day with calm waters can quickly develop into a storm. Giant rain drops fall and large crushing waves appear. The animations are great. The little details really make the game stand out. There are over 30 unlockable areas in the world map. Different locales feature distinct terrain. Sandy beaches, swamps, and forests contain hard to find bait. Gather surprisingly happy wriggly worms along the shorelines or collect from Blue Bottle Fly nests deep in the woods. Avatar characters make cute facial expressions displaying frustration and triumph as they journey through their sea adventure. The graphics are cartoonish but fits nicely with the light-hearted atmosphere.
Sound (4 out of 5)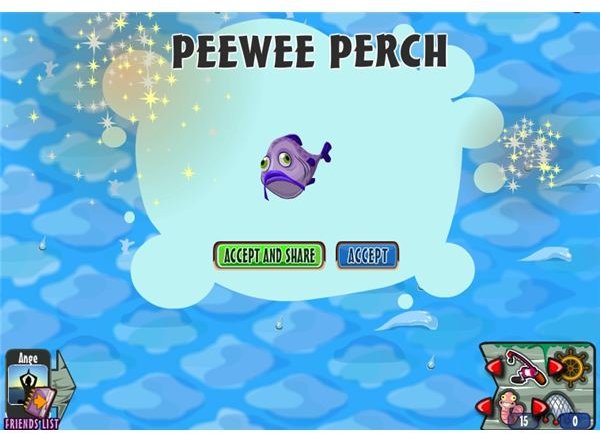 The sound is exactly what you'd expect from a fishing game. When anglers cast their rod into the sea they can hear the water splash. A sharp turning and grinding noise sounds off when reeling. Successful catches are celebrated with a crowd cheering. A game show buzzard dings every time there's no bite. Selling fish in the market activates arcade-like rings with each coin exchanged. Soft background noises of ocean waves moving and wildlife can be heard if listening closely. Theme and soundtrack music is kept to the bare minimum in FishHunt. Although many social RPGs are overflowing with effects and cheesy continuous tracks this game keeps it simple.
Overall Rating: (4 out of 5)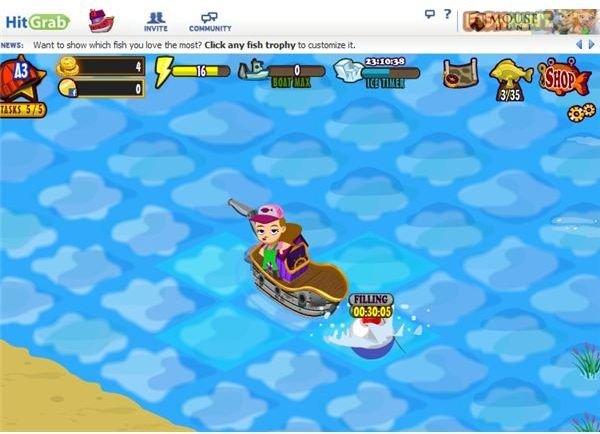 FishHunt features a unique leveling system, cute graphics, challenging quests, an innovative marketplace, and plenty of fishing. Players become anglers on a mission to prove they have what it takes to go pro. Catch a variety of fish, customize your boat, unlock new oceans, find collectibles, and dig for bait. Although the multiplayer aspects are limited in terms of neighbor interactions its still loads of fun. Players use strategy and a bit of patience much like fishing in the real world to catch rare species. Accumulate trophies. Decorate and upgrade your boat with new attachments. Geared towards gamers that enjoy virtual fishing it's definitely worth playing.
References
Source: Author's own experience.
All Images by Ange P.