Top Online Fish Aquarium Games to Play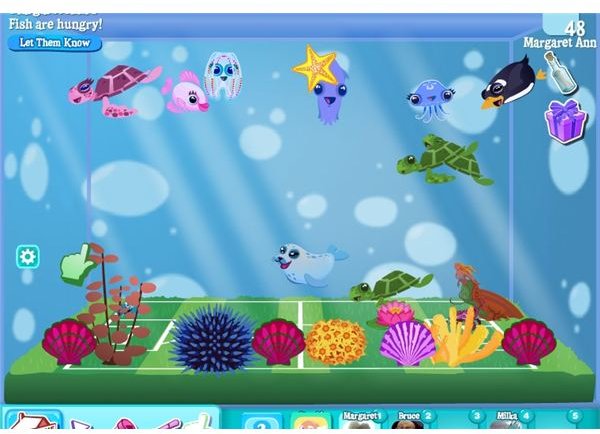 What Makes a Good Fish Tank Game?
There's definitely no shortage of online fish aquarium games. Players have a plethora of titles to choose from. The large assortment makes it difficult to weed out the good from the bad. For most aquatic lovers there are usually one or two elements that a game must have for it to be considered a favorite. These aspects are different depending on an individual's personal gaming preferences but literally always involve a particular feature surpassing the competition. Whether it's a wide selection of fish species, cool decorations, innovative training techniques, adorable breeding animations, helpful gifts, fun mini-games, user-friendly controls, vivid graphics, or unique gameplay what appears to be a carbon copy can surprisingly become the best virtual fish tank game ever.
FishVille Vs Happy Aquarium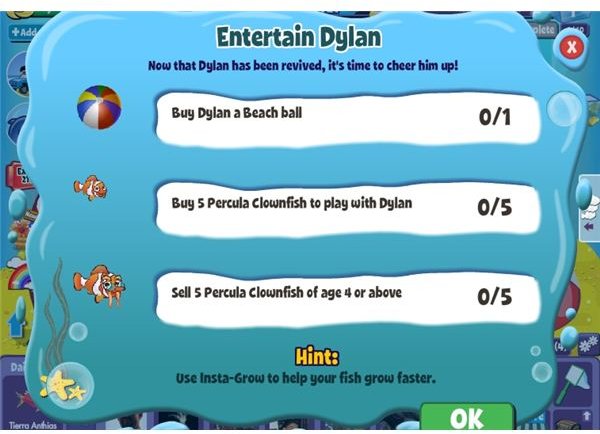 Zynga's FishVille and Crowdstar's Happy Aquarium on Facebook are both popular social 2D games where players raise and care for fish. The high quality graphics, challenging gameplay, and massive community of devoted players keep them at the top of everyone's list. Although they have their similarities these titles differ in various ways.Each game has its own strong and weak points. While FishVille is by far the most innovative in gameplay mechanics the options for caring for your fish are very basic. It only takes a few minutes to clean scum off a dirty tank, feed, and then sell mature fishes. Players spend the majority of their time tackling the quests, searching for collectibles, and fighting Blue Damsels or Goose Scorpions in the arena tank. The fighting features make the game stand out but it may not be for everyone.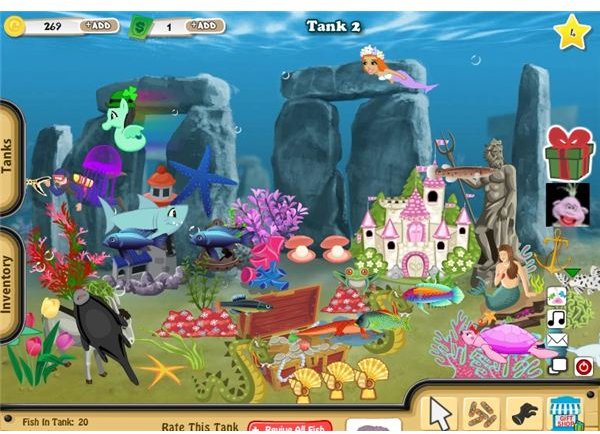 Happy Aquarium appeals to gamers that prefer adorable pets over guts and glory. In the cute department this game wins by a landslide. There are dozens of colorful wide-eyed fishes and aquatic life. Players can create tanks with pink cloud gravel and magical flying unicorns. All of the structures are animated adding a touch of whimsical charm. It also has the best training and breeding options of any aquarium game to date. Owners really get to bond with their fish by playing various interactive mini-games and teaching them tricks. Guide them through difficult obstacle courses with falling hazardous items or play cupid and select a mate for your pet fish. During the breeding process a seductive Barry White inspired tune plays and heart bubbles appear. It's a delightful scene. Both games tie in terms of graphics. They feature a wide selection of tropical fish, mythical creatures, plants, wallpapers, and gifts to choose from.
Fish World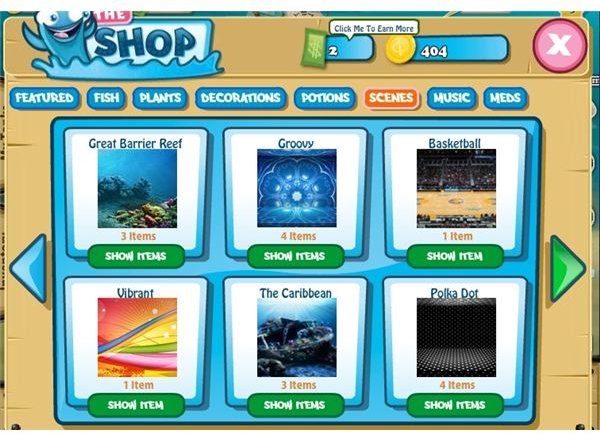 Another fishy title worth mentioning is Fish World by Tall Tree. Although the graphics are slightly outdated it was one of the first tank games to enter the competitive social networking scene and it's still around today. Players big on customization options can unleash their imagination in this underwater world. There's a wide selection of everything including the little minor details that other games often overlook. The best looking wallpaper for any virtual fish tank is the selection available in Fish World. Categorized by themes players can add various scenes like the classic Great Barrier Reef, Caribbean, Victoria Falls, Amazon River, Hawaii, and Hollywood inspired backdrops. The fish species also come in a wide variety. Users can play around with different concepts. Add cheerleader fish to a Basketball Court wallpaper layout or saltwater crocodiles against the Amazon River. It's also possible for players to buy soundtracks at the shop. There's a large assortment to choose from. Select nature sounds like whales to bebop jazz. Switch up music tracks for holidays or special occasions. Music is seldom incorporated in these types of games making this feature a rarity.
My FishBowl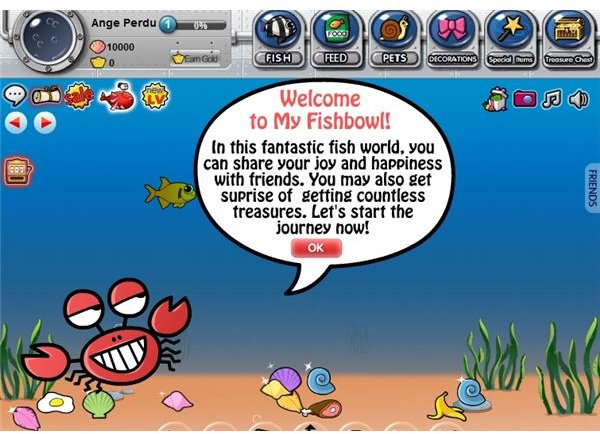 In My FishBowl players experience a more primitive sea adventure. The entire game features a submarine theme along with some imaginative prehistoric aquatic creatures. Raise bird wrasses to hat wearing goldfishes. Instead of the typical scum users have to clean up discarded ham, eggs, apple cores, and sandals in their aquarium. Every player gets a Garbage fish similar to the Flintstones that devours trash when summoned. The graphics are very cartoonish with an almost old school vibe. When decorating and placing objects users must manually resize them and continuously save the current template. My FishBowl also features a neighbor steal option adding rivalry to the mix. There are two casino style mini-games that feel a bit out of place as well. Users can test their luck with slot machine or a round of link match. The randomness of this game's features makes it interesting.
Ocean Party
One of the most unusual titles is Ocean Party by Gaia Online. It follows the same premise of raising and selling fish for gold but incorporates a fantasy party theme throughout. Taking cleaning into a different direction entirely users ditch their sponge and pick up a cannon. Players must shoot at floating algae eliminating as many as they can in a single shot. Similar to arcade classics like Brick Breaker the bullet ricochets. The species in the game are also out of this world leaning more towards mythical than tropical. Raise Robofish, Mimi Kitty, Land sharks, Hermit Cat, and Shamoo an underwater cow. There's a nice selection of decorations but they're tough to acquire. Décor items are either expensive or restricted to players with 500 or more neighbors. Ocean Party has a funky soundtrack that matches its upbeat gameplay. Real photography and animation are combined for breathtakingly beautiful tanks and backdrops making it a unique experience.
Fish Isle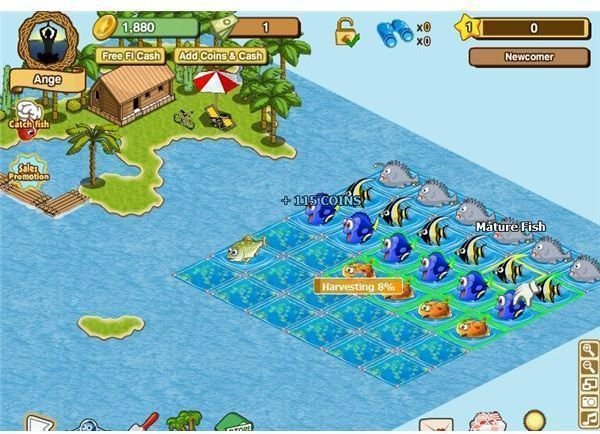 Fish Isle is a hybrid fish Sim that integrates farming with city-building. Enclosed aquariums are replaced with the open sea. Players set up nets, plant fish eggs, and wait until they've hatched. The process resembles farming, harvesting seafood instead of crops. Raise clown fish, snapper, salmon, flounder, rockfish, and shrimp. As Isle owners level up they unlock new species. Players can build on the surrounding shores to create a resort getaway also. There's a wide variety of land decorations and buildings. Add medieval cottages, cathedrals, luxury homes, waterfalls, statues, bamboo fences, cute couples, animals, flowers, and colored bushes to customize. Fans of FarmVille or Social City will enjoy the mesh of gameplay elements.
Akvaryum & the Verdict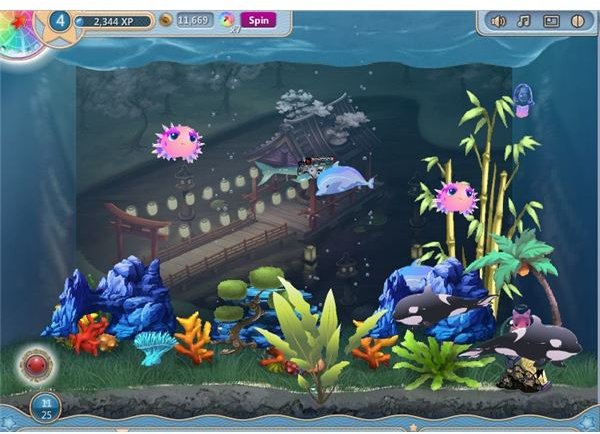 Akvaryum is a Turkish import growing in popularity from Peak Games. It plays very similar to the other titles. Users adopt or purchase fish from the market. Feed them and sell them when they mature. The simplicity of the gameplay and clean interface makes it great for a beginner or casual gamer. It has nice animations and a polished look. The fish limited but distinctive. They have big shiny eyes, various striped patterns, and come in an assortment of bright colors. Akvaryum is one of many titles out there. Whether you're into breeding, arena battles, decorating, farming, or shooting at algae there's a virtual tank just right for you. All of the games mentioned above have something to offer gamers. Although Happy Aquarium will always be number one on my list due to the cute graphics it might rank lower for others. The only deciding factor when determining the best online fish aquarium games is a player's personal preference.
References
Source: Author's own experience.
All Images by Ange P.