Zynga Fishville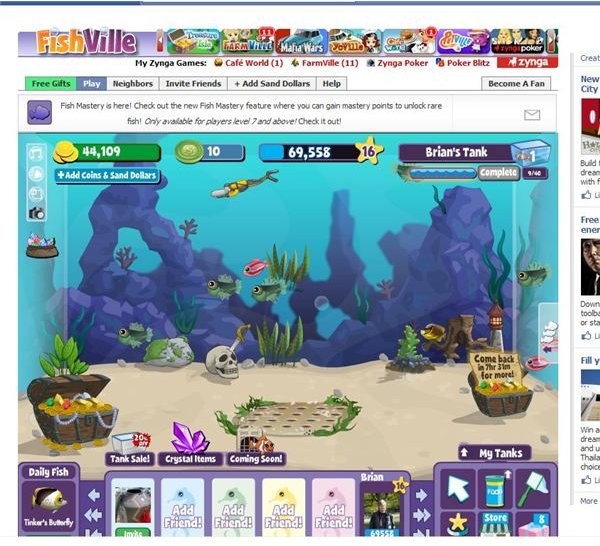 Before you learn how to play Fishville on Facebook you need to know about your fish tank. There are a few things you can do with your tank. The first thing is that you can use the sponge to clean the algae off your tank which will give you some experience points. Simply click on the green spots and your cursor will turn into the sponge. There is a small chest which you will provide you with a free item once per day usually coins or some experience points. You should click on this one per day to get your reward. In the interface at the bottom right you will find the food tool. Each fish will need to be fed so use this once you have some fish so they won't die. Move the feed tool to the top of the tank and it will deposit food into the tank for your fish.
Adding Fish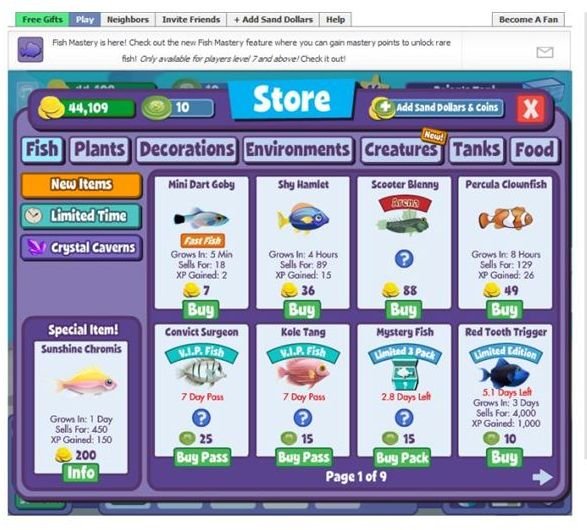 Your tank is pretty bare without some fish so it's time to add some to the tank. In the game store you will find all the different fish you can add with nine pages of different fish. Many fish won't become available until you reach the right level. Fish take time to grow until they are mature enough to sell for game coins. You can sell fish at anytime but if you let them grow to maximum you will get the full price for them. You also have the option to keep them in your tank too. Each fish can also have it's own personalized name or you can use the generic name Fishville gives your fish. Each fish will also give you a certain amount of experience points as you add them to your tank. Be sure to come back once your fish has matured and feed them again or they will die. To remove fish to sell use the net cursor and scoop up the fish you want to sell for coins.
Fishville Decorations
Fishville also has many different decorative items you can add to your fish tank and make it unique to you. There are crystals, castles, lighthouses, stumps, ships, statues and many other items for your fish tank. Decorative items either cost game coins or game cash and you can get more game cash by making a payment or completing offers. Other items include different backgrounds and even creatures you can add to your tank like a turtle or oyster.
Facebook Friends
Be sure to use your Facebook friends when you play Fishville so you can send gifts back and forth to each other. Having friends can help you advance faster in the game and provide you with special items you won't find in the normal game. Be sure to check the gifts often because they are always changing. One of the current special items are crystals.
Conclusion
Zynga continues to add more items and give you things to do with Fishville. Look for the exciting arena feature coming soon where you can battle your Facebook friends in the game. Have fun and don't forget to feed those fish!