Best Free Scooby Doo Online Games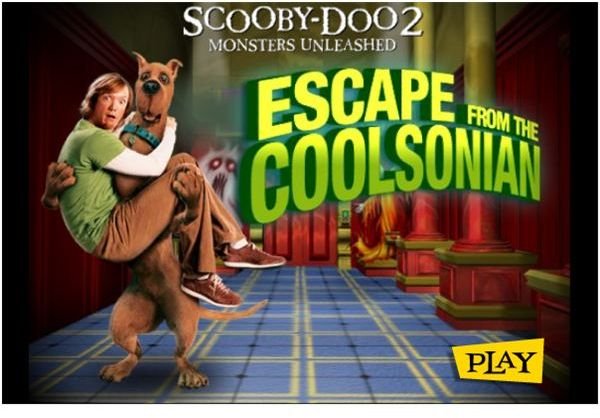 Online Scooby Doo Games
America's favorite cartoon canine Scooby Doo first appeared on a Saturday morning cartoon show called Scooby Doo, Where are You? Created by Iwao Takamoto for Hanna-Barbera Productions, this Scooby Doo cartoon series premiered in September 1969 and since then several spinoffs entertained viewers year after year. Almost all past and present cartoon shows feature Scooby Doo and his friends: Shaggy, Fred Jones, Velma and Daphne.
Scooby Doo cartoon shows usually kick-start with a supernatural theme, where all five friends (collectively known as "Mystery, Inc.") solve mysteries, debunk any supernatural phenomena and catch the culprit. Some shows feature Scooby Doo's cute nephew Scrappy Doo helping, or rather putting them in trouble in solving a supernatural phenomena. Nevertheless, Scooby Doo cartoon shows are always a treat to watch, especially when our cartoon canine accidentally solves a mystery!
Our favorite canine character has also appeared in numerous console and PC video games. Scooby Doo Case Files, Monsters Unleashed 2 and the latest, Scooby Doo! First Frights are some of the best games developed for Windows and console platforms. The first Scooby Doo game was developed for the ZX Spectrum and Commodore 64 systems in 1986. Numerous free Scooby Doo online games have been developed for kids, including popular titles such as Escape from the Coolsonian, Creepy Cave and Curse of Annubis. These games present a nice mix of adventure and logic puzzles and are very different from other cartoon-specific online games.
Scooby Doo: Escape from the Coolsonian
A brilliant first person point-and-click room escape game, Escape from the Coolsonian features several logic-based puzzles. Players have to solve a series of inventory puzzles to help Scooby Doo escape the Coolsonian museum. There are puzzles ranging from unlocking safes to solving intricate patterns made from Egyptian hieroglyphs. Some require certain objects to unlock rooms and safes. Gamers have to explore rooms and use their brains to sleuth an escape.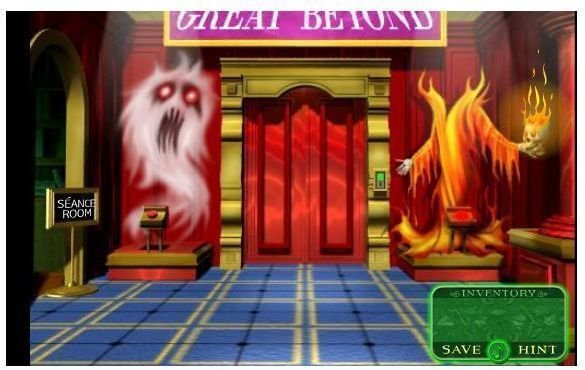 Certain puzzles might be difficult and hence a Hint box is located at the right hand corner of the screen. You can also save a level once all the puzzles in that level are solved successfully. The game can become seriously challenging once you complete the first two levels. With excellent 2D visuals and creepy sound, Escape from Coolsonian is one of the most delightful free online Scooby Doo games.
Play Scooby Doo: Escape from the Coolsonian Online
Scooby Doo: Creepy Cave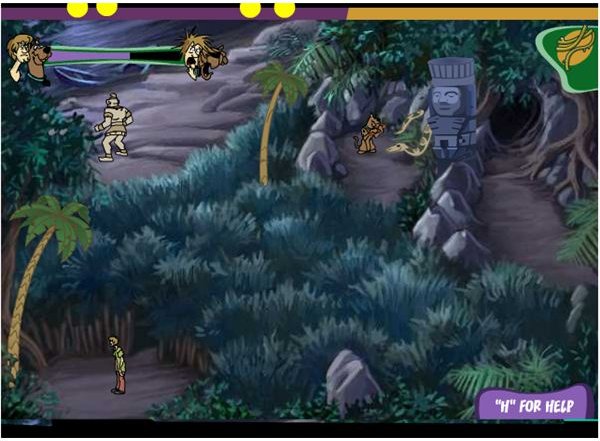 Most Scooby Doo games online are interactive puzzlers to the core. Creepy Cave is another great game that requires sleuthing skills and brains to help him and Shaggy escape the scary cave. Players have to look for valuable clues, hunt down useful items and use them on objects to find a safe escape route. A third person point-and-click online game,
Creepy Cave has got good visuals, but the on-screen objects are too small to observe. You would need sharp eyes along with good brains to solve an inventory-based puzzle. Nevertheless, Creepy Cave can be a great online puzzler to play on your netbooks.
Scooby Doo: Curse of Anubis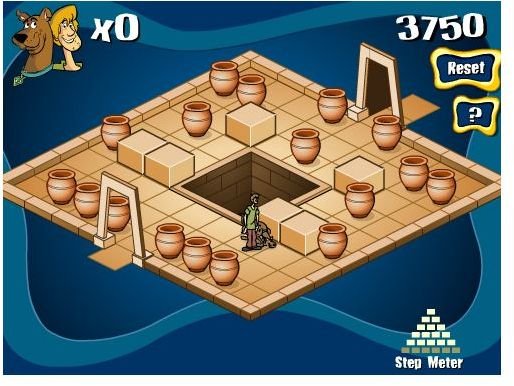 This is an excellent puzzle game for kids. You will have to guide Scooby and Shaggy and help them escape the haunted Egyptian pyramid. Each room in the pyramid has a set number of squares that ultimately lead to an exit square. You will also have a set number of moves to reach the exit square. A Step Meter will monitor and deduct the number of steps taken. Make sure you keep an eye on the meter and exit safely before the step count reaches zero. If you cross the maximum number of moves, then be ready to confront the ghost of Anubis.
Finding your way out of a room is not easy since you will have to push stone blocks out of the way cleverly within the maximum prescribed steps. You will also have to avoid sand traps and find an alternate route to reach the exit keeping in mind the maximum number of steps allowed in a level. This 3D isometric puzzle game is challenging and requires logic to escape every room. Scooby Doo: Curse of Anubis has numerous levels to keep you busy for hours and is one of the best free Scooby Doo online games.