The Best Free Bolt Online Video Games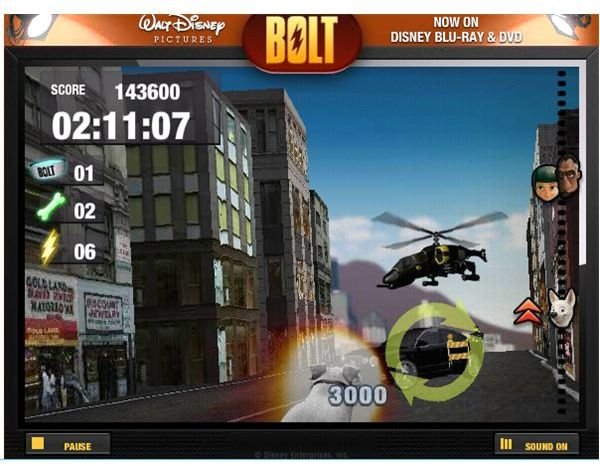 Free Online Bolt Games
Walt Disney Animation Studios have unleashed some of the best computer-animated comedies like Chicken Little and Meet the Robinsons. Bolt is yet another excellently animated comedy flick that kept kids and adults rolling with laughter. Released in 2008, this film boasts some of the best 3D animations. The story revolves around the fake TV life of a small white canine named Bolt, who thinks that he is bestowed with super powers. He believes that his human friend Penny has been kidnapped and sets out on a difficult journey to save her.
With the release of almost every Disney animated film one should expect a video game to be unleashed within a few months. Yes, even Bolt shared the gaming screen with players of all ages as a video game was released for all well-known platforms, including a mobile phone version. There are also several Bolt online video games released over the Internet. These free online flash games are fun action games aimed for kids and teens. Here's a nice compilation of the best online Bolt games:
Bolt to the Rescue
Bolt to the Rescue is an action online flash game that just requires the mouse to play. Shown from a third-person perspective, the game allows players to step into the shoes of our cute canine and use his superpowers to save Penny from the clutches of the evil Dr. Calico. The wonderful 3D graphics of the game is what attracts the gaming crowd.
Players will have a chance to use Bolt's laser vision to take out enemies. When Bolt comes closer to the enemy motor bikes and choppers, a green colored icon becomes visible. Players have to click on the aim to take out enemies. There will be loads of items and power-ups on the way, and the gameplay will be fun once players elevate to different levels.
Run Bolt Run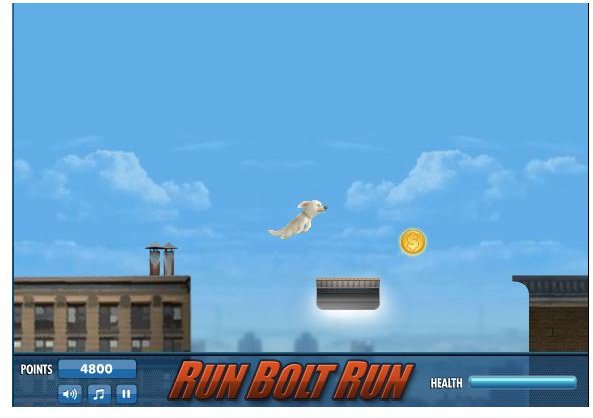 An action platformer with excellent 2D visuals, Run Bolt Run is one of the most played free Bolt online video games Internet. Players have to use directional left and right keys to move Bolt and the X key to make Bolt jump and cross dangerous hurdles. With the Z key, players can attack any enemy nearby.
The most difficult part of the game is the jumps. Players will encounter several suspended platforms to cross and a slight miss would make Bolt fall down to the depths of the city. However, players will not have to worry since the game starts from the same position where it ended. With good visuals and simple controls, Run Bolt Run can be a good lazy Sunday pastime for flash players and one of the best free online Bolt games for those who love platformers.
Bolt: Mittens' Hot Dog Hideaway
Well, you don't have to be an expert Juggler to play this game, only good button reflexes and a good eye to juggle hot dogs from one location to the other. In Bolt: Mittens' Hot Dog Hideaway, players will have to use the Left and Right arrow keys to move Mittens and juggle the hot dogs from the hot dog stall to the shopping bag.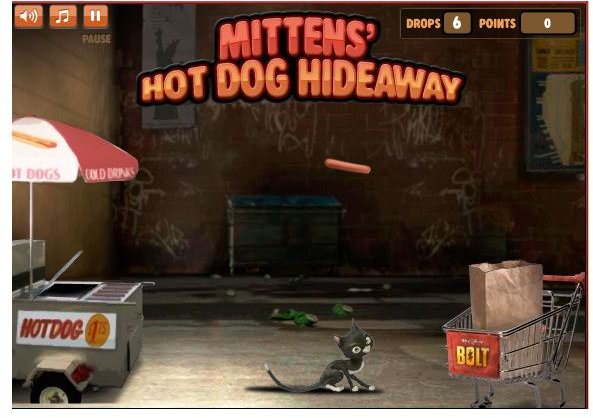 At first, the game seems fairly easy, but when two or three hot dogs pop at once, it can be challenging for the player to juggle all of them to the shopping bag. Well, here's where your observation skills are required. You will have to watch every hot dog closely and move Mittens under them to make the hot dogs jump and reach the shopping bag. Make sure you don't miss any as there are only 6 chances to play. The game has many levels to play and can be really very addictive after the 2 second level. While other Bolt online video games focus more on platforming and action elements, this fun Bolt game is a nice diversion and a perfect game for tiny tots.