Hints and Tips for the Doggie Dash Game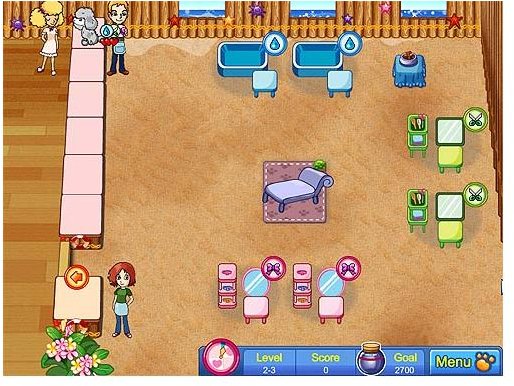 About Doggie Dash
Walter and Scarlet become business partners for the neighborhood pet spa shops. The challenge of this time management game is to help all of the pets while increasing the popularity and profits of these businesses.
How to Play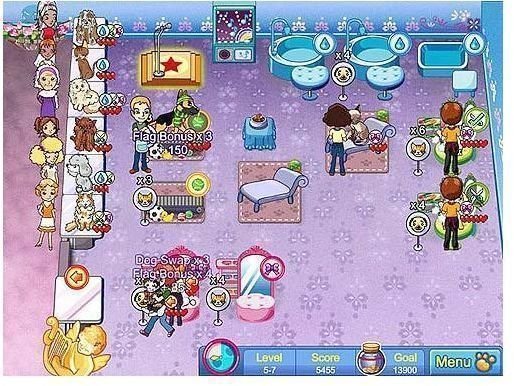 In each pet spa level, people and the dog or cat customers will arrive at a check in counter. The services they want are displayed through a thought bubble next to their head. Your character (Walter or Scarlet) takes the animal to the appropriate station. These services include bathing, grooming and trimming tasks. If multiple services are needed, you will take them to other location after the first one is completed.
When all grooming is done, the dog or cat is taken back to the check-out counter so their human companion can pay for the services. Each level continues until time runs out. A summary screen will then display your total score that includes customers served and lost. You also earn an overall level score of poor, good or expert. If you successfully met the current level's goals, you can move forward in the game.
In between level is an upgrade section. Shop decorations need to be selected for improving the look of the shop. These items don't cost you anything. If you have received an expert level score, three options will be available. Otherwise there are only two choices.
Other upgrades and accessories can then be purchased through a shop area. Choices include new spa equipment or upgrades and items for improving customer patience.
You win the Doggie Dash game after all 5 locations with their corresponding levels have been completed successfully.
Game Hints and Tips
Earn higher scores by repeatedly taking the same type of animal (dog or cat) to the same grooming station. Score increases by a multiple of one after every successful transfer (1X, 2X, 3X etc.).
Chain animal action tasks by carrying one to a particular station and exchanging him with another one. For instance you have a dog customer who needs grooming and another pet is occupying the station. You then take the dog to that station, grab the other one sitting there and the dog is then placed in the station. The second animal is carried to another station or counter.
The Couch is an upgrade that can be used to increase customer patience. Once a dog or cat is placed there, a person will go over and pet them while they wait.
Treats can be used to temporarily increase customer patience. Each level gives you a limited number of them so they must be used strategically.
Siamese Cats and Poodles are very impatient customers. However, their grooming services get completed quickly.
Dachshund and Persian Cat are very patient customers. The downside is that their grooming services are completed slowly.
If a pet has five hearts (mood rating) when their human companion pays, you will earn a Full Heart bonus. A good trick to ensure this bonus is to give the pet a treat just before they check-out of the spa.
Increase overall customer patience by using the podium often. Stand there before taking customers to different stations for higher heart ratings.
On levels where your partner is out sick, remember you will need to take the pets to the check-out counter as well as to all service stations they require.
Shih Tzus and Yorkshire Terriers can bother other pet customers and cause them to lose patience. Be sure to take these types of dogs off the station they are sitting on as soon as their services are completed.
The Jukebox increases the overall heart score of all animals in the shop.
If pet customers get angry and leave, it will cost you $100 to $500 of your profits.
Doggie Dash game character upgrades will improve their overall speed and performance.
Placing pets on the wrong station does not cost you any penalty. However, don't leave them there too long or they will become impatient.
Image Credit
Screenshots of the Doggie Dash game were taken by Sheila Robinson.