Wedding Dash 4 Ever - Game Hints and Tips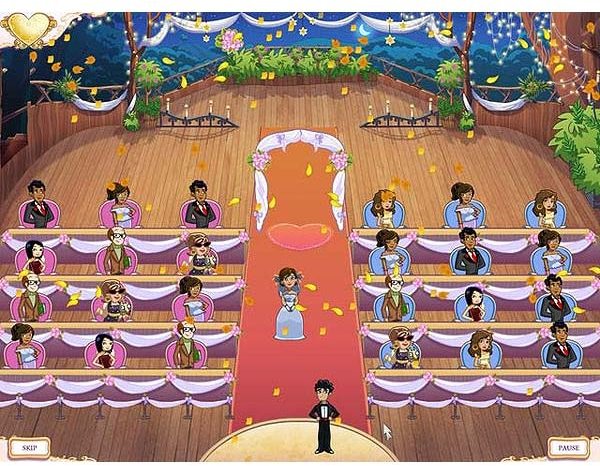 About Wedding Dash 4 Ever
In Wedding Dash 4 Ever, join Quinn and Flo as they plan weddings and receptions for couples in DinerTown. Quinn's mother has also become involved, as she thinks her daughter is getting married too. This wedding themed time management game will challenge players with many familiar tasks found in Diner Dash games including seating customers, serving food and other tasks that help things run smoothly.
Game Play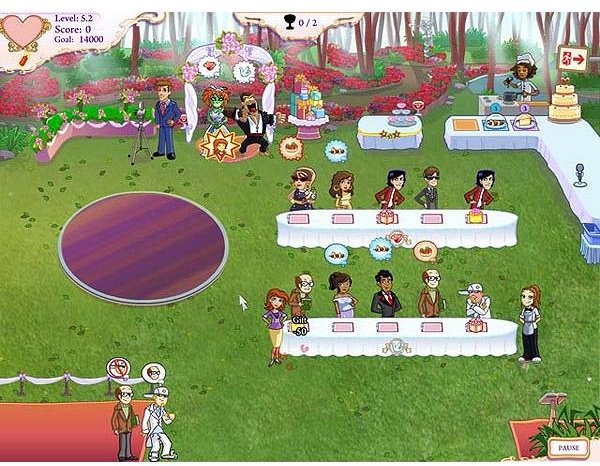 The main portion of the games levels are played in wedding receptions. As guests arrive, seat them by clicking and dragging them to tables. The guest's preference to where they would like to sit will appear as thought bubbles next to their heads. If they like where they are seated, they get a mood boost. Otherwise, the guest's mood will decrease faster if seated in a location they don't like.
When guests are seated, they will want you to collect their gift for the wedding couple. Click on their location to have Quinn collect them, and then click on the gift table for her to drop them off.
Appetizers, food and cake will also need to be delivered to each guest. Click on the food table to have Flo pick up the appropriate tray. Click on the table section in front of the guest to have the food item delivered. After all food and desserts have been distributed, guest will like to dance. Click and drag them to the dance floor and they will begin dancing.
The game level continues until the last guest is on the dance floor. If you have successfully met the level's goals, you can move forward in the game. Otherwise the level will need to be repeated.
In between Wedding Dash 4 Ever levels, upgrades can be purchased to improve performance, guest happiness or Quinns, Flo's and the cook's skills. The amount of points you have to spend will depend on your success with the last wedding reception game level.
Mini Levels
The wedding is considered a mini-level. Earn extra points by seating a specific number of guests at the wedding. If you fail in this level no penalty is incurred, but you don't get any extra points.
Hints and Tips
During reception levels, try to find all of the wedding couple's missing items to receive a special gift that will be used towards Quinn's own wedding.
The first items you should get in the upgrades shop should be ones that will help improve game play efficiency. The upgrade to increase the amount of food per tray is good as well as improving the overall performance of Flo and Quinn (which will make them walk faster).
To refill empty trays, click on them to have Quinn refill them with food items. Quinn is also useful for helping avert problems like decorations falling apart or stopping someone from wearing too much perfume. To have Quinn help, simply click on the flashing problem icon and she will take care of the problem for you.
*Screenshot images for the Wedding Dash 4 Ever game article were created by Sheila Robinson.