Guitar Hero 5 Cheats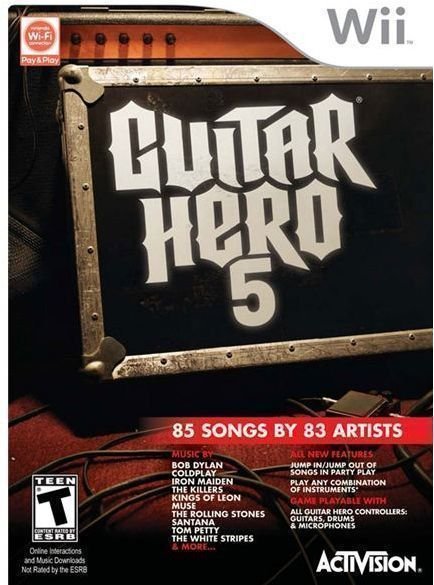 Remember the days where you had to quickly hammer out cheats as the game booted up, and if made any mistakes it was just one frustrating reset after another? Well, those days are gone. Guitar Hero 5 makes using cheats easy by including an actual cheats menu. Enter these button combinations at that menu to achieve the desired effects. It's so easy, even your girlfriend can do it. And you use the instruments to input the cheats, so you won't have to worry about any Wii Remote accidents.
GREEN, GREEN, RED, RED, YELLOW, BLUE, YELLOW, BLUE – Always Slide
YELLOW, GREEN, RED, BLUE, BLUE, BLUE, BLUE, RED – This makes playing the drums quite a bit easier by automatically playing the kick drum.
RED, RED, BLUE, YELLOW, GREEN, GREEN, GREEN, YELLOW – Make all of the instruments disappear so that your band is jamming on air instruments.
GREEN, RED, YELLOW, YELLOW, YELLOW, BLUE, BLUE, GREEN – Go one step further than the previous cheat and make your characters disappear.
GREEN, GREEN, BLUE, GREEN, GREEN, GREEN, YELLOW, GREEN – All hammer-ons and pull-offs, for those looking for the ultimate challenge.
GREEN, GREEN, RED, RED, YELLOW, RED, YELLOW, BLUE – Contest winner 1
YELLOW, GREEN, RED, GREEN, YELLOW, BLUE, GREEN, GREEN – This activates Focus Mode, making the background of the note highway black, allowing for easier focus.
GREEN, RED, GREEN, GREEN, YELLOW, GREEN, GREEN, GREEN – Clear the screen of the HUD.
YELLOW, YELLOW, BLUE, RED, BLUE, GREEN, RED, RED – Further clear the screen by removing the track and display in Performance Mode.
BLUE, BLUE, GREEN, GREEN, RED, GREEN, RED, YELLOW – Unlock all characters
Guitar Hero 5 Special Characters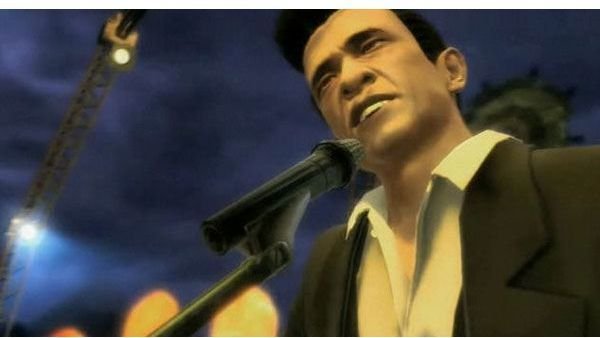 If you choose to earn all of the special characters the old fashioned way, instead of using Guitar Hero 5 cheats, my hat is off to you. You can unlock each one by completing the appropriate song on any difficulty and with any instrument. While Courtney Love may be upset with what the game is doing with Kurt Cobain's image, you don't have to be!
Johnny Cash – Ring of Fire
Matt Bellamy – Plug in Baby
Shirley Manson – I'm Only Happy When it Rains
Carlos Santana – No One to Depend On
Kurt Cobain – Smells Like Teen Spirit
Guitar Hero 5 Cheat Modes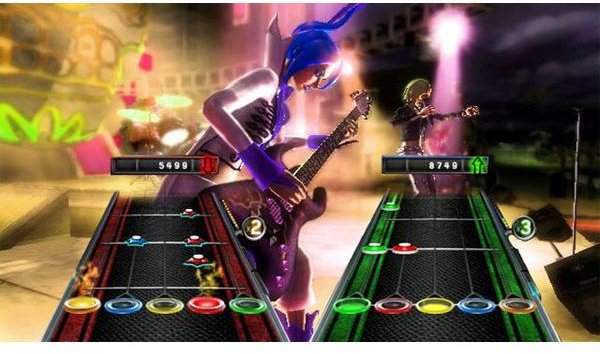 Maybe you're a total straight arrow and don't want to use any Guitar Hero 5 cheats at all. If that's the case, than you're a better gamer than I. Here's how to unlock a few of the special cheat modes through hard work.
Auto-Kick – Hit 200 non-cymbal notes on Mirror People in the Angel's Crypt venue to unlock auto-kick mode which will make the game automatically play the kick drum.
HUD-Free Mode – Score an Excellent on 75 consecutive phrases as the vocalist on Bring The Noise 20XX at the Neon Oasis venue.
Performance Mode – Get a band multiplier with two or more people for 42 seconds on Bleed American in the Aqueduct venue.
Focus Mode – Hit 265 torn notes as a drummer on Brainstorm at The Golden Gate venue.
Guitar Hero 5 Venues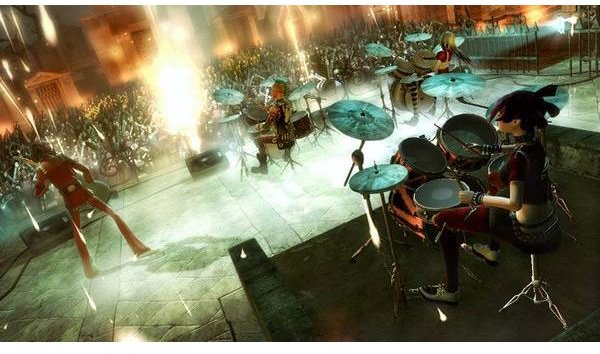 There are plenty of awesome places to rock out at in Guitar Hero 5, but there is one you may not know about. To unlock the Wormhole quickplay venue, get a 4X multiplier for 50 seconds as a guitarist on Play That Funky Music in the Sideshow venue.
Guitar Hero Links
Whether you're playing Guitar Hero 5, Guitar Hero World Tour, or even the oldie-but-goodie Guitar Hero 3, here at Brighthub we've got you covered. We can even show you how to download new Guitar Hero songs for your Nintendo Wii console, even when it's not an included feature of the game. Yes, we're that good.
And if you've already exhausted Guitar Hero 5 and you're looking for other great games to play with your friends, be sure to check out our list of the Best Wii Party Games. Or if it's just you and your significant other, we've got you covered there, too. No matter who you're playing with, there's always some quality Nintendo Wii titles to check out.