Review of Guitar Hero: Van Halen on the PS3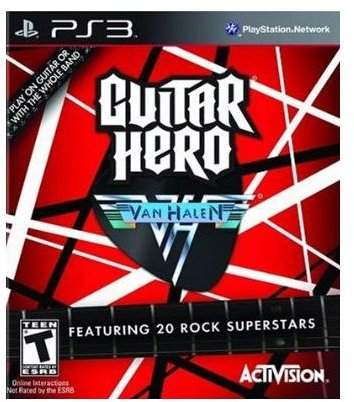 Guitar Hero
Guitar Hero was a real breath of fresh air when it was first released. It is an inventive and addictive music game which allows you to get a taste of rockstardom, albeit in your living room with a small plastic guitar. That's still as close as most of us will get. The game was a huge success and so the flood of sequels and new versions was an inevitable avalanche. The latest is Guitar Hero: Van Halen.
Gameplay (4 out of 5)
All of the Guitar Hero games use the same game mechanics. The basic aim is to watch the coloured circles zooming down the frets toward you and hold down the right colour and strum at the right time to score. You can boost your score by chaining notes together. Guitar Hero: Van Halen is no different and since the band produced some great tunes there are plenty of challenging offerings here that will leave your fingers aching.
For real fans of Van Halen the fact you only get 25 of their songs and all of them are pre-1985 may come as a disappointment. This release comes on the back of the Metallica and Aerosmith versions but the Van Halen release is far more limited. There are no real extras for fans and the game totally fails to capture the high energy, spandex clad madness of Van Halen at their height in the eighties. It also completely ignores former members Sammy Hagar, Michael Anthony and Gary Cherone. The line up in the game is Eddie Van Halen, David Lee Roth, Alex Van Halen and Wolfgang Van Halen.
This game uses the old engine so the extras that came along with Guitar Hero 5 are missing here. There is a career mode and quickplay options and you can pit your skills against a friend. Largely thanks to the amazing skills of Eddie Van Halen the guitar parts are excellent and will throw up a new obstacle even for hardcore fans of the series.
The extra tracks that make up the list are from a completely random assortment of bands and none of them really fit with Van Halen at all. The fact they've completely ignored later Van Halen stuff is also sure to annoy some people. This really feels like a churned out title designed to squeeze every last bit of money out of a franchise which is getting tired. It's almost the equivalent of a cash-in comeback tour for an aging rock band and that's exactly how Van Halen appear in the game.
Guitar Hero: Van Halen Song List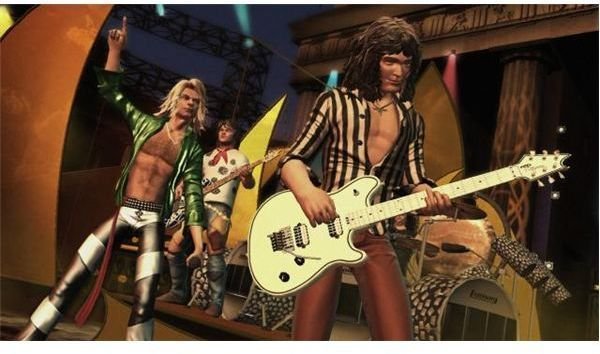 Here's the complete Guitar Hero: Van Halen song list including the solos:
Ain't Talkin' 'Bout Love
And the Cradle Will Rock
Atomic Punk
Beautiful Girls
Cathedral (solo)
Dance the Night Away
Eruption (solo)
Everybody Wants Some!
Feel Your Love Tonight
Hang 'Em High
Hear About it Later
Hot for Teacher
Ice Cream Man
I'm the One
Intruder
Jamie's Cryin
Jump
Little Guitars
Loss of Control
Mean Street
Panama
Romeo Delight
Runnin' with the Devil
So This is Love?
Somebody Get me a Doctor
Spanish Fly (solo)
Unchained
You Really Got Me
Guitar Hero: Van Halen Song List Extra Tracks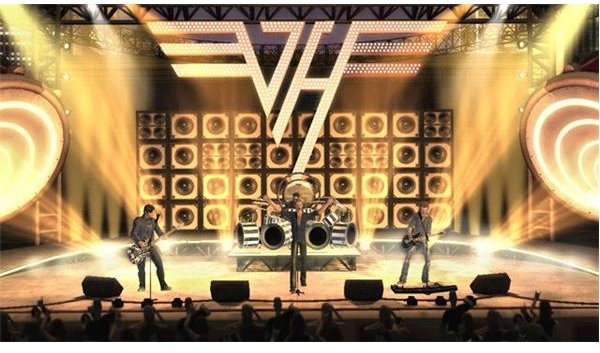 The rest of the Guitar Hero: Van Halen song list is an assortment of random bands:
Alter Bridge - Come To Life
Billy Idol - White Wedding
blink-182 - First Date
Deep Purple - Space Truckin
Foo Fighters - Best Of You
Foreigner - Double Vision
Fountains of Wayne - Stacy's Mom
Jimmy Eat World - Pain
Judas Priest - Painkiller
Killswitch Engage - The End Of Heartache
Lenny Kravitz - Rock And Roll Is Dead
Queen - I Want It All
Queens of the Stone Age - Sick, Sick, Sick
Tenacious D - Master Exploder
The Clash - Safe European Home
The Offspring - Pretty Fly For A White Guy
Third Eye Blind - Semi-Charmed Life
Weezer - Dope Nose
Yellowcard - The Takedown
Graphics (2 out of 5)
The Guitar Hero franchise has never been about graphics and since you focus so intently on the frets the backgrounds seem irrelevant. There are basic models with dull animations and the biggest disappointment is the fact that the band rendered here are old, short haired and not at all reminiscent of Van Halen as most of us knew them. Thankfully you can unlock the classic band towards the end with flowing locks and kicks but they still don't really capture the raw energy of the originals.
Sound (4 out of 5)
The sound is what this game is all about and the Van Halen songs that do appear are good versions. There is nothing wrong with the sound quality of the extras either but for me the list doesn't have any standout tracks that you couldn't live without.
Multiplayer (3 out of 5)
You can play with friends locally and take on each of the four roles in the band – lead guitar, bass guitar, drums and vocals. There is also online multiplayer available but unless you have a friend who owns the game you'll struggle to find people to play with online.
Overall (3 out of 5)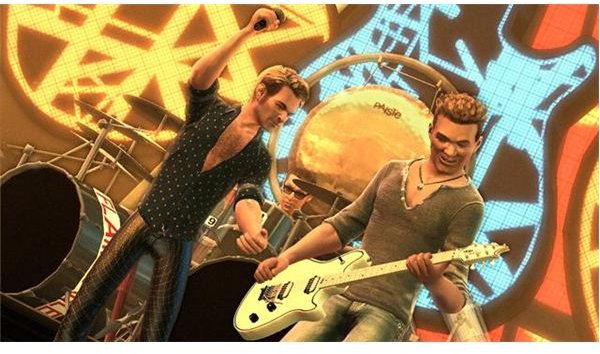 There is no escaping that the selective line-up, the limited period covered and the lack of extras or involvement from the band make this a lacklustre affair even for hardcore fans. The selection of the additional non-Van Halen tracks is just weird and makes this feel even more like it has been shovelled out the door. If you got this free with Guitar Hero 5 then you won't be complaining but then you're unlikely to be playing it either. There isn't a Guitar Hero: Van Halen review out there that doesn't conclude if you paid full price for the game then you'd be justified in feeling a bit ripped off. It's true.