Guitar Hero 5 Cheats and Unlockables for Xbox 360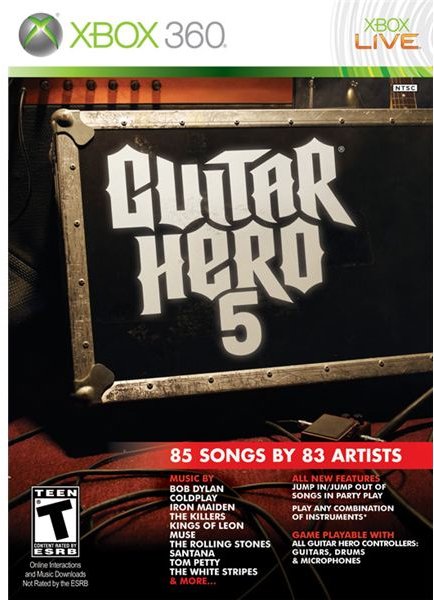 Guitar Hero 5 Cheats and Unlockables
The Guitar Hero series unveiled a new avatar in the form of Guitar Hero World Tour, where players could use different instrument controllers along with the guitar. The four-player band experience makes its presence felt in Guitar Hero 5 as well, but with new game modes and awesome unlockables. Besides these, Guitar Hero 5's track list contains more than 80 artists performing over 75 songs. New avatars in the game include Carlos Santana, Matthew Bellamy, Johnny Cash and Shirley Manson, all perfectly modeled using the unique motion capture technology, The innovative user-created music studio in World Tour can also be seen in Guitar Hero 5 along with additional downloadable content.
The best feature of Guitar Hero 5 is its compatibility with controller instruments playable in World Tour. Yes, there's no need to buy separate controllers for this game, you can play with the existing controllers.
You can unbolt several unlockable characters and cheat codes in this game. You can unlock characters by completing tasks in the Career mode or unlock certain unique features by entering cheat codes with your game controller in the menu. Here are few Guitar Hero 5 cheats and unlockables for your Xbox 360 console.
Cheats to Unlock Songs, Characters, and Remove HUD and Track
Ever wanted to unlock all characters by just pressing a few buttons on your Xbox 360 controller? Ever wished to make all instruments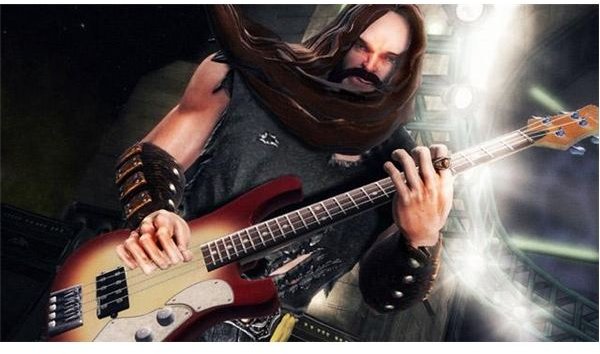 invisible? Well, here are some cheats that can help you unlock certain features, but please note that by activating them you cannot earn any achievements:
To enter the cheats, go to Options, access the Cheats menu and then select Enter New Cheat. All you have to do is enter one of the following codes by pressing the buttons of your Xbox 360 controller correctly.
Remove HUD and Track: Press Yx2/B/R/B/G/Rx2
Play the Drummer's Bass Pedal Automatically: Press Y/G/R/Bx4/R
To Black out the Background: Press Y/G/R/G/Y/B/Gx2
Remove HUD (the rock meter, score display and star power gauge): Press G/R/Gx2/Y/Gx3
Make all Characters Invisible: Press G/R/Yx3/Bx2/G
Unlock All Guitar Hero 5 Characters: Press Bx2/Gx2/R/G/R/Y
Unlock All 85 Songs: Press Bx2/R/Gx2/Bx2/Y
Note: G=Green, B=Blue, R=Red, Y=Yellow, x2=Press Twice
Avatar Unlocks
Unlocking bonus characters in Guitar Hero 5 can be quite easy if you fulfill the indicated tasks in the Career Mode. These Guitar Hero 5 unlockables lets you unlock characters like Kurt Cobain, Johnny Cash, The Golden God and Carlos Santana.
Shirley Manson: If you play and complete the "I'm Only Happy When It Rains" song successfully, you will unlock this bonus

character.

Carlos Santana: In the Career mode, finish the live "No One to Depend On" Song to unlock Santana.

Johnny Cash: If you complete "Ring of Fire" track successfully, Johnny Cash will be yours.

Kurt Cobain: Finish the "Smells like Teen Spirit" song to unlock this bonus Guitar Hero 5 character.

Shadow: Successfully complete the 600 note streak.

Matt Bellamy: Completing the "Plug in Baby" task song will unlock this bonus character.

Skeleton: You can unlock this bonus character if you complete the Diamond drum challenge for the song "Brainstorm". Alternatively, you can finish the Platinum drum challenge for the same song to unlock Skeleton.
The Golden God: The God of Rock's final challenge in Career mode has two drum challenges: Diamond and Platinum. Completing either challenge unlocks this special bonus character.
Screenshots © Guitar Hero 5/Activision