Free Halloween Games Online for Kids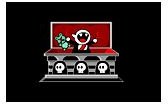 Halloween Games the Kids will Scream for!
Tis' the season for spooky ghosts and creepy pumpkins. It's also a great time to let the kids enjoy some free Halloween game play online. Here we take a look at some of the best and safest Halloween themed games for kids that any parent can feel comfortable letting the kids play. The following Flash animated games are brought to us by the creative folks atKaboose's FunSchool, which is a site that offers free and educational games for kids of all ages.
Transylmania
First up is the seasonally popular and batty Translymania game. In this game kids will get to play a vampire who sleeps in his coffin with a little green teddy bear. It seems that the local villagers have invaded the vampire's castle while he and teddy were sleeping. You goal here is to use the arrow keys to fly like a bat and bite the villagers turning them into green zombies.
Fly as the bat and bite all the villagers without running into fire, water or spikes that the villagers have set up all over the castle to regain castle safety for your vampire character and his teddy bear. To play this game click through here: Transylmania
Transylmania II
Next is Transylmania II, a new game where the local villagers and an evil doctor have come and stolen the vampire's little green teddy bear.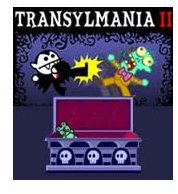 Your goal here as the vampire is to escape the castle and go on a quest to rescue your teddy bear from the evil doctor's clutches.
In this game the only way the vampire has to fight back is again by flying as a bat and biting the local villagers to escape the castle. To play this game, click through here: Translymania II
Whack-O-Ween

In the popular Whack-O-Ween game, kids get to platya witch whose goal is to protect her pumpkin patch. The witch must whack the intruding ghost to the pumpkin patch and stop them from stealing all her pumpkins.
Played much in the same vein as the popular arcade Whack-A-Mole games, this game is presented for play in Flash and used the arrows keys as control. To play this game, click through here: Whack-O-Ween
For more Halloween games at FunSchool, as well as kids crafts and coloring pages for the holiday visit their main Halloween page at: FunSchool's Halloween
*images provided by and Copyright © Disney 2009 for FunSchool