Words with Friends Cheats - Word Lists for Q, Z, J and More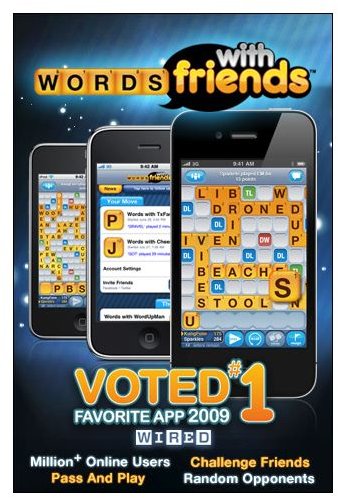 Words with Friends
If you have an iPhone, iPod Touch, or iPad, then you should look into getting one of the most addictive game apps on iTunes called Words with Friends.This game plays much like Scrabble and lets you play against your friends online. All you have to do is come up with a screen name, then others can look up your name and send you game requests. You can take as long as you like between moves and the scoring system is basically the same as Scrabble. I've got about ten games going on between friends and family right now. You can get Words for Friends only on iTunes and there is a free ad-supported version available as well as a commercial one with no ads.
Words with Friends Cheats
The Words with Friends app doesn't have any built-in cheat codes, but there are ways you can give yourself an unfair advantage in the game. You could go old school and keep a dictionary handy, or you could use one of the following websites to find words that can be made using your letters and whatever else is accessible on the game board. Just make a note of the letters you have, then close the app and open Safari to visit any of these sites to find the best earning word to create and become a Words with Friends cheat.
Hasbro.com Scrabble Word List - This site is maintained by the makers of Scrabble, which is the Hasbro company. You might consider this the 'official' cheat site since it is maintained by the publisher. It has great lists for using all those hard to implement letters like Q, Z, and J.
ScrabbleCheat.com - The name says it all. This website lets you enter the letters you have available and it'll show you whatever words can be made from those letters. You can also add other letters like ones already in place on the board.
Scrabble Word Lists - This site is a great resource for when you need to see your options and don't want to deal with the word generators. I especially like their list of 'Q words without a U after' and the words that are either all vowels or all consonants.
2 and 3-Letter Scrabble Words - This is a great list of many words made up of only 2 or 3 letters. These are great for squeezing words into blocks to connect with other words for extra points.
(Image credit: Apple iTunes)
A Note on Cheating
Since using the previously listed websites will give you an unfair advantage, your opponents may start to catch on when you keep making up words that most people outside of college English majors have never heard of before. If you can get a comfortable point lead over your opponent, there is no need to massacre them on the game board. People may start to realize you're getting outside help and either won't play with you any more or will find this article on Words with Friends cheats and beat you at your own game.
If you enjoy word games on your iPhone, iPod Touch, or iPad, be sure to read our Word Warp review.