Words with Friends Mobile Game Review: Scrabble Clone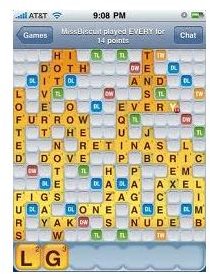 Words with Friends
Words with Friends is a mobile game version of the popular board game Scrabble. It uses basically the same rules of Scrabble except with modified scoring rules. It may not provide the same personal interaction of playing the board game, but it still has the unique charm of flaunting your vocabulary to several friends via its multiplayer feature.
User Interface and Atmosphere (4 out of 5)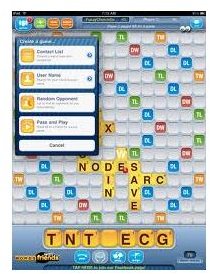 The user interface is tidy and neat, giving players a clear view of the board as well as their options. The sound effects add to the overall experience nicely, providing a relaxed and fun atmosphere for the players. A nice touch in the interface is the eyeball icon that hovers on top of a username that tells you that that particular opponent is viewing the board.
Gameplay (4 out of 5)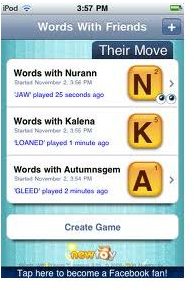 As previously stated, anyone who knows how to play Scrabble will know how Word with Friends works. There's nothing really innovative in the game even with the modified board and terminologies, but it does put a new spin on how it can be enjoyed. You have the option of playing multiple games at once, and each game of course can have multiple players. This keeps you busy in making moves while waiting for your opponents to make theirs. Its support for push technology allows players to be notified when it's their turn, which is a nice feature to improve how players play games and reduce your waiting time.
Features (4 out of 5)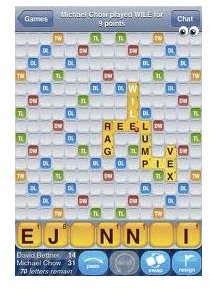 The innovation of this game comes from the options for your opponents. You can get a random opponent off the Word with Friends players list, choose someone who is in your phone contact list, search for a particular opponent by using a username, use the pass-the-handset option so you can play with someone who is physically with you, or let the entire world know that you are looking for a worthy opponent by posting an announcement on Facebook or Twitter directly from the app. There may not be innovation in this Scrabble-based app, but the options for getting opponents are highly enjoyable.
Performance (4 out of 5)
There are a few bugs here and there, but they are not enough to hinder players in completing their games. The lack of a single player option requires players to be connected to the Internet most of the time, and the pass-the-handset option is just too inconvenient in the long run. There's a lot to be improved in this app if it wants to be a superior product to the official Scrabble app.
Conclusion (4 out of 5)
This game, that can be played on the iPhone, the iPad and the iPod Touch, draws much of its charisma from being a clone of Scrabble. It's very entertaining, yes, but it needs more features that will set it apart from the Scrabble app. Overall, Words with Friends gets a good rating.