Trivia Town - Free Trivia Games Online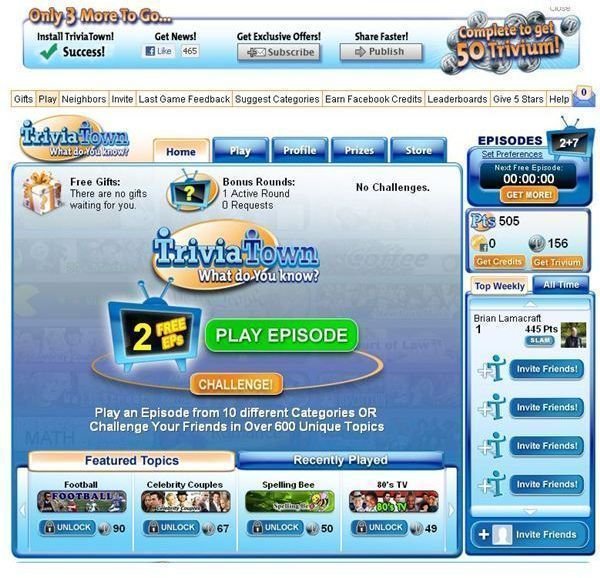 Game Basics (4 out of 5)
if you like free trivia games online you'll like the new Facebook game Trivia Town. Players play games called episodes and you'll get a few free episodes each day. The game currently has ten categories including sports, music, television, history, religion, arts, and more. Players can pick the category that they want to start a game. In your preferences, you can pick which categories you would like to appear in your game. So for example, if you don't want to answer questions from the sports category, you can block these types of questions and concentrate on different categories such as music or the arts. As you win games, you'll receive prizes. Collect enough prizes for rewards such as more episodes to play. You can also challenge your friends with over 600 topics available and more than 130,000 questions to answer. View your game profile and see how you are doing such as your highest score or most played category in the game. Buy powerups with game cash to add seconds onto the game clock or increase your earnings.
Playing the Game (4 out of 5)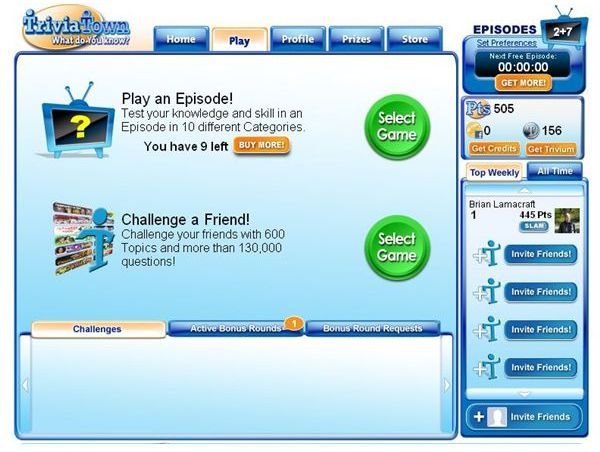 Once you select a category, you can begin to answer questions. You start with nine lives and ninety seconds on the game clock. As you answer question correctly you'll advance in level and increase your score. If you answer questions right in streaks you can add time to the time bank. During game play, you can use any powerups you have bought in the game store such as ones for more game time. If your score hits 100, the bonus round of the game will start. After the bonus round you can send a wall message to your Facebook friends to answer questions for you. Friends that help you will earn points too. The game will end if you run out of lives, the clock runs out or you run out of questions in the round. You can keep playing the game as long as you have free episodes available. Buy more episodes in the game store if you run out and want to keep playing.
Playing With Friends (4 out of 5)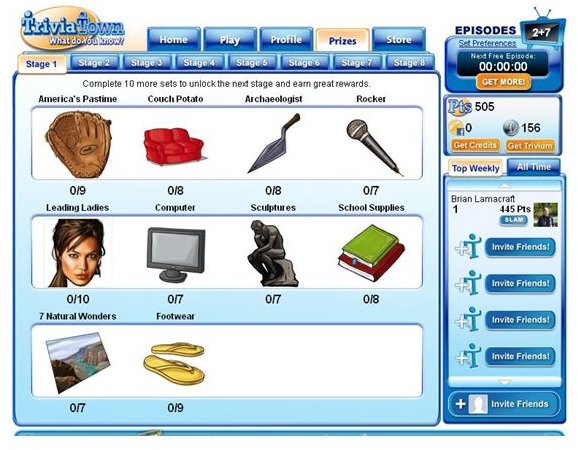 Playing the game with friends is the way to go because you'll unlock dozens of different categories provided you have the cash available. For example in the music category you have questions on Aerosmith, AC/DC, Bad Company, Bob Dylan, Bob Segar, name the artist, The Beach Boys, U2 and dozens more categories. You can even request different categories for the game so you have extra selection. You will need to play a bunch of games before you can play with friends since you need the game cash from prize sets, which you'll earn, by playing the regular game or from game gifts.
Graphics/Sound/Interface (4 out of 5)
Trivia Town looks good and you'll hear some basic music and sounds during a round of the game. Since it's a trivia game, the graphics aren't important in any case. The game has easy to follow tabs at the top of the screen and the profile tab is helpful so you can see how you are doing in the game. You have two choices on the play tab, which include episode play and the challenge mode against your friends. View the game store tab to pick up powerups for your next game. The game presentation is well done and there are no problems with the interface or graphics.
General Game Play and Conclusion (4 out of 5)
Triva Town is another example of the free trivia games online that you can play on Facebook. other recent additions to the social networking site include the popular Jeopardy game. There are enougfh categories and questions in Trivia town to keep you playing and enjoying this game. You will have more fun by challenging friends and unlocking the dozens of additional categories. The profile page is also a highlight of the game because it lets you know how well you are doing with statisitics such as your highest score, for example. Trivia Town is well worth playing if you want to play a nice casual game that won't occupy much of your time.
References
All images from Trivia Town
Source: Article is author's own experiences playing Trivia Town on Facebook.