Kongregate: Perfect Balance 2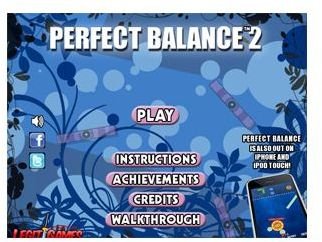 Perfect Balance Series
Perfect Balance 2 on Kongregate is the second in the Perfect Balance Series, published on Kongregate.com by ttursas. The publisher has been making similar physics games for a long time, beginning with Brick Stacker and Brick Yard. From there he refines the concept i
nto Perfect Balance and it's two extension packs, Perfect Balance: New Trials and Perfect Balance: Playground. Since publishing Perfect Balance 2, he has also published Imperfect Balance, Brick Yard 2, and Perfect Balance 3.
All of these games have one thing in common; the physics. The core gameplay is simple; you are given a series of shapes on a certain terrain, usually some small blocks or pixels, which are often angled to add extra challenge. The goal of the game is to place each of these shapes in such a way as they are balanced and will not fall off the screen. Once you have placed all of the shapes, you are given the option to add a few extra circles, called diamonds, to increase your score as you play.
Perfect Balance 2 has five map packs, labeled A through E. Each of these map packs has a total of twenty levels in it, each of which you can place as few as one or as many as nine diamonds on. This gives you a large potential for your score to rack up as you play.
Kongregate: Perfect Balance 2 Badges and Walkthrough
While playing Perfect Balance 2 on Kongregate you are probably thinking two things. The first is "what are the badges" and the second is "what can I do to get them?" Well, you're in luck. Below is a list of each of the badges and what it takes to get them as well as a walkthrough to help you get the most out of every level.
Tipping Points Badge: Easy, worth 5 points. You must score 10,000 points and then submit your score in the main men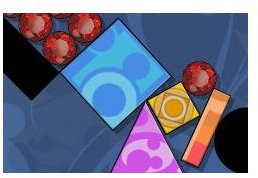 u.
One Down… Badge: Medium, worth 15 points. You must complete all 20 levels in the first map pack, Level Pack A.
Diamonds Take Forever Badge: Hard, worth 30 points. You must place 300 diamonds across all levels, and then you must submit your diamond count at the main menu.
Balanced Diet Badge: Hard, worth 30 points. You must complete every level. This badge doesn't require submission.
If you complete every badge, you'll find your Kongregate account 80 points richer!
So how do you do all of these? Well, the points are easy, and you'll probably have it by the time you've completing the first level pack. The hard badges are, appropriately, the harder ones to complete. So, you can follow this walkthrough (the one listed in the game, so it's even official!) when you need help, or follow it for every level just to bang out the badges. Here it is; the walkthrough of Perfect Balance 2 on LegitGames.com.