Underrated MMOs: Habbo Hotel – What is it, Why is it popular?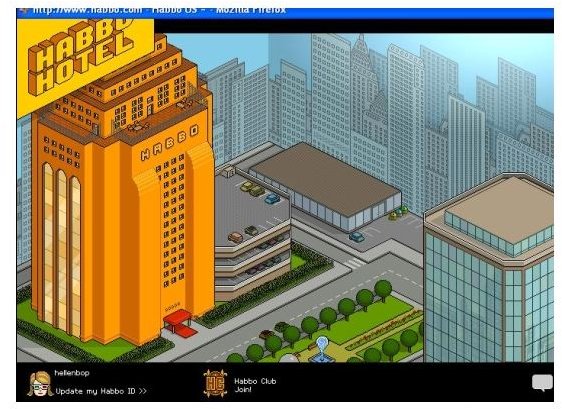 What is Habbo?
Habbo previously known as Habbo Hotel is a massive 2D social MMO for teens. Developed by a Finland based company Sulake Corporation this increasingly popular virtual world operates seamlessly on Adobe Flash. Teens age 13 to 18 years old enter Habbo Hotel daily to chat and play games. Players have a magnificent hotel to explore. Habbo's detailed lobbies, rooms, pools, restaurants, parks, and clubs provide a cool environment for users to make new friends and have fun.
What can you do in Habbo Hotel?
Habbo was designed as social browser MMO featuring a massive 2D interactive virtual hotel for players to explore, play games, and chat. When you enter Habbo after your personal avatar has been created you're given an empty hotel room. It's up to you to decorate and furnish. Furniture in Habbo is referred to as 'furni' and it can be purchased through the Habbo Catalog with credit currency. Furni can also be swapped between users. It's easy to give one of your new friends that comfy sofa they had their eye on for something you favor. Some Habbos enjoy collecting rare furni and designing a one-of-a-kind hotel room. Browsing through the Habbo Catalog players can find an assortment of cool items to customize their stay at the hotel. Windows can be added with special landscapes attached. Players have the option to adopt a pet but there is a limitation of three per room. You can teach your virtual pet commands, feed, and play with them. They never die but they do act out if you neglect them.
Welcome to your Habbo Home
A cool feature in Habbo is your Habbo Home. This is your personal web page that connects you with the rest of the community. Users can design their Habbo Home with avatar, headline, custom backgrounds, stickers, widgets, notes, and special effects. Special effects like UFOs, colorful butterflies, animated sparkles, hover boards, and even spooky ghosts can add flaire to your page. All of these additional add-ons are available through the Habbo Catalog. Browse other Habbos Home pages and send messages or comments. It's similar to MySpace. Enter live chat rooms in the hotel that resemble movie theaters, restaurants, or retro dance clubs.
Habbos can play games at any time during their stay by clicking the joystick icon stationed in the corner of the screen. The most popular games are SnowStorm, BattleBall, Wobble Squabble, and Lido Diving. SnowStorm is fun game that divides players into big two teams. Each player is supplied with five snow balls to start with. When the buzzer goes off the snow ball fight begins and points are rewarded for hits. BattleBall features two large teams with players bouncing balls pass color changing tiles. The team with the highest amount of players standing on designated tiles win. Wobble Squabble is a face off between two players in the pool. Each one must stand on a floating platform and attempt to knock the other player down. In the single-player game Lido Diving users perform tricks while diving and get scored by their peers. Unlike SnowStorm and BattleBall these games cost to play. There are endless amounts of activities Habbos can participate in. Whether you decide to compete in competitions against other users, play games, collect achievement badges, dabble in some roleplay, go for a swim in the pool, or attend one of the rockin' concerts held in Habbo Hotel there is always something to do.
Habbo Hotel Screenshots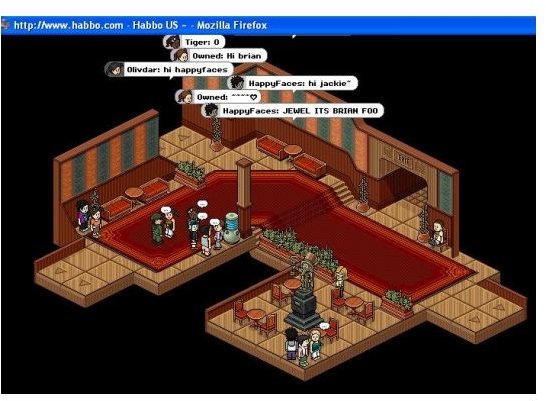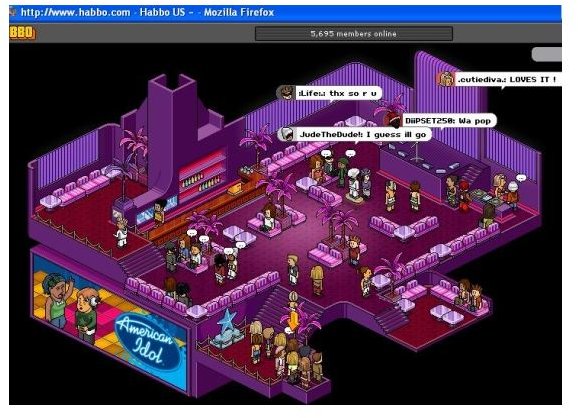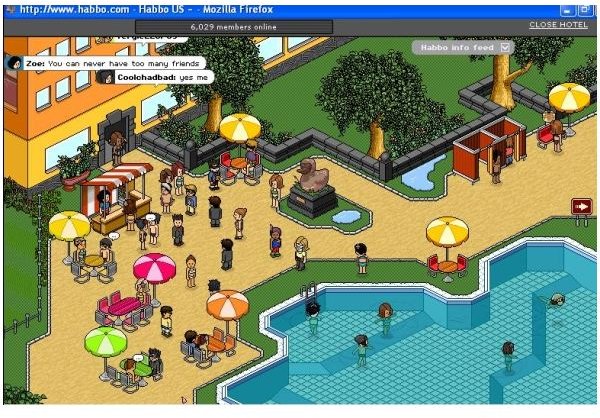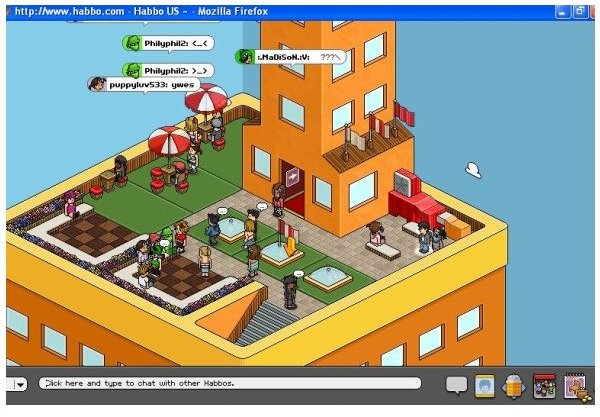 Optional Subscription Model
It's completely free to play Habbo and participate in most activities. However, there are a variety of accessories and items that are not free. Habbo currency comes in two forms known as credits and pixels. Credits or Habbo coins are purchased through Money Orders, Credit card, SMS, Habbo Cards at retailers, or won in community competitions. Habbo Cards cost varies between $10-$25 for 50-125 coins. Prices often range from $5 to $100 for credits. Pixels are not purchased they are given freely to users who conduct themselves in a pleasing manner. Small tasks like logging in regularly or performing acts of kindness to other Habbos will usually result in a pixel. Pixels can buy special items in the catalog or special effects for your Habbo Home page. For users who wish to fully experience Habbo Hotel premium subscriptions are available. Becoming a member of the Habbo Club gives players exclusive items and full access to this social virtual world.
Why is it popular?
Habbo has over 100 million users and it's growing in popularity daily. This 2D social MMO with a hotel theme is noted as one of the top chat and instant messaging websites on the net. Geared specifically towards teens around the world Habbo Hotel has become an international sensation. Users from over 15 countries log into Habbo each day to make friends, chat, and play games. If entertaining pool side competition like 'Wobble Squabble' or 'Lido Diving' isn't your style players can enter one of the roleplaying rooms. Join a virtual gang, serve on a military force, or play out their crime mob fantasies in an Italian Mafia room. Habbo offers teens the virtual freedom they often lack in the real world. Players get to freely express their thoughts in live chat rooms with other young teens. There is even Habbo forums where users can post questions or discuss a particular topic to the masses. Habbo features impressive virtual concerts and decked out holiday events for community members to indulge in. Players have the option to invite friends to their room for parties as well. Habbo is a massive social environment where users can have fun and interact with others.