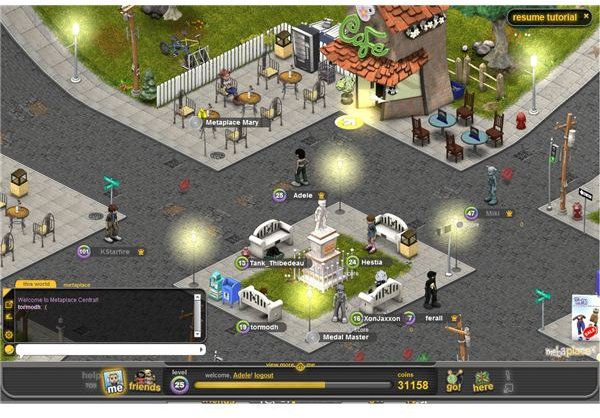 What is Meta Place?
_
MetaPlace is the latest creation by video game guru Raph Koster. Notice the term creation and not video game. It is not accurate to title MetaPlace into a single term. While MetaPlace can quite easily be a video game, it is so much more. To be precise, MetaPlace is a universe, a universe full of thousands of worlds, each as unique as it's creator. Each world in MetaPlace is built by the community, and upon visiting the worlds; it is easy to see that the imagination of the community is quite extraordinary. While there are a handful of MMO type games, there are also platform games, puzzles, stores, and a compilation of communities where people hang out and chat.
Community (5 out of 5)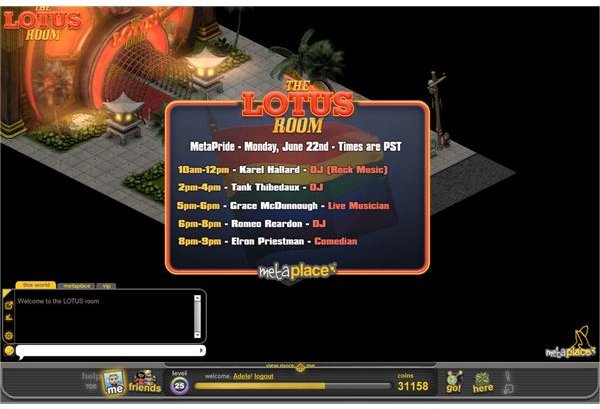 The community is perhaps the most helpful online community that I have ever come across. A large number of players are more than happy to help a newcomer through any obstacle, including building new objects and animations. In fact, I had a player offer to create an object specifically for me that wasn't in the game. He didn't expect anything in return, and was just happy to help. That, my friends, is a rarity, and is one of the core reasons that make MetaPlace a grand place in the vast expanse of the Internet.Top that with community events and contests and you have pure social success. One of the most recent events held in MetaPlace was the MetaPride event. This was an all day event to celebrate diversity. It included guest speakers and music events. It is quite amazing to see an online world dedicated to unity and peace amongst it's members. For a list of future events please visit the MetaPlace Calendar.
Graphics (3 out of 5)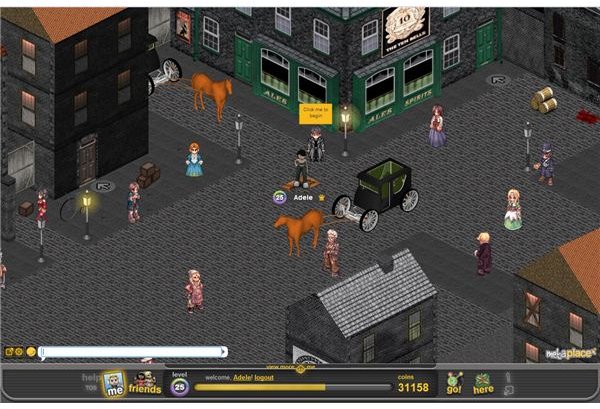 The graphics in MetaPlace are not next generation. You will not need to go out and buy a new video card. However, they are cute and fun, and that is exactly what they are meant to be. After all the game is opened and played in a web browser, which in it's self is pretty amazing. The characters are anime meets bobble head; yet, they still manage to be appealing and flow with the overall style and design. Those who do not like the style can simply create new avatars for their world; after all, custom creation is what MetaPlace is all about.
Game Play (5 out of 5)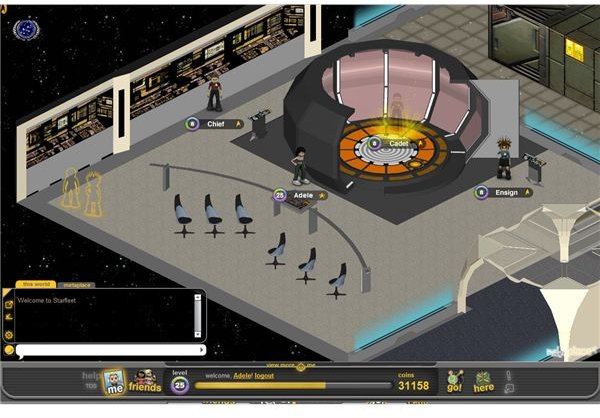 This is indeed a hard aspect to rate, simply because the game play changes in each world, and some worlds aren't games at all. Each is exceptional and fascinating in it's own way. Visiting a world is equivalent to taking a peak into the mind of the creator, and the mind is a very remarkable and out of the ordinary place. I have yet to find any world that hasn't in the least been intriguing, and the exploration in itself makes MetaPlace entertaining. A few of the more interesting worlds that I have come across are, The Lotus Room, Starfleet, and White Chapel. Although, the most fun aspect I find with the platform is working on my own world, and visiting others. World building is a type of game play in itself, and with the easy to use tools, and learning system, I constantly find myself both excited and amazed by what I have learned to do. Creating something more amazing than the last item is as fun or more fun than getting the latest piece of loot on a raid.
World Building (5 out of 5)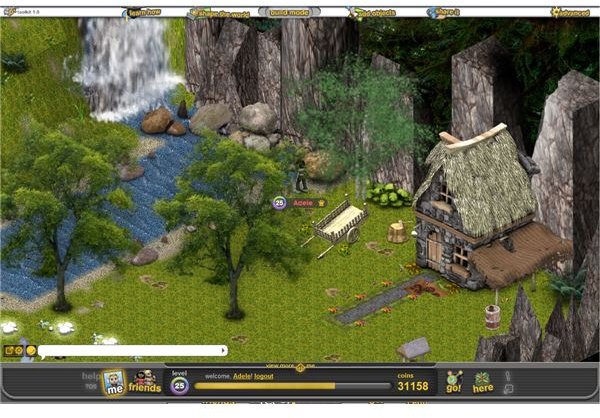 Creating a world in MetaPlace is simple. In fact it is as simple as building your house in The Sims. Yet, don't let that fool you. While the building tools are user friendly, they are as in-depth as Second Life, but better because anyone can use them. The platform is setup so that Joe Schmoe next door can create a world just as easily as Raph Koster himself. There is a large variety of tutorials and classes available that are easy to follow, allowing even those who are not tech savvy create almost anything that their minds can imagine. I myself am illiterate in the tech department, yet I am simply amazed at what I have built. You can visit my world here. To build a world in MetaPlace, the user only needs to select a world size, name the world, and go into build mode. Build mode allows users to change the terrain levels, place objects, and customize objects with options such as lighting, music, movement, and even teleporting. All of this is added to an item by simply clicking on it and selecting the correct scripts. For more customized actions the user only needs to read one of the many available tutorials, If the user is still feeling confused, a quick trip to the forums or message in world chat will assure that help is on the way.