Nintendo DS Junior Classic Games is Classic Fun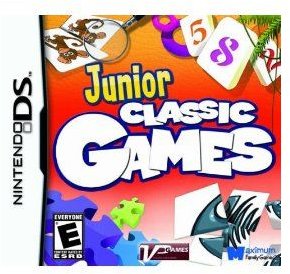 Play the Classics
Games for the young and the young-at-heart who play along with them are few and far between in the video game world. The Nintendo DS addresses this issue by making sure there are plenty of games for those just starting out in the world when it comes to playing video games. Junior Classic Games brings all of the fun of games that used to require paper and pencils and turns them into exciting and colorful adventures accompanied by animation and sound.
What Makes A Classic?
Junior Classic Games knows that for a game to be "classic" it needs to be more than just a retooling from paper to pixels. The game has to be readily identifiable, even if it now can be displayed on two screens and use one of them with the stylus to activate features and move things around. Nostalgia aside, the power of the NIntendo DS comes in by taking a game like "Hangman" and making it appear over two screens - making it easier to view for everyone crowding around the game console to play. And instead of using a pencil and eraser to write in or scratch out words, the stylus combines with animation to make the game even more exciting. Of course there's plenty more games where that came from - Pick-up sticks, for example is there as arcade and music games.
Something for Everyone
How do you keep these games fresh and new when they're based on fun that our parents and grandparents called fun back in their day? You add levels to make the games more challenging without making them unapproachable. Then you add in those elements that only a portable game console like the Nintendo DS can offer - we're talking graphic power for visual excitement and animation and sound; all the various elements that transpose a game from the "analog" world to the "digital."
You also build in little additions to keep the interest alive and reward the player (who is between 4 and 9 years of age in general) for playing - giving them a sense of accomplishment that goes on long after the Junior Classic Games cartridge is taken out of the Nintendo DS.
Time to Play
Games for the young need to be challenging enough to make the child think, but not so hard as to be frustrating. Junior Classic Games does both.
Young and Young at Heart
Games for the young and young at heart (who mostly want to play along with their kids or grandchildren) should know that the Nintendo DS has plenty to offer. Here's a few examples to get you started.
The Current Top 25 Nintendo DS Titles
Shrek The Third for the Nintendo DS