Might and Magic: Clash of Heroes: Not Your Usual Dose of Turn-Based Role Playing Game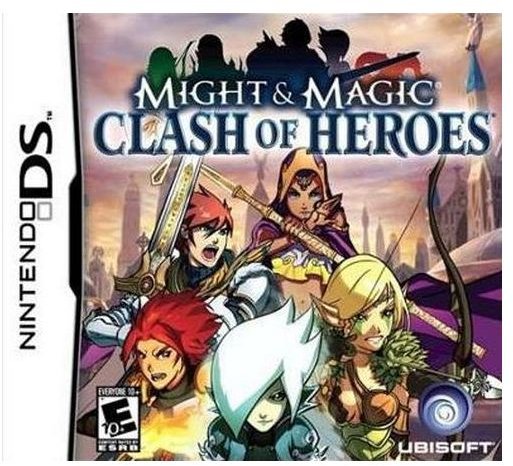 Might & Magic: Clash of Heroes: Overview (4 out of 5)
While there are numerous RPGs developed for Nintendo DS, few have dared to break away from the conventional turn based combat, exploration and random encounters. Might and Magic: Clash of Heroes is one such game with an innovative combat system that has a nice blend of puzzle, strategy and card battle features. With over 30 hours of gameplay teeming with mini quests, puzzle combat and treasure hunts, Clash of Heroes deserves to be one of the top RPGs on the Nintendo DS platform.
Gameplay (5 out of 5)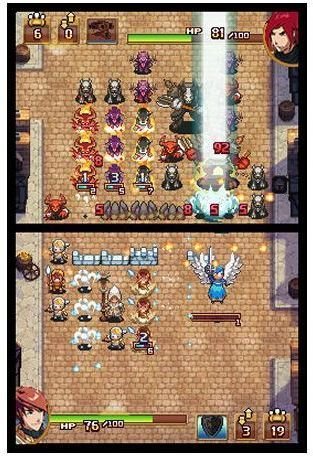 Since 1986, the Might and Magic franchise has offered excellent RPG titles and numerous spin-offs. However, this new spin-off is an attempt to break away from the conventional turn based combat. Developed by Capybara Games and published by Ubisoft, Might and Magic: Clash of Heroes for Nintendo DS has carved its own niche in turn-based strategy and puzzle-based combat.
The battles begin with two armies positioning themselves in random formation, which can be strategically set by a player to inflict maximum damage on its opponents. The gamer has to decide the best hero choices, for the battles based on the formations and approach of the enemy team. Unfortunately, players will not have any idea about the opposing faction's strength and weaknesses. The strengths and weaknesses of the enemy can only be fully understood after few turns of game play. Different factions (alignments) such as Haven, Sylvan, Inferno, Academy and Necropolis have their own limitations and powers and it is up to the player to decide which one's the best faction for competitive, strategic battles.
Besides immersive combat, Might & Magic: Clash of Heroes has several story-driven and optional quests that seems more like extras in the game since Clash of Heroes is more battle-centric. The excellent treasure-hunting mini quests in the massive campaign mode render Clash of Heroes as one of the lengthier RPGs to date. Equally interesting and immersive is the wireless local multiplayer battles that can be played with friends to test different strategies and combinations. The exclusion of an online mode certainly mars the interesting battle, but the 30+ hour lengthy campaign mode compensates this disadvantage.
Graphics and Sound (4 out of 5)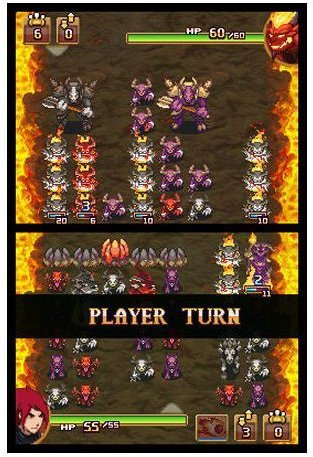 The anime-inspired looks of the characters in Might and Magic: Clash of Heroes is similar to old-school JRPG style games released for Super Nintendo Entertainment System. While there isn't any three dimensional elements to attract gamers, there's certainly a touch of cuteness because of the super deformed characters presented in the game. The map design will remind you of Super Mario games, but with additional graphic tricks that show some depth in the 2D environment. The statues, catacombs and castles are perfectly designed to suit the atmosphere of Might & Magic: Clash of Heroes.
While few won't like the kiddy looks of the game, most gamers will certainly fall in love with the cute characters and lovely ambience. The variety in background landscapes won't bore players who love to play for hours.
The music in Might & Magic: Clash of Heroes is excellently composed and executed. Gamers well-versed with the graphics and sounds of old-school RPGs like Final Fantasy and Chrono Trigger will feel transported to the same era. Of course, the graphics look more polished, but there's that deft touch or old school JRPG that guarantees endless hours of entertainment.
Overall (4 out of 5)
Might and Magic: Clash of Heroes features an innovative combat system and a lengthy, addictive gameplay that certainly excels in all aspects. The rich storyline, couple with exciting side quests, bounty hunting and puzzle battle challenges makes it a complete RPG package for gamers.