Nintendo DS Nerf Armor, an Essential for Nintendo Handheld Owners - Our Review of Nerf Armor for the Nintendo DS Lite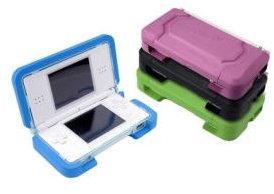 Nintendo DS Nerf Armor - The Look
You can't please all of the people all of the time, but Pelican comes as close as possible with their DS Lite Nerf Armor. And why not? They're at the top of the list for DS Accesssories.
Nintendo DS Nerf Armor was originally sold in just a few rather gaudy color combinations, but consumer response and input has made
the company rethink the design. Now you can get the DS Nerf Armor in a range of colors, from bright blue to a subtle grey/black combination.
In most cases, the color matches pretty well. If you've got a black or white DS there's a lot to pick from, but no worries if you went another route. There's even pink DS Lite Nerf Armor out there in a few different color combinations.
There are also plenty of selections for each system. Whether you've got a DS, DS Lite or even a DSi, there's Nerf Armor to suit your needs. It won't help your camera like the Zoom Case, but it'll keep your system nice and safe.
The only downside is that, just as with any case, it's going to add a bit of thickness to your system. If you want to keep your DS safe, you'll have to sacrifice a bit of sleekness. One trip down the stairs though and you won't regret storing your system in a nice thick case.
The Feel - Playing the DS with Nerf Armor Equipped
If you're like me, your hands are a bit bothered after playing the DS for an extended period. It's not the most comfortable system to hold, especially for long play sessions. That's where the Nerf armor serves a double purpose.
So what does it feel like? It's Nerf! The Nerf armor feels just like Nerf footballs. It's squishy, but without too much
give, and it breathes pretty well. It's got enough grip that your hands won't slip off of it, but it's got enough leeway that it adds some comfort to an otherwise unwieldy system.
The Nintendo DS Nerf Armor isn't just protective, but comfortable too. The one thing I was really worried about was the casing getting warm after playing for too long, but there's plenty of room for air to move through the armor, and it's actually fairly cool.
The one downside again is the thickness. If you've got smaller hands, you may not be as comfortable while using the Nerf Armor.
Is it Safe? - Will Nerf Armor Protect My DS?
And that's what it really comes down to in the end, doesn't it? The look and the feel of the thing don't really matter if it won't keep your system safe. Well I've got some good news on that front. The Nintendo DS Nerf Armor has been proven time and time again to be the absolute best when it comes to durability.
The Armor's thickness makes the s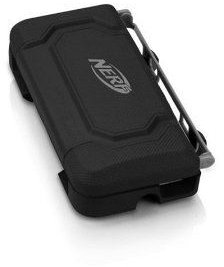 ystem less sleek looking and a bit less comfortable for people with small hands, but it's all for a reason. Dropping the DS in other, harder cases can result in a cracked screen or broken hinge, but the Nintendo DS Nerf Armor can survive almost anything.
When moving into my new apartment, my DS took a spill down two flights of metal stairs and survived. I call that a win. Just don't pit it up against man's best friend.
What's That About a Dog?
I was visiting my parents last Christmas and I had my DS with me so I could show them some of the cooking programs and brain games that I thought they'd like. Once it was time for dinner, I set the DS down and went to eat. A half hour later I went to retrieve the system and lo and behold, it was gone.
It turns out the Nintendo DS Nerf Armor made the system look, to my parent's dog a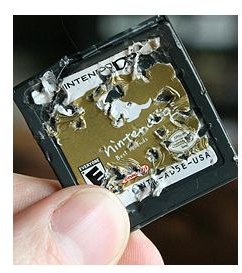 nyway, like a chew toy. It had taken the system off of the table I left it on and went to town. It was a battle getting the DS back from the dog too!
Now, I have to admit, the DS was pretty well protected through the battle. The screens were fine, and thanks to the thickness and hardness of the padding, there wasn't a scratch on it. The one thing it doesn't protect from, though, is dog drool.
Thankfully cleaning the DS is a relatively painless process.
Where to Buy DS Lite Nerf Armor
You can get Nerf Armor practically anywhere they sell the DS. Gamestop, Best Buy, Meijer, Walmart, and even Toys R Us carry DS Lite Nerf Armor. The only problem is, they don't always have the selection you're looking for. There are a ton of different color options, and you may as well get the one that best matches your DS, right?
Amazon - It's hard to do much better than Amazon for something like this. They've got all the listings in one place and, unlike most websites, they've got previews up of each style. The downside is that when only a few sellers have something, like the White/Gold DS Lite Nerf Armor, they jack up the price.
eBay - You'll have to do a little more searching, and you should be familiar with how eBay works, but you'll find more out of production Nerf Armor styles on eBay than anywhere else. They tend to be reasonably priced, too. I recommend starting on Amazon, and then comparing prices on eBay.